These Instant Pot Garlic Mashed Potatoes are SO easy to make that you'll never buy instant mashed potatoes in the package again! Yes, you CAN have fresh buttery, garlic-y, herby mashed potatoes in under 30 minutes with the help of your Instant Pot. Add this to your list of easy Thanksgiving side dishes, or whip these yummy potatoes up any day of the week!
Picture this…
It's Thanksgiving Day and my Dad, a 6′ 2″ man who probably doesn't really know the difference between a whisk and a spatula, is slaving over the stove making homemade mashed potatoes.
It's the one thing at our Thanksgiving feast that we can always count on… besides a guaranteed super juicy and flavorful turkey cooked by my hubby. Yup, my Dad makes the mashed potatoes. And he's pretty dang good at it!
But don't worry… if you don't have an expert potato masher as a father, you can serve these delicious and EASY mashed potatoes at your Thanksgiving dinner this year, with a little help from your trusty Instant Pot.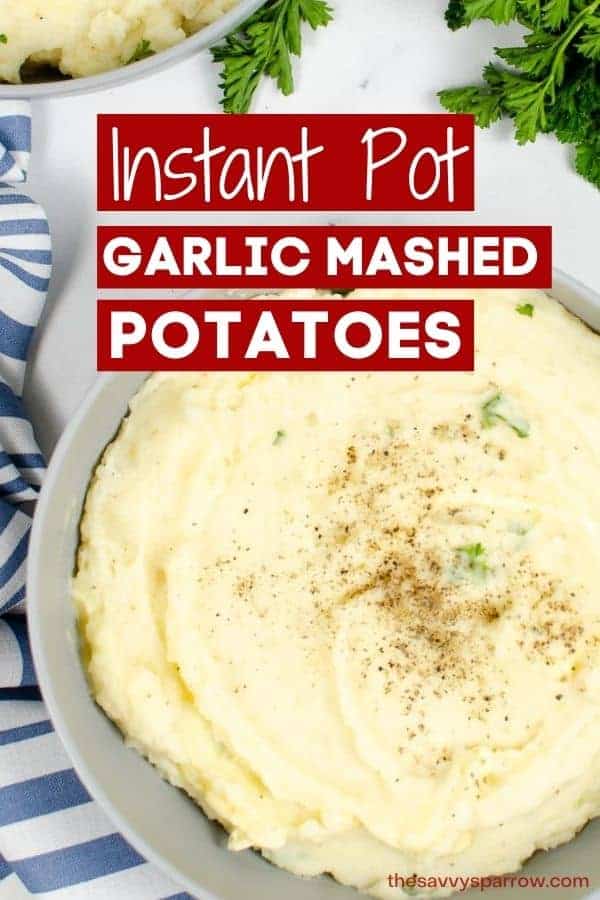 Here's how to make the best Instant Pot Garlic Mashed Potatoes…
Ingredients for Instant Pot Garlic Herb Mashed Potatoes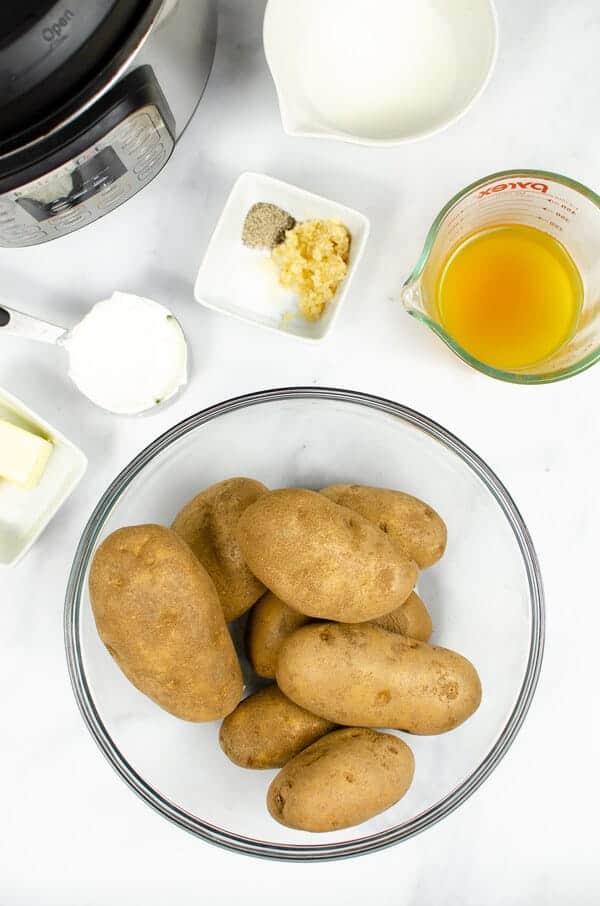 2 tablespoons minced garlic
2 pounds russet potatoes
1/4 cup chopped fresh parsley
3/4 cup chicken broth
1/2 teaspoon pepper
1 1/4 teaspoon salt
4 tablespoons butter
1/2 cup milk
1/2 cup sour cream
How to Make Garlic Mashed Potatoes in Your Instant Pot
1. Peel and dice potatoes.
2. Place diced potatoes into instant pot. Pour in chicken broth.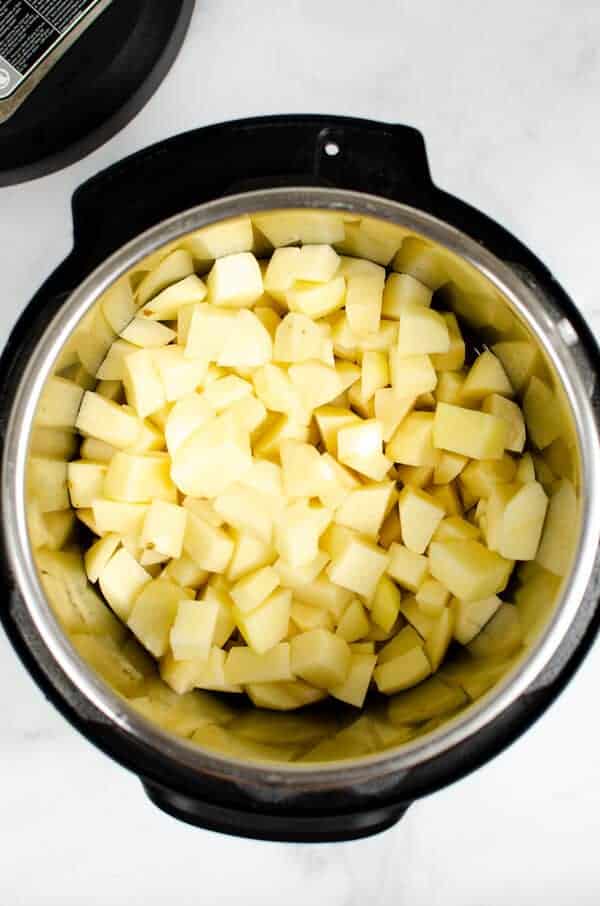 3. Close instant pot by locking the lid in place. Make sure the steam valve is closed. Press the steam button and set it on this function for 7 minutes.
4. Using a towel or hot pad, release the steam valve manually.
5. Once the steam pressure has completely released, turn the lid to open the instant pot.
6. Drain the chicken stock from the instant pot using a colander over a bowl to save stock for later.
7. Pour in the remaining ingredients: butter, milk, sour cream, garlic, chopped parsley, salt, and pepper.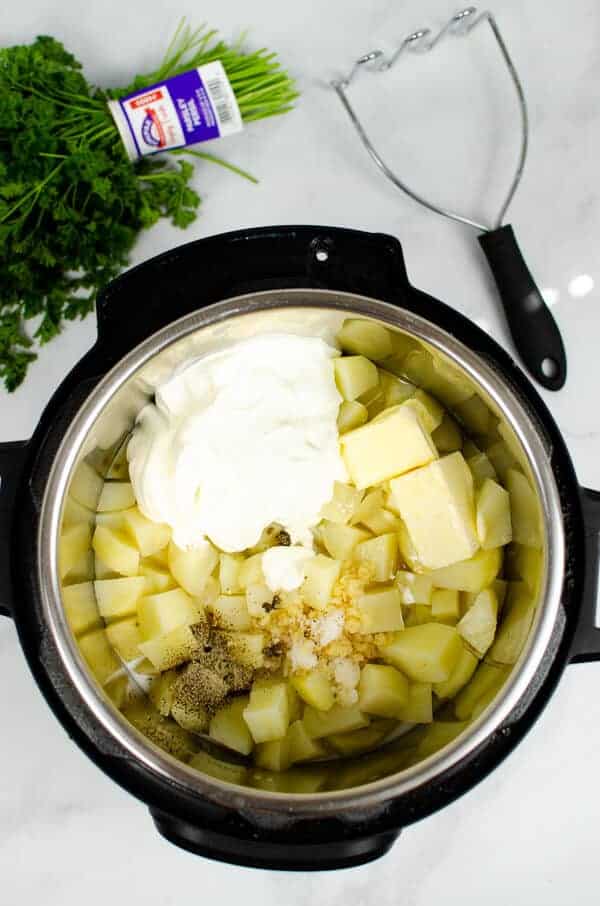 8. Mash with potato masher until desired consistency is reached.
9. If you desire to thin the mashed potatoes more, add chicken stock little by little as needed.
10. Serve mashed potatoes with more butter and parsley.
Because when it comes to mashed potatoes, there is no such thing as butter. Especially if you're making these for a holiday side dish and your diet has already gone out the window!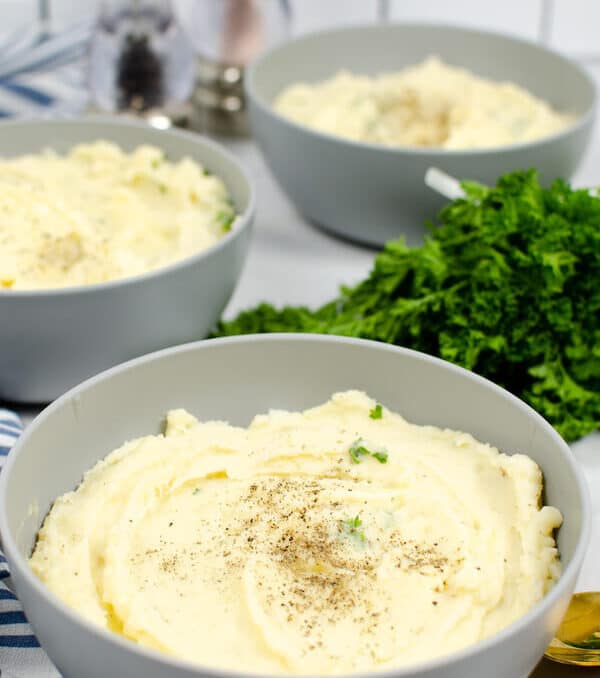 Truth be told, I typically don't eat mashed potatoes (I would rather save my carb intake for sweets!), but these are loaded with garlic, herbs, and butter, and they are oh so good!
And if you're looking for quick and easy potato side dishes, then these mashed potatoes can't be beat!
And be sure to check out these Oven Roasted Garlic and Rosemary Potatoes, just in case your Instant Pot is already claimed by another holiday dish. I'll teach you how to roast a whole head of garlic, which is a game-changer! I literally eat the garlic cloves plain right out of the foil packet. 🙂
Or, go HERE for more Instant Pot Thanksgiving sides.
What's your favorite holiday side dish? Are you a mashed potato person or a stuffing person, or do you go light on the sides and mound up your dessert plate like I do?
Leave me a comment down below! I'd LOVE to hear from you!
And happy nesting!