Thanksgiving Charades is a super fun and easy holiday party game you have to play this year! Simply download the printable Thanksgiving Charades cards, cut them out, and laugh your way through this fun (and funny!) holiday game for the whole family!
One of the best parts of Thanksgiving (aside from all the delicious food!) is gathering together with family and friends. Memories are shared and made, stories are told, and there's plenty of laughter! So this year, why not increase the giggles with a fun Thanksgiving game for the whole family?
Thanksgiving Charades is an easy, low-prep game that's simple to understand and play. You can customize the charades word list so that players of all ages can participate, making it the perfect holiday activity for entertaining everyone in your home!
There's also nothing more hilarious than watching a slightly hysterical aunt trying to get her team to guess the correct Thanksgiving Charades words. I mean, the memories alone will be priceless!
Here's all you need to know about this popular Thanksgiving family game, including how to play and a Thanksgiving Charades word list to use:
Looking for fun Christmas games for the whole family? Check out my Christmas Charades post HERE!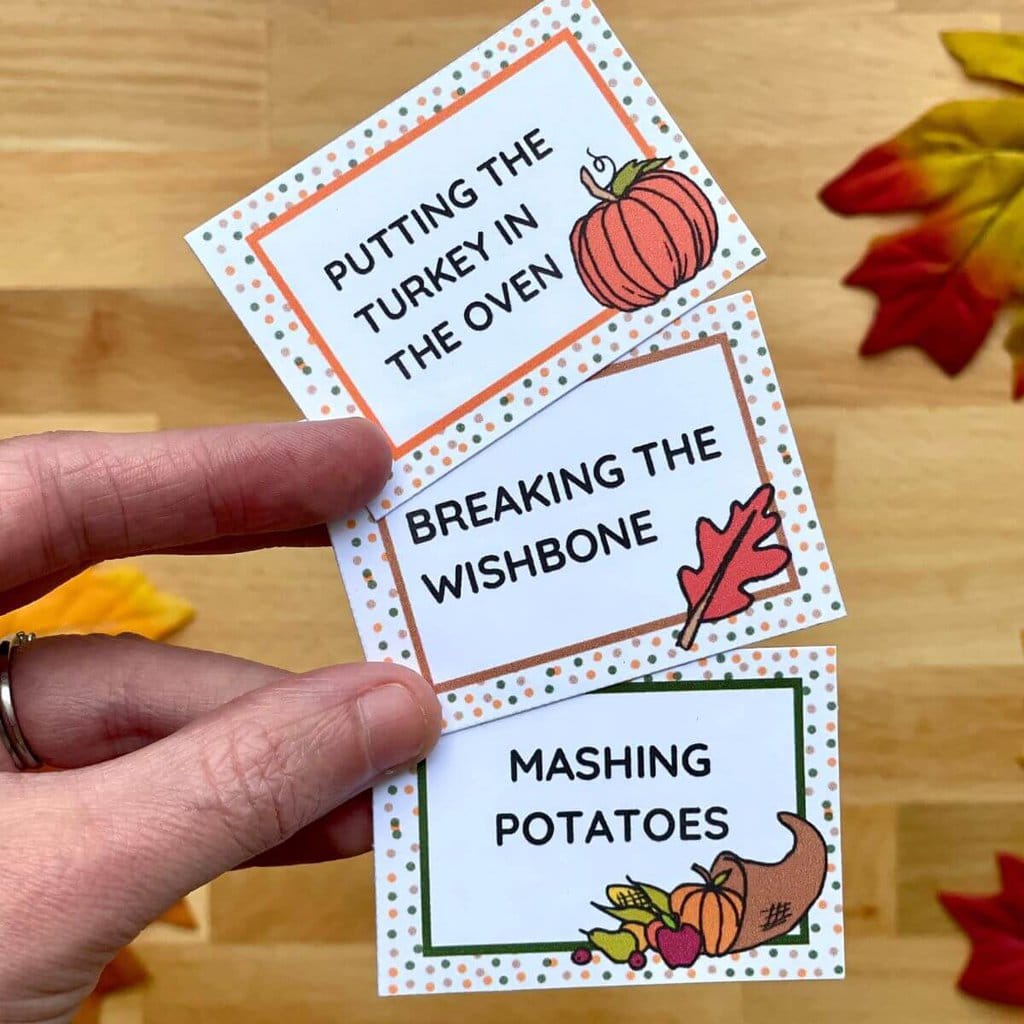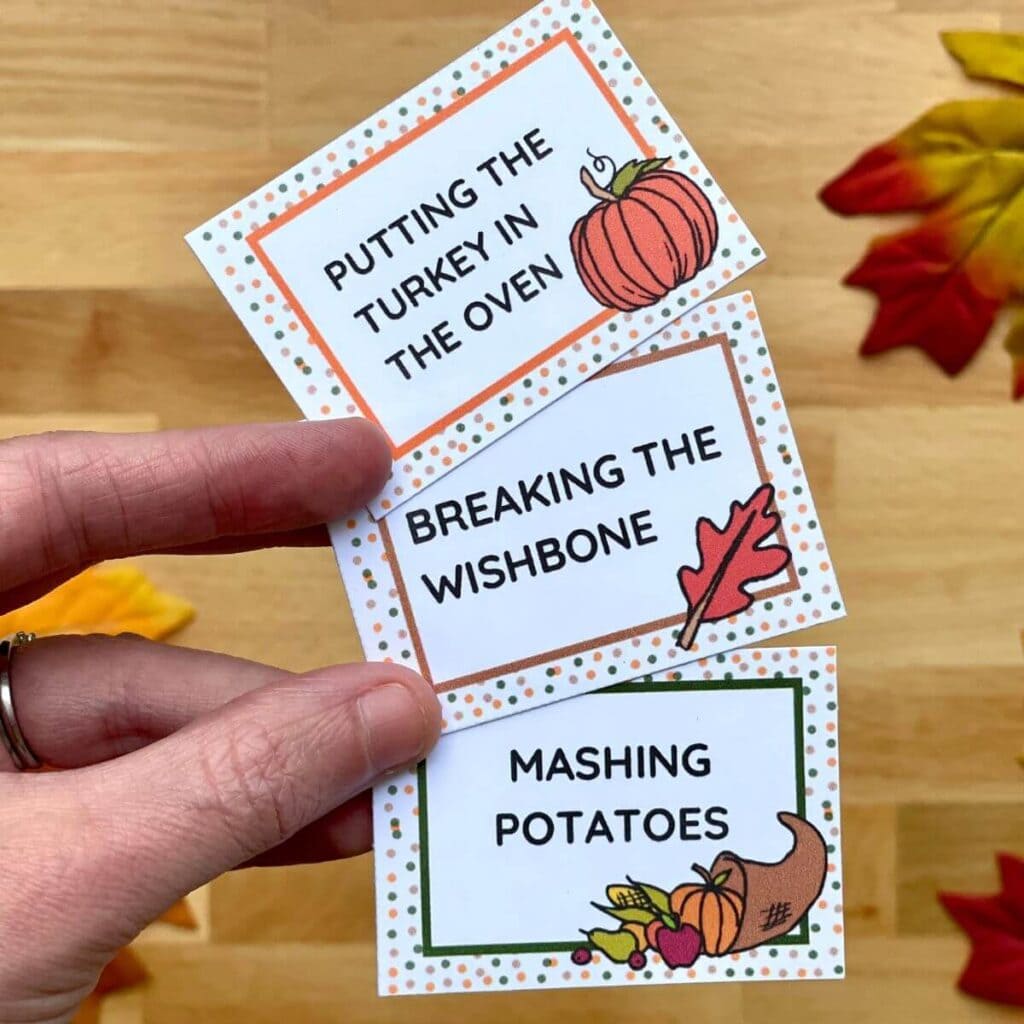 What is Thanksgiving Charades?
Thanksgiving Charades is like traditional Charades but with a twist. Players act out Thanksgiving-themed words or phrases for others to guess, and the team with the most points wins!
What I love most about this fun holiday game is that you do very little prep work, and it's a great way to unwind and laugh with your family and friends!
Thanksgiving Charades is also an easy, low-prep classroom activity for elementary or high school-aged kids. They'll enjoy the chance to be silly, and teachers don't need to grade the results!
What do I need to play the Thanksgiving Charades game?
The best thing about the Thanksgiving Charades game is that you can prep everything in about 5 minutes! Here's what you need: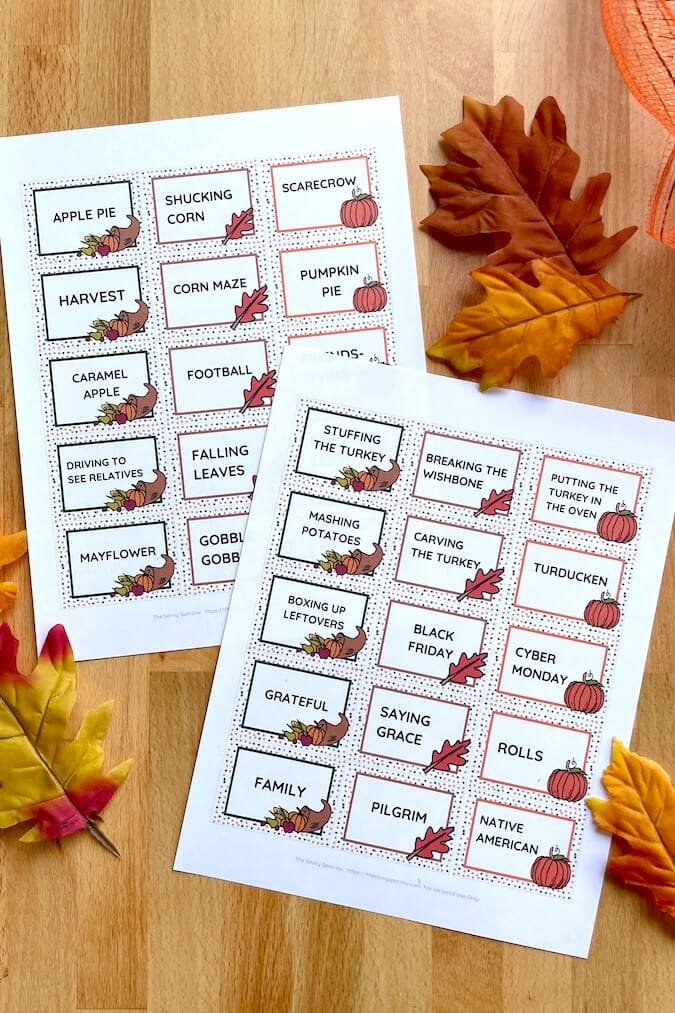 Thanksgiving Charades word list – Grab my Thanksgiving Charades printable cards here, use an online charades generator, or come up with your own words!
Timer – Use a portable oven timer, the timer on your iPhone, or even an inexpensive one-minute sand hourglass timer from Dollar Tree.
Basket or gift bag to store the word cards – This is so players won't see what word they choose!
Inexpensive prizes or treats for the winning team
The Rules
Here are the rules of Thanksgiving Charades:
no talking or making any noise
no lip movements
no pointing to anything in the room
no props
How to Play the Thanksgiving Charades Party Game
You can play charades in several different ways, but these are the basics:
Split players into two teams.
The first team sends up one player to draw a Thanksgiving-themed word or phrase from the bowl or bag.
Set a timer for one minute.
The play from Team A acts out the selected word or phrase for the other players on their team to guess.
If Team A can't guess the word within 60 seconds, then the word is passed to a player on the opposite team. The player from Team B then gets a set amount of time to act out the same word for their teammates to try and "steal" the point.
Next, a player from Team B draws a card and takes a turn.
One point is awarded for each correct guess.
The game goes on until one team reaches a specific number of points or the game time runs out. For example, the game is over once a team gets 10 points or after 30 minutes of play.
You can also skip the "steal" option if you'd like. So, if Team A can't guess the Thanksgiving charades phrase, then it gets thrown out instead of giving Team B a chance with the same word.
And don't worry, the printable Fall Charades game comes with a "How to Play" sheet with the rules and some fun alternative ways to make this fun Thanksgiving game for adults more challenging: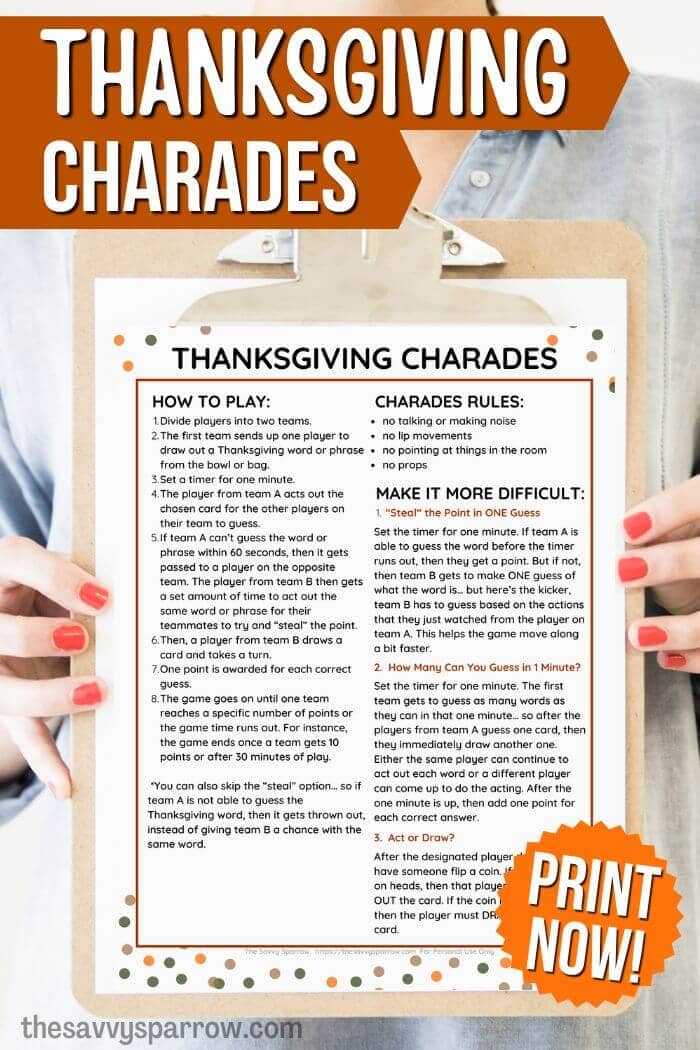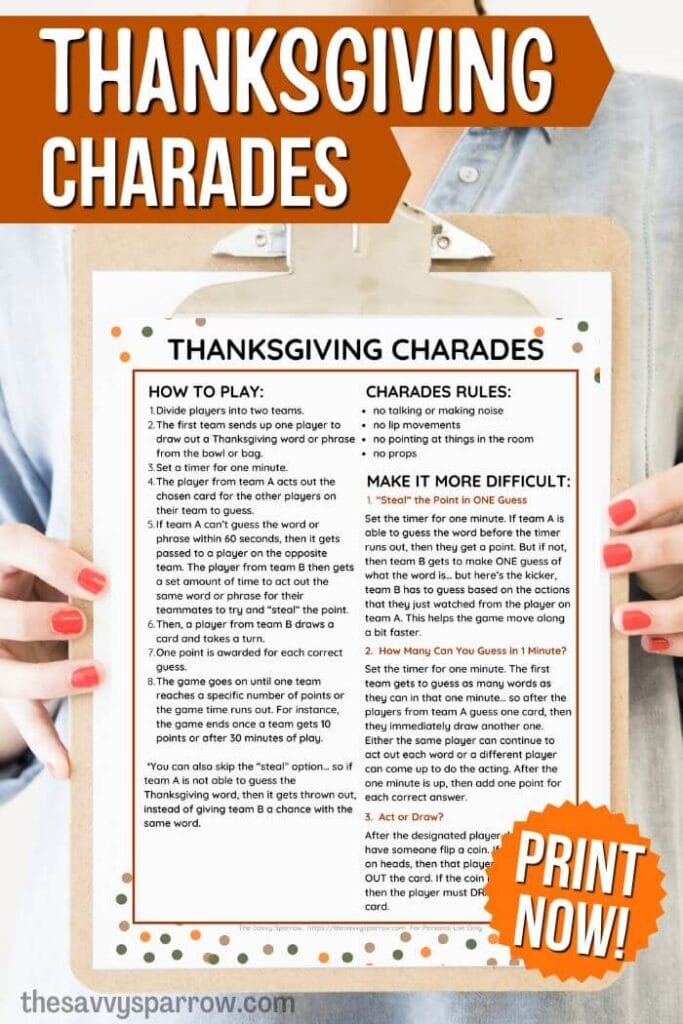 Thanksgiving Charades Ideas Word List
stuffing the turkey
breaking the wishbone
putting the turkey in the oven
mashing potatoes
carving the turkey
Turducken
packing up leftovers
Black Friday
Cyber Monday
grateful
rolls
family
Pilgrim
Native American
apple pie
shucking corn
scarecrow
harvest
saying Grace
corn maze
Autumn
pumpkin pie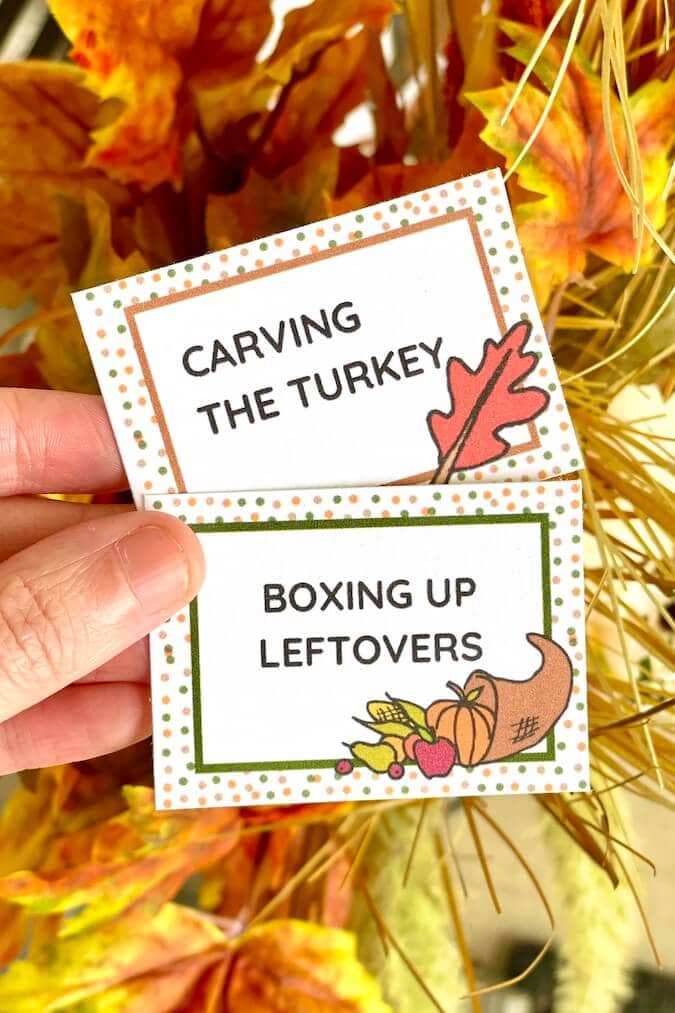 caramel apple
football
Friendsgiving
driving to see relatives
falling leaves
Mayflower
Gobble Gobble
Plymouth Rock
setting the table
Thanksgiving dinner
hungry
tasty
drumstick
hayride
bonfire
grocery shopping
parade
centerpiece
November
Cornucopia
apron
after-dinner nap
tablecloth
apple cider
baking pies
acorn
candy corn
apple picking
gravy
vacation
carving pumpkins
bobbing for apples
cranberries
pumpkin spice latte
Get the Free Printable Thanksgiving Charades Game HERE
More Printable Thanksgiving Games to Try
Looking for more fun Thanksgiving games to play with your family? Check out these additional posts:
Printable Thanksgiving Scattergories – Fun After-Dinner Game!
You have enough on your plate – and in the oven – on Thanksgiving, so why not grab this low-prep holiday game? Thanksgiving Scattergories is the perfect way to unwind after a delicious meal and enjoy a little family competition.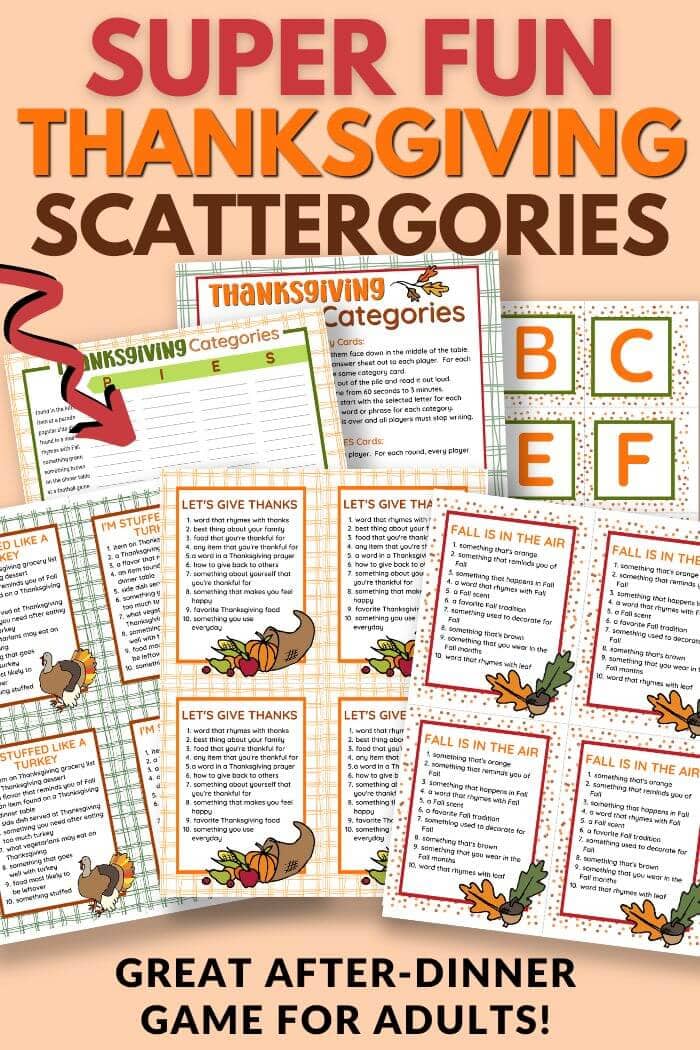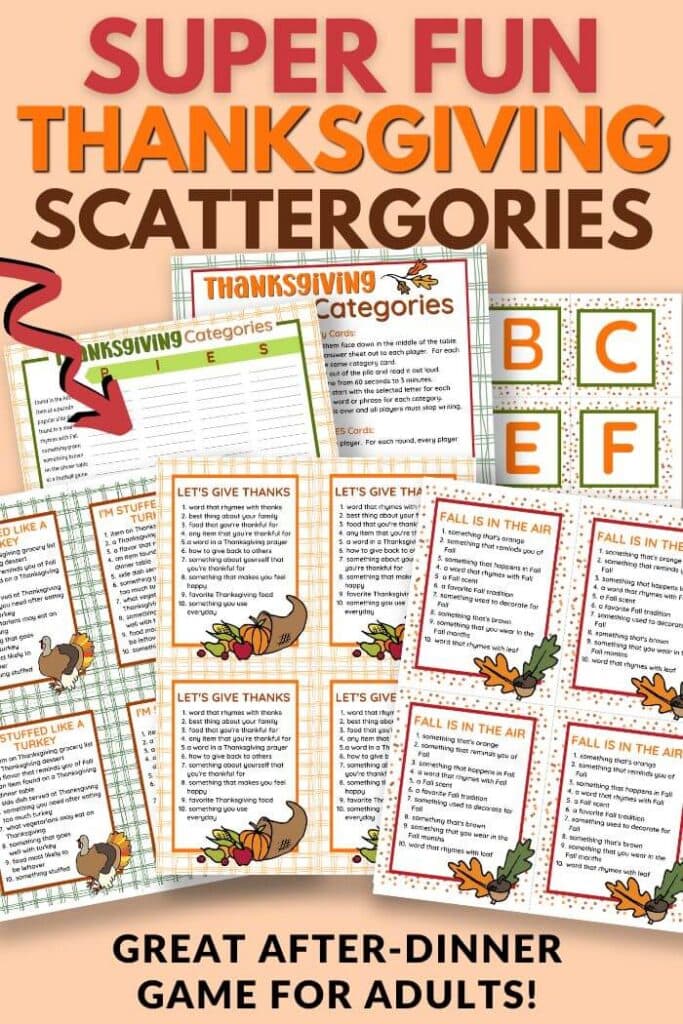 Macy's Thanksgiving Day Parade BINGO – Free Printable Bingo Cards!
Are you and your family die-hard Macy's Thanksgiving Day Parade viewers? Add a new twist to this fun Thanksgiving tradition with free printable Thanksgiving parade BINGO cards! They're also a great way to keep the kids entertained while you're prepping that bird!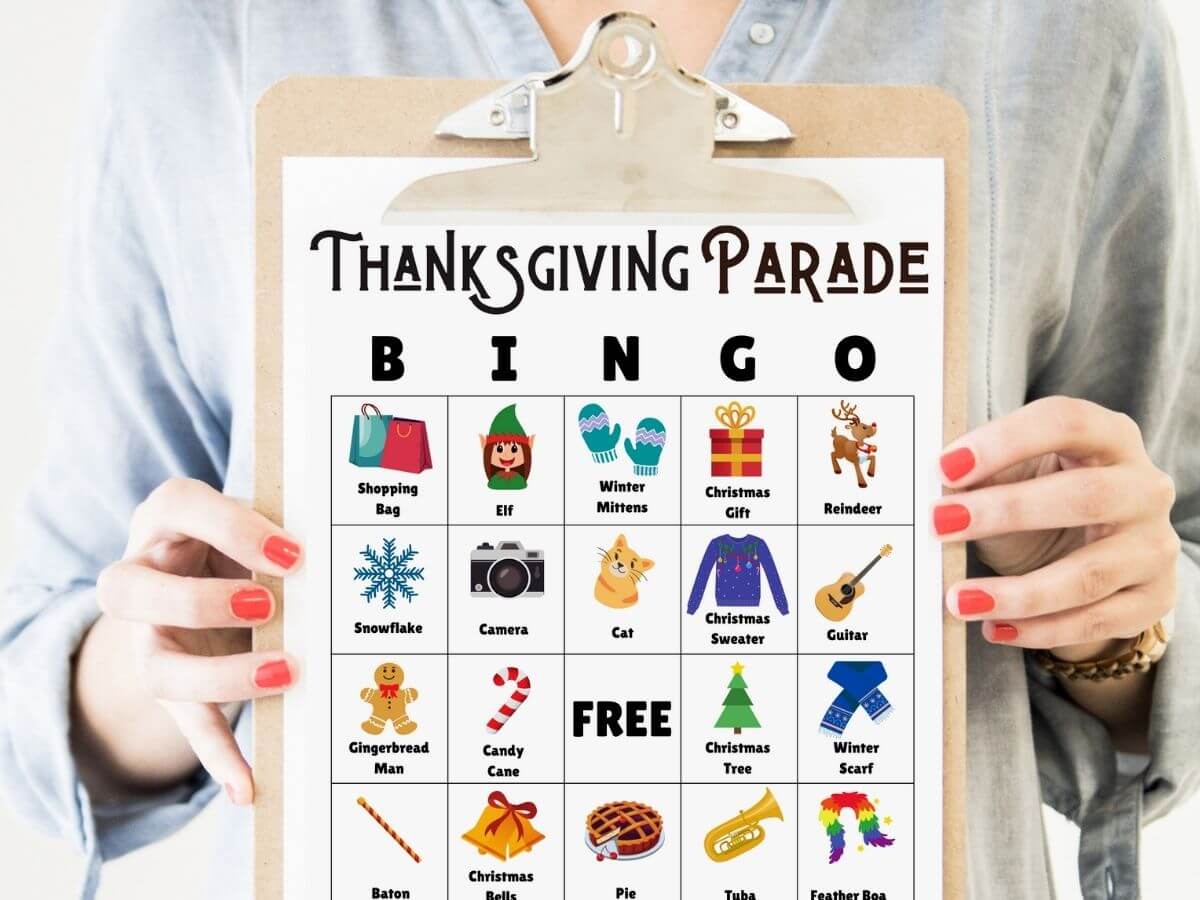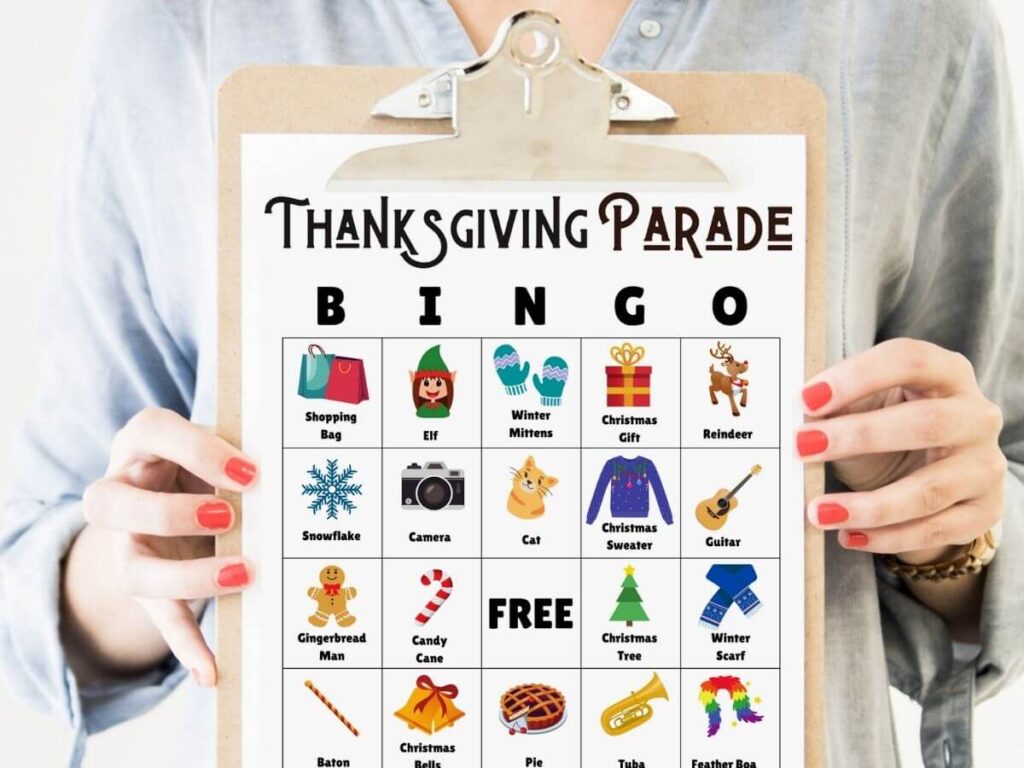 Hope you and your family LOVE these fun printable Thanksgiving games! What is your go-to entertainment for when you're hosting Thanksgiving? Leave me a comment down below… I'd LOVE to hear from you!
And don't forget to PIN this post for later: