Whether you're looking for a simple afternoon snack or a fun dessert for a party, you can't go wrong with these brownie truffles!
I'm no stranger to making creative desserts using boxed brownie mix. I've made this awesome chocolate cherry dump cake with brownie mix, and I've even made brownie pancakes, too! Probably because I have a major sweet tooth, so any excuse to eat chocolate for breakfast is a win in my book!
But why serve plain brownies at your next get-together when you can turn them into yummy chocolate covered treats with just a few extra minutes of work? These simple brownie truffles are a fun way to serve a popular party snack. And the best part is that you can make them with just 30 minutes of prep work!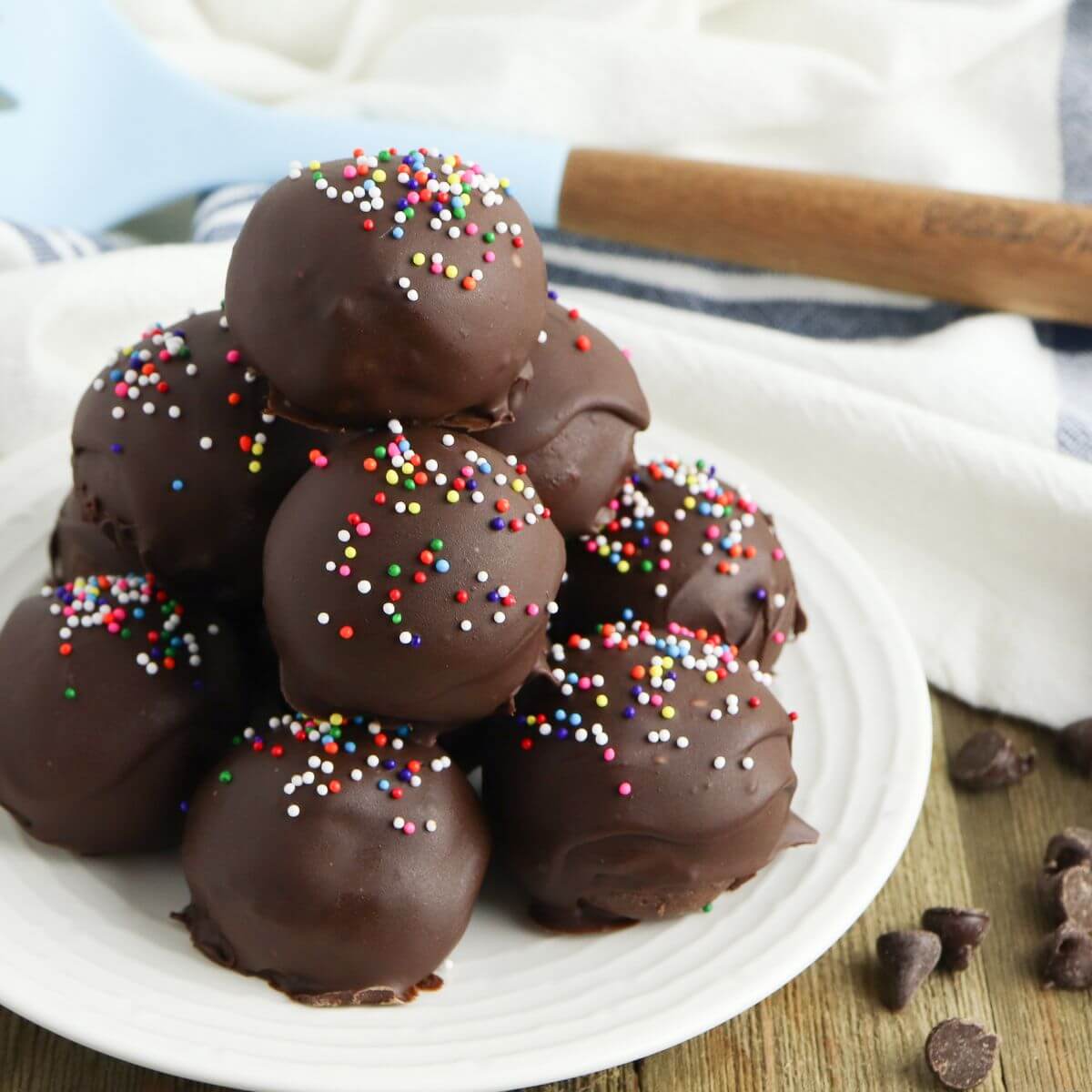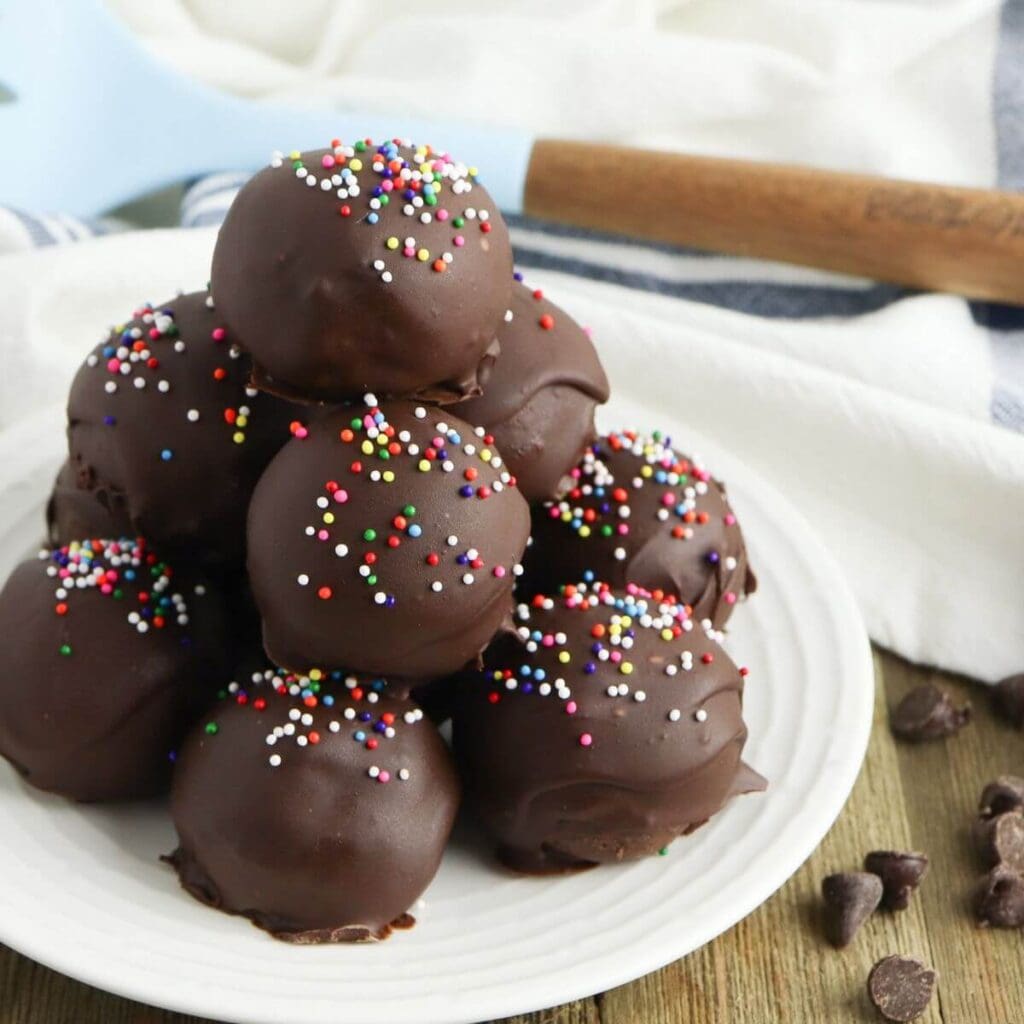 What Do I Need to Make Brownie Truffles?
Turning your brownies into bite-sized truffles is so easy – especially when you use pre-made ingredients to prepare the treats. To make your own brownie truffles, you'll need: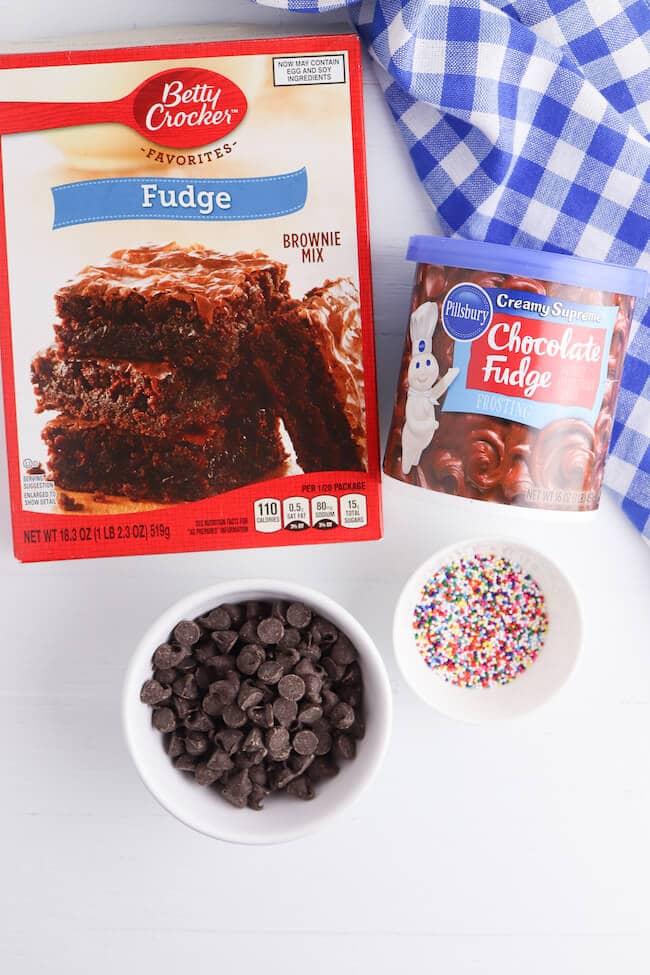 Brownies. You can prepare a boxed brownie mix to make prep work even easier. Or prepare your favorite homemade brownie recipe. The preparation method of your brownies doesn't really matter for this quick recipe.
Chocolate frosting. Store-bought frosting is the perfect option for quick prep work. But if you have an easy homemade recipe for chocolate icing, you can prepare that instead of using the premade topping. If you're preparing your own frosting, you'll need around two cups of icing for this recipe.
Chocolate chips. The coating around your brownie truffles will be made with melted chocolate. Use chocolate chips or melting chocolate to coat the outside of your brownie treats.
Sprinkles. Add a pop of color to the top of your treats with some rainbow sprinkles. Keep reading to get more decorating ideas at the bottom of the post!
How Do I Make Brownie Truffles?
You won't believe how easy it is to turn a pan of brownies into truffles! Just follow these simple steps to create these fun bite-sized party treats with just a few minutes of prep work.
Step 1: Make boxed brownies.
The first step to making these fun treats is to prepare your brownies. Just follow the instructions on the box or in your homemade recipe to make a batch of brownies in a 9×13 pan. Once the brownies are finished baking, allow them to cool completely in the pan.
Step 2: Make the truffles.
Now that your brownies are ready, it's time to start making your truffles.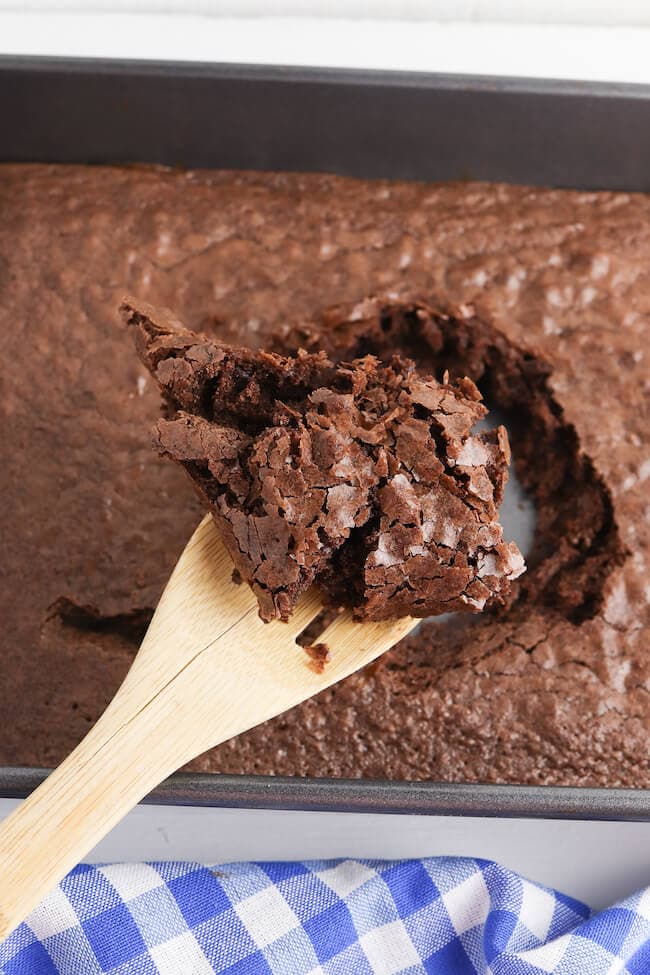 First, use a spoon to scoop the brownies out of the pan and into a large bowl. If the edges of your brownies are hard, avoid using that part of the baked brownies because they may make your truffles too crunchy.
Then, add the chocolate icing to the bowl. Stir to mix the two ingredients together until they're well combined. After that, place a piece of plastic wrap over the top of the bowl and chill the mixture for at least one hour.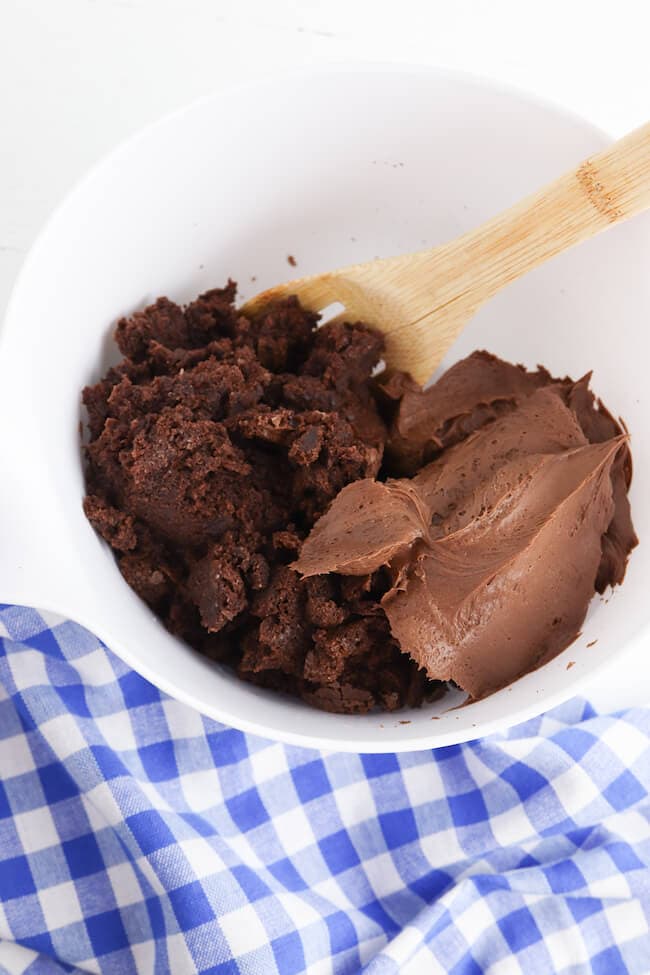 When the brownie mixture has had time to chill, use a cookie scoop or tablespoon to scoop the mix into a ball. Roll the ball between the palms of your hands until it's smooth, then place it on a parchment paper lined baking sheet. Continue this process until all the brownie mixture has been rolled into balls.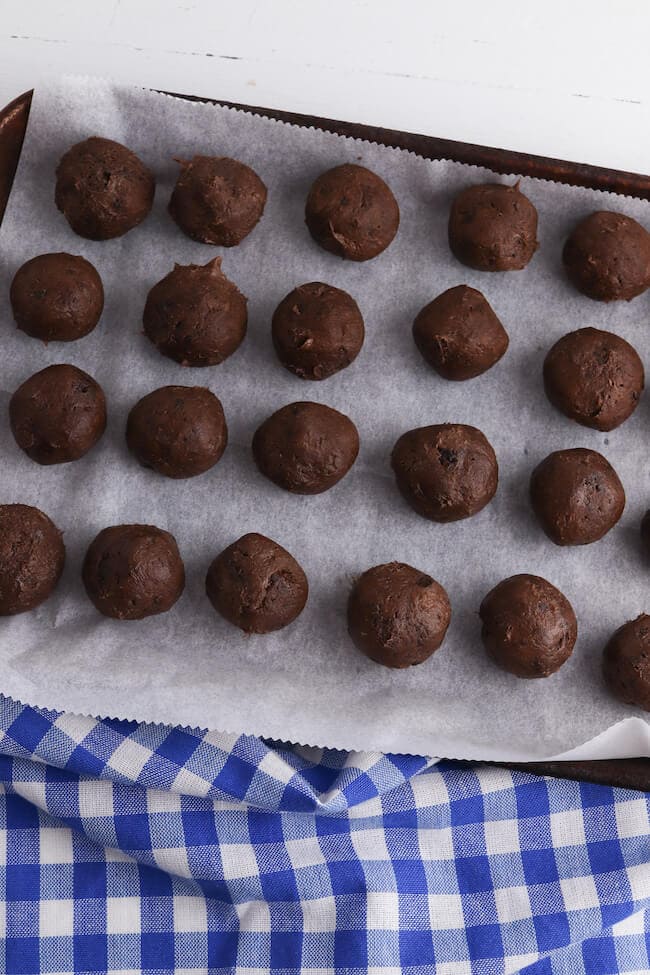 Place the baking sheet in the freezer until the brownie balls are fully frozen, which usually takes around 30 minutes.
Step 3: Melt chocolate chips and decorate your brownie truffles.
While the brownies are freezing, prepare the melted chocolate by heating your chocolate chips in the microwave. Cook them on high in 30 second intervals, stirring between each interval. Continue heating the chocolate chips until they're fully melted.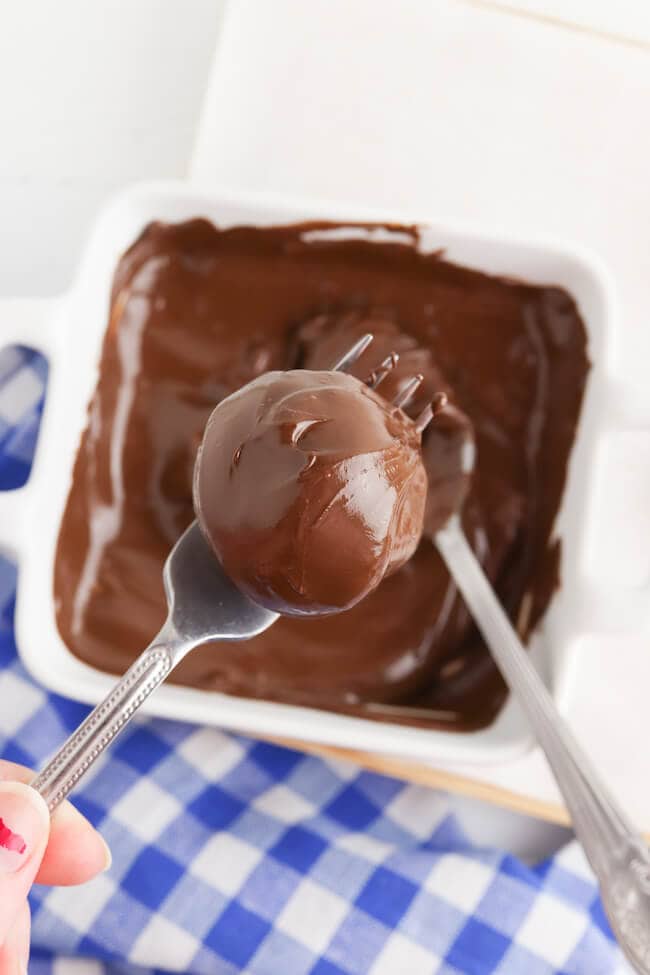 Dip your frozen brownie balls in the melted chocolate and rotate the ball until it's fully coated. Remove the truffle from the melted chocolate with a fork and lightly tap the handle of the fork on the side of the bowl to knock off the excess chocolate.
Immediately top the truffle with sprinkles and place it back on the parchment sheet.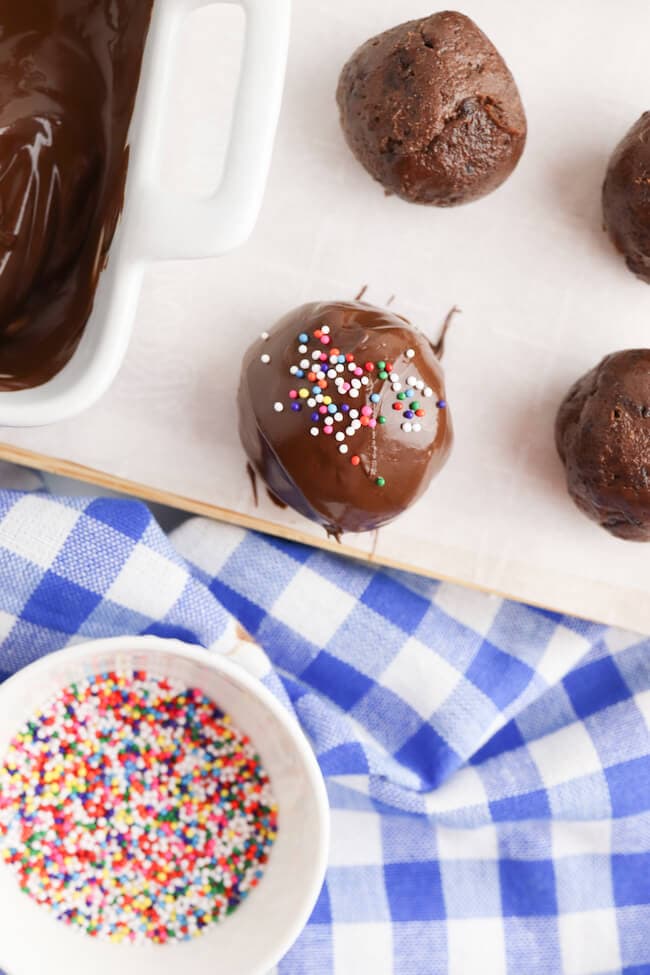 Brownie Truffle Tips and Tricks
These fun brownie treats are so easy to make! And with the help of these preparation tips, you'll be able to whip up your own truffles with no problems at all.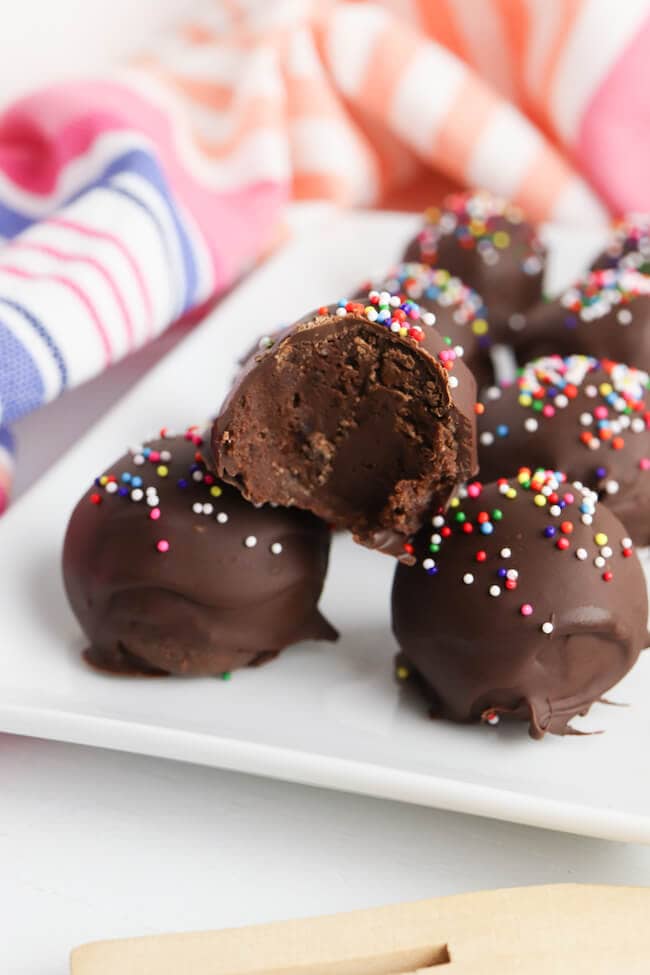 Keep the truffles frozen while you're decorating. Once the truffles start to defrost, they'll begin to soften. This will make it difficult to coat them in chocolate without the balls falling apart. To keep them from softening, work in batches as you decorate. Keep the majority of the truffles in the freezer and only remove a few at a time to decorate.
Thin the chocolate, if needed. If it seems like your melted chocolate is too thick, which may cause your truffles to become lumpy, it's easy to thin the chocolate. Mix in one teaspoon of vegetable oil, coconut oil, or shortening. You can add more oil, as needed, until the chocolate reaches your desired consistency.
Decorate quickly. Since your truffles are frozen, the chocolate will harden quickly. That means you'll need to work fast when it comes to adding your sprinkles on top. You'll need to decorate the truffles with the sprinkles immediately after removing them from the chocolate so the sprinkles will stick to the top of each of the treats.
Try different decorations. Sprinkles are a fun way to decorate your truffles, but there are a few other decorating ideas you can try. Drizzle melted white chocolate over the top of each treat to create a contrasting look. Or coat your brownie truffles in colored melting chocolate to add even more colors to your party snacks.
I hope you and your family LOVE these delicious and super fun to make brownie truffles!
Want some other yummy dessert ideas? Check out some of these posts:
And don't forget to PIN this post for later: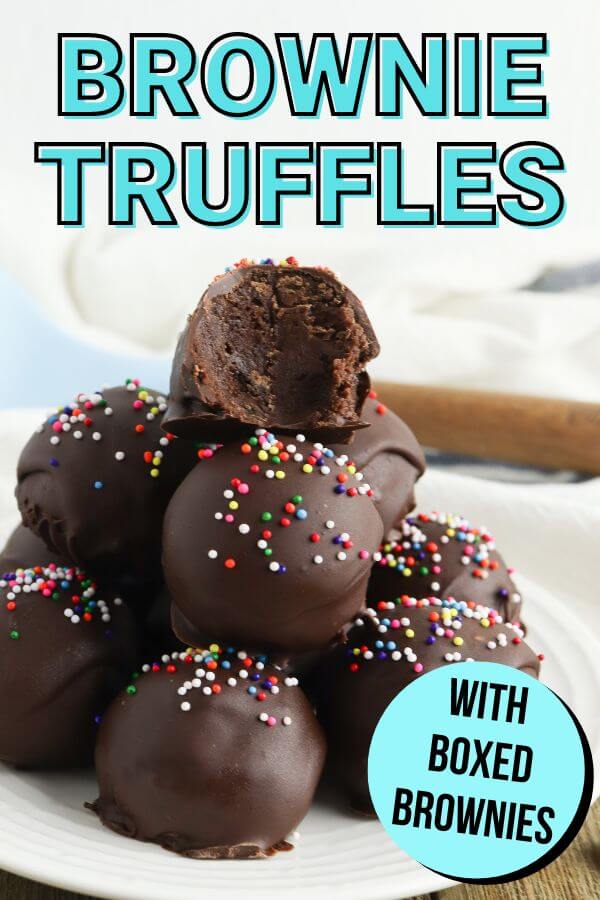 *Have other boxes of brownie mix in the pantry? Try one of these other brownie mix recipes!
Yield: 30 truffles
Brownie Truffles with Boxed Brownie Mix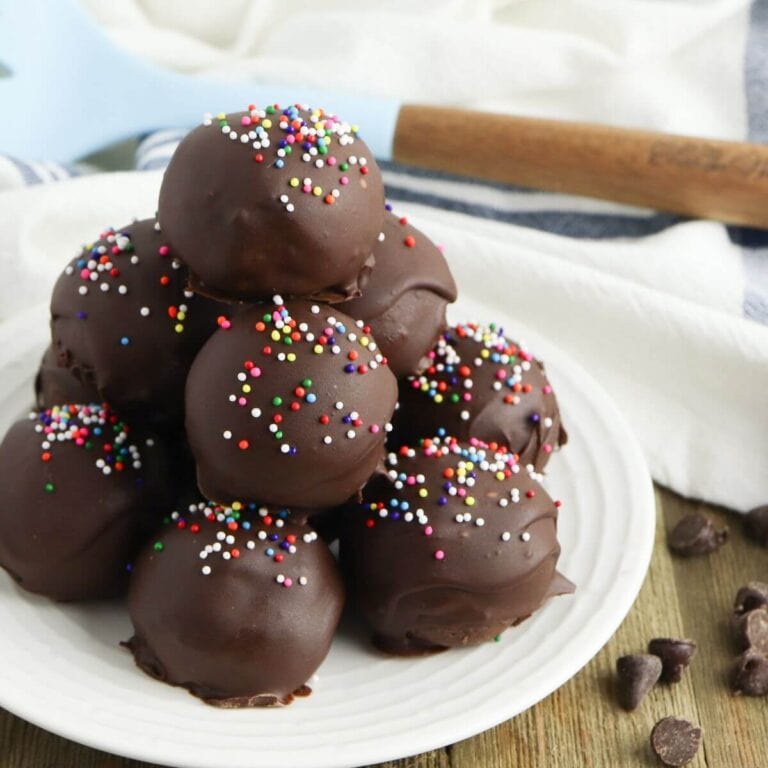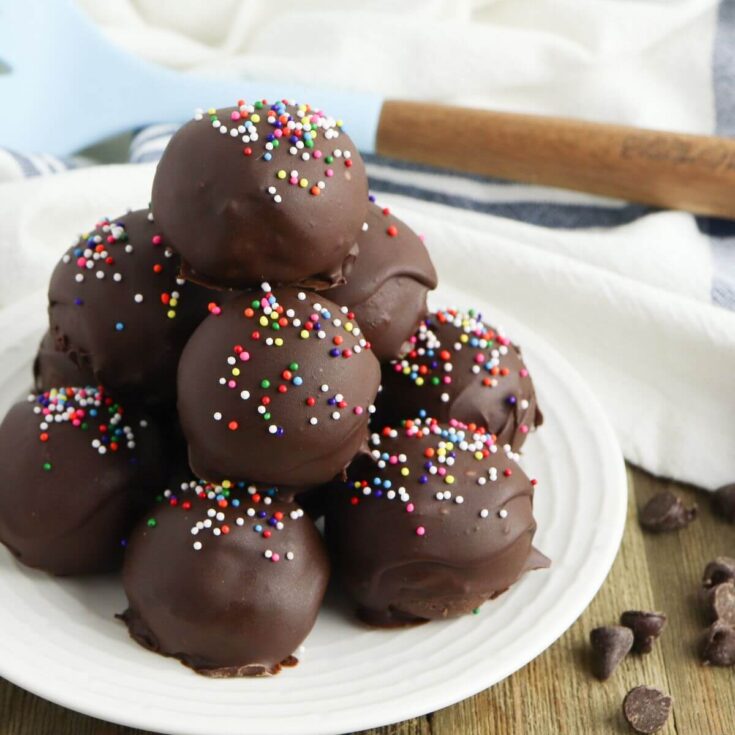 These delicious and easy brownie truffles are made with store-bought brownie mix and chocolate frosting. A super easy party dessert to feed a crowd!
Prep Time 30 minutes
Chill Time 2 hours
Total Time 2 hours 30 minutes
Ingredients
1 box brownie mix, prepared according to package instructions
16 oz container chocolate frosting
2 cups chocolate chips, melted
sprinkles for decorating
Instructions
Bake the brownie mix in a 9x13 inch pan according to package instructions. Allow the brownies to cool down completely in the pan before moving on.
Using a spoon or spatula, transfer the cooked and cooled brownies to a large bowl. *Do not use the crispy hard outer edges of the brownies, or your truffles may be too hard.
Add the chocolate frosting to the bowl with the brownies and stir until well combined.
Cover the bowl with plastic wrap and place the brownie mixture in the refrigerator to chill for at least one hour.
When the brownie mixture has begun to harden, use a small cookie scoop or tablespoon to scoop out the mixture and roll into balls. Place the brownie truffle balls on a parchment paper lined baking sheet. Continue rolling the mix into balls until all of the brownie mix is gone. Then, place the baking sheet in the freezer for about 20-30 minutes for the balls to harden.
When ready to decorate, melt the chocolate chips by placing them in a microwave safe bowl and microwaving in 30 second intervals, stirring in between each interval.
Dip each frozen ball in the melted chocolate and fully coat it. Remove the truffle from the chocolate with a fork and lightly tap the fork on the edge
of the bowl to remove any excess chocolate.
Transfer the chocolate covered brownie truffle to a plate topped with a piece of parchment paper, and immediately top with sprinkles before the chocolate hardens. Continue until all truffles have been dipped and decorated.
Place the plate in the refrigerator to chill for 30 minutes before serving.

Nutrition Information:
Yield:
30
Serving Size:
1
Amount Per Serving:
Calories: 120
Total Fat: 6g
Saturated Fat: 3g
Trans Fat: 0g
Unsaturated Fat: 3g
Cholesterol: 0mg
Sodium: 32mg
Carbohydrates: 18g
Fiber: 1g
Sugar: 15g
Protein: 1g
Nutritional information is provided as a courtesy and is an estimate only. Different online calculators may calculate nutritional information differently. Also, the addition of optional ingredients and varying brands and products may change the information. For the most accurate data, you should calculate the nutritional information with the actual ingredients that you use.