Looking for last minute printable Christmas games for adults to play this holiday? Try this fun Christmas Scattergories game at your Christmas party or after Christmas dinner!
Let's face it… The holidays can be hectic! And after you've spent weeks shopping for the perfect gifts, trimming the tree, and wrapping way too many Christmas gifts for your two kids, the last thing you want to do is prep some extravagant Christmas entertainment for your holiday guests.
Wouldn't it just be easier to print out a done-for-you holiday game that the adults would love?!
Well, that's where this fun printable Christmas Scattergories game comes in!
Instead of having to buy a bunch of supplies and jump through hoops to set up Christmas games for adults, just press print on your computer and your holiday entertainment is pretty much taken care of!
Of course you could always combine this easy holiday categories word game with other fun activities like this epic Saran Wrap Ball Game or the classic Christmas Charades, but with loads of categories to choose from, you can easily make this game last a while on its own!
Here's how to play: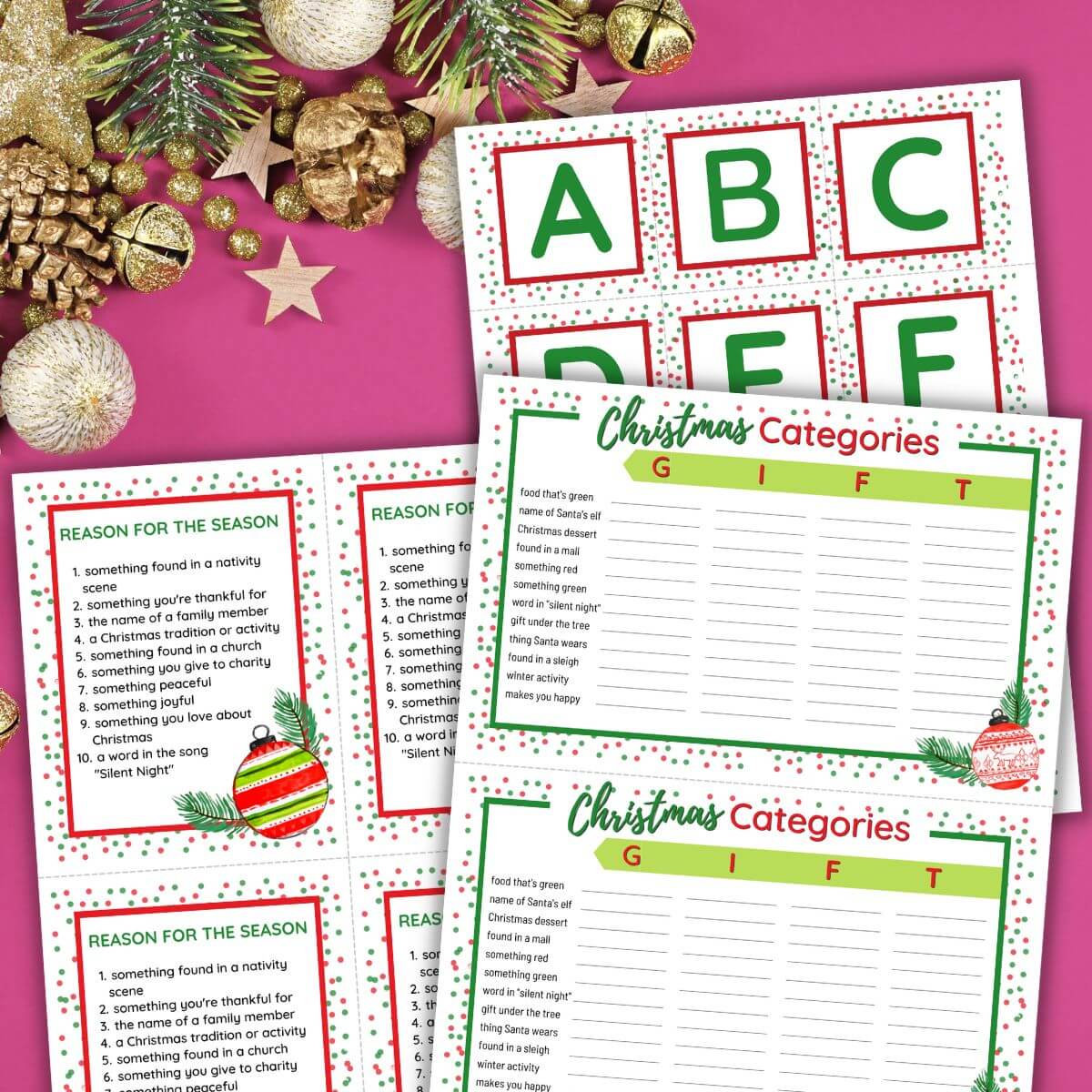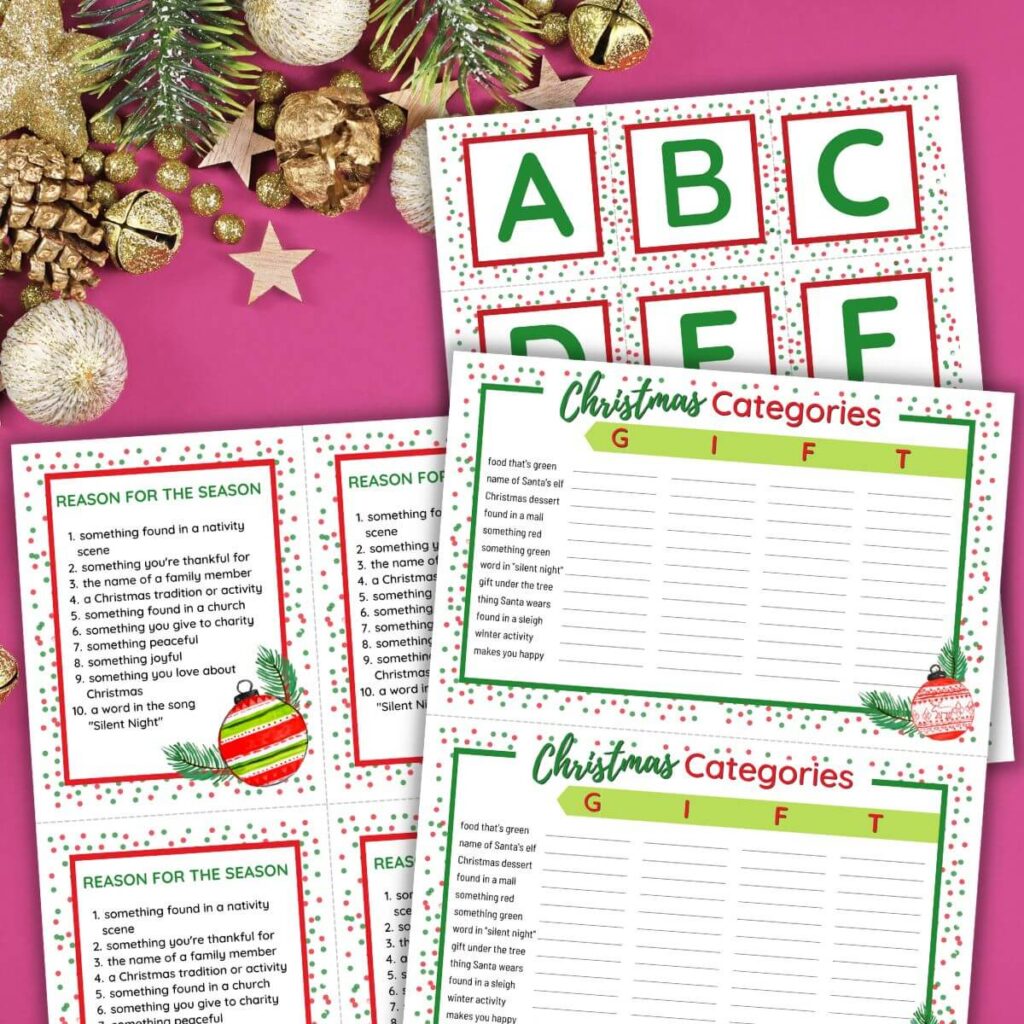 *This post contains affiliate links, which means if you click a link and make a purchase, I'll earn a commission at no additional cost to you. Read my full terms of use for more info.
What is Scattergories?
Scattergories is one of my favorite quick-thinking and easy games to play with a group of friends. And if you've never played Scattergories before, then allow me to introduce you to your new favorite, low-prep game that's perfect for adults and older kids.
Scattergories is a popular Hasbro word game that pits players against each other to see who can come up with the most unique words for different categories, all that begin with a certain letter. So for instance, if the category is "something cold" and the letter for that round is "R" then you could write down "refrigerator". And then for "something in The North Pole" you could write "Rudolph".
There are typically 10-12 categories in each round, and each round has a specific letter. In the classic Scattergories board game, you roll a 20 sided dice with all of the letters of the alphabet except for Q, U, V, X, Y, and Z. For this printable Christmas Categories game, however, you can draw out a letter card if you don't already own an official Scattegories dice.
This is a great Christmas game for adults, because it can definitely be challenging, especially when you have a crazy category and there aren't a lot of options for a particular letter… You could really need to get creative in your answers. Like, for "something Santa wears" that starts with letter "D", you could write down "drawers" (for underwear).
This fast-paced word game can be played with 2-6 players, or you could even divide your players into 6 teams, so it's a perfect holiday game to play with a big group!
Supplies Needed
To play this fun Christmas game you'll need a few basic supplies: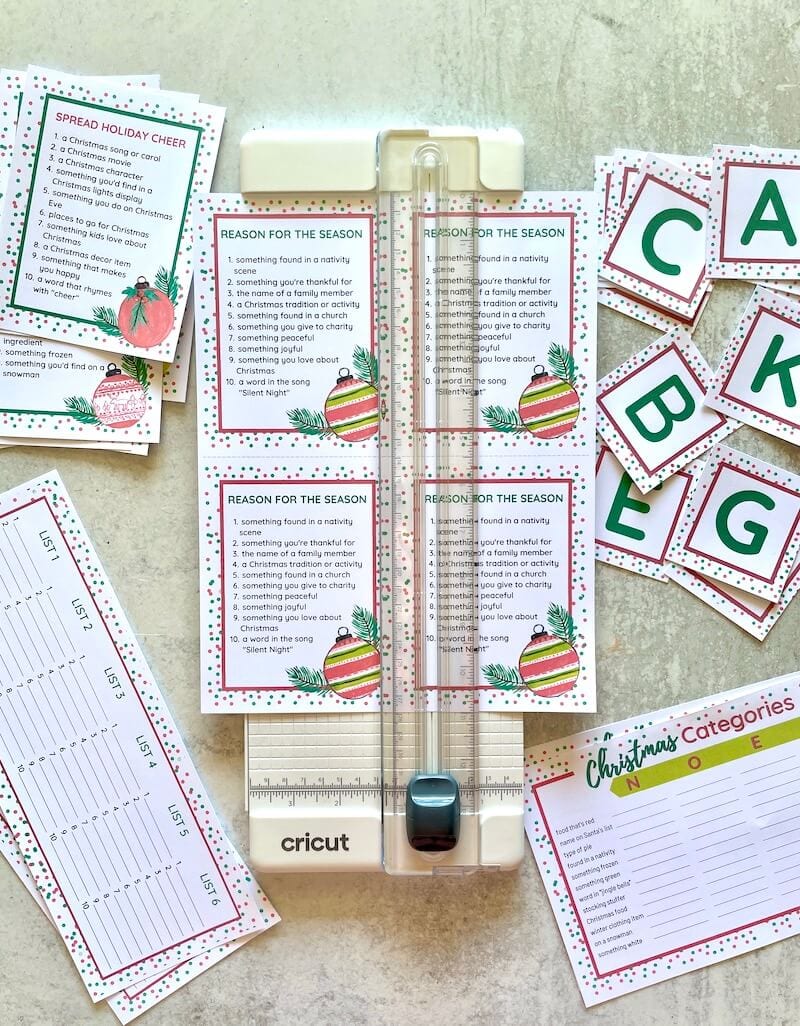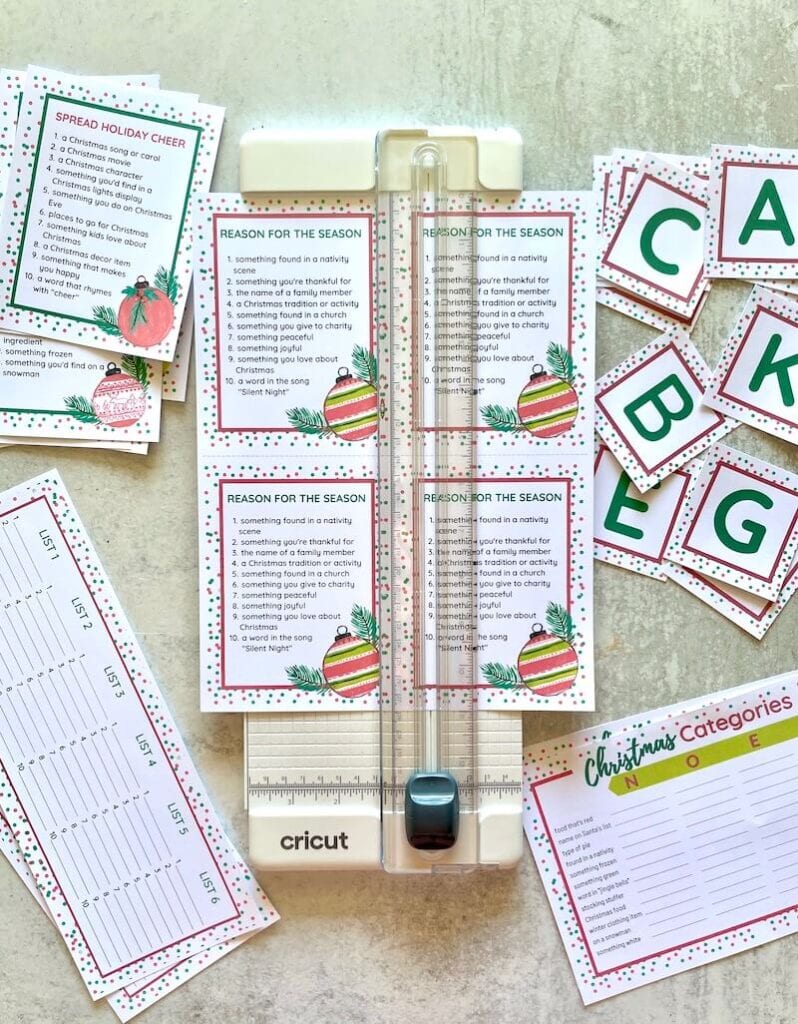 Printable Christmas Scattergories list PDF – These are the game cards with categories. Find it in my shop here!
Printable letter cards – If you happen to own the original Scattergories game, then you can also use the alphabet dice from that instead.
Printer
Paper
Scissors or paper trimmer – To cut out the category lists, blank answer sheets, and letter cards
Enough pencils or pens for every player
Timer – You can set a timer on your cell phone or use a sand timer.
Prizes for the winners!
Laminator (optional) – If you want to use this fun game year after year, then I suggest laminating the Christmas category lists and letter cards.
How to Play Christmas Scattergories
Although this fun holiday game is challenging, and you'll definitely have to put your "thinking cap" on, it's really easy to play:
Step 1: Print, cut, and pass out the Christmas Scattergories game cards to each player.
Just print whichever game cards that you want to use. I suggest printing the category cards on white card stock, because they'll be sturdier and look nicer. You can also laminate the cards so that you can use this fun Christmas game over and over again.
For the blank list sheets where the players write down their answers for each category, you can just use regular printer paper.
Once you have all of the category cards, letter cards, and blank lists printed out, just cut them and pass out the category cards and/or blank list sheets to each player or team. If you're using the letter cards, then shuffle them up and place them in a pile in the center of the table.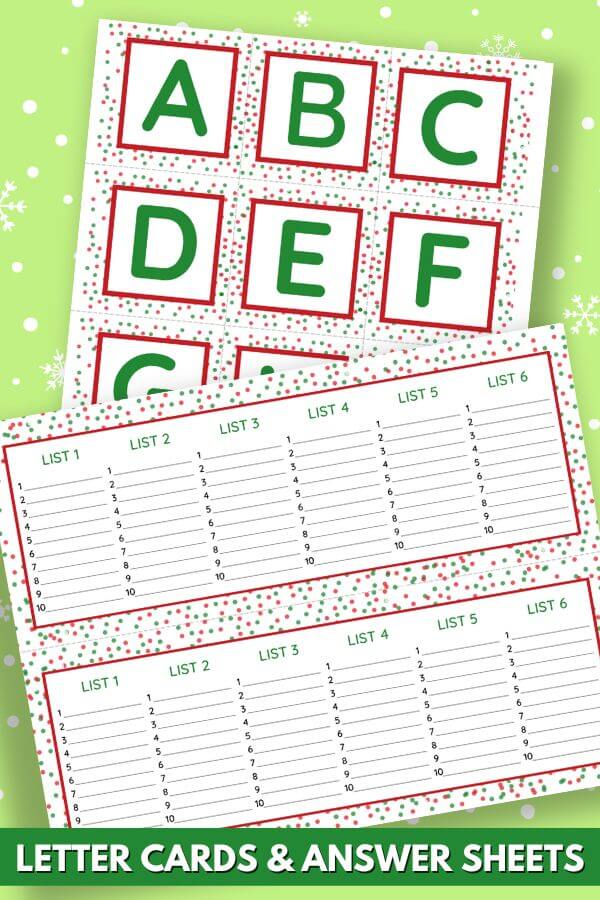 Step 2: Roll the letter dice or draw a letter card.
To start the game, determine which category list card you'll use first, and then have one player roll the letter dice or draw a letter card out of the pile and say it out loud to the group. Then, set a timer on your smartphone or use a sand timer.
Since some of the categories are more difficult, I would suggest going with a 3 or 5 minute timer for each round. Or if you want to really make it challenging for adults, try a 60 second or 2 minute time frame.
Step 3: For each category, write down words that start with that letter.
When the timer starts, each player writes down words for each category that start with the letter that was selected for that round. When the timer runs out, everyone has to put their pencils down and it's time to tally up the scores.
Since some of the categories are challenging, you may want to skip the ones that you can't think of a word for, and then you can come back to them later if you have time. When we played this game, some of our holiday guests definitely had some blank spaces on their answer cards!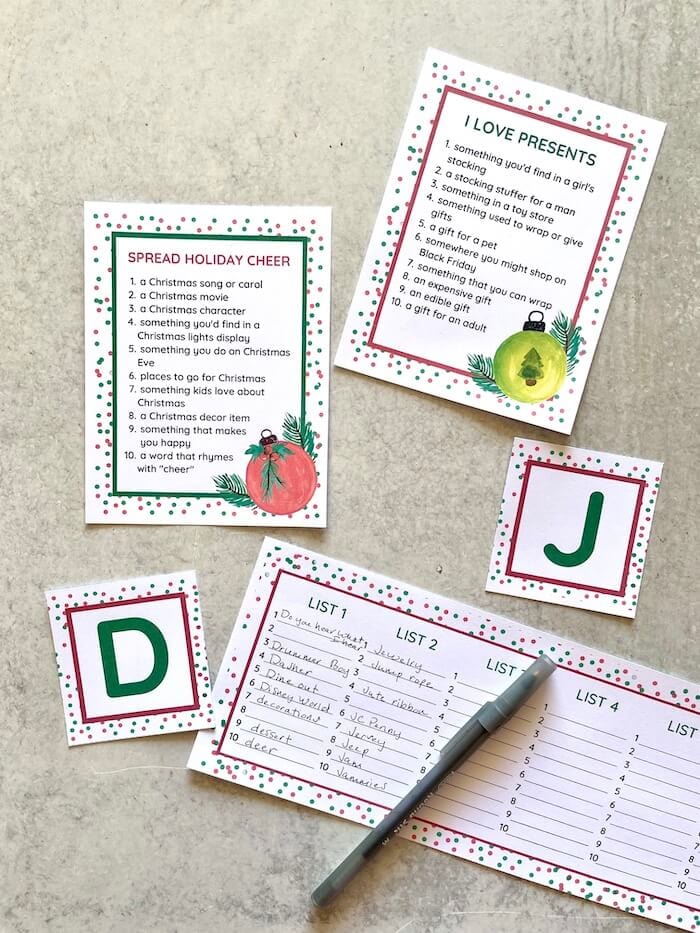 Step 4: Tally up the scores to see who wins!
When the game is over, it's time to tally up the scores to see who wins! Go around the circle and have everyone read off their answers for one category at a time. Each player gets one point for every unique answer in a particular category. So if two players write down the same answer for "a girl's name on Santa's list", then neither player gets a point for that answer.
You only score a point for every unique answer that you write down.
Other Rules for Scattergories
Now that you know the basics of how to play this popular game, here are some of the other rules that you need to know:
You can't use the same word twice in a single round. So you can't write down "candy cane" as the answer for both of the categories "something red" and "a Christmas dessert", if those categories are in the same round or on the same category list card.
You can use multi-word answers, as long as the first word starts with the correct letter. So for the category "Christmas movie" and the letter "H", you can write "Home Alone" because the very first word starts with H.
The words a, an, and the don't count as the first word. So you could write down "The Night Before Christmas" for a Christmas book that starts with letter N.
Before playing, decide if players will get 2 points for alliterations. An alliteration is when two words that are right next to each other start with the same letter, like "Rocky Road" or "Green grapes".
Fun Variations of the Christmas Categories Game
This printable Christmas game comes with a few different versions of word category games: one similar to the original Scattergories game, one that has 4 letters pre-filled for each category, and one version that's easier for younger kids with just a list of all of the letters of the alphabet.
This classic Scattergories game is the most difficult, because you have to think of a word for the letter that's rolled to go with each specific category. And you don't know what the letter is ahead of time, so you can't think ahead to the next round.
This one page Christmas categories game version (with GIFT and NOEL letters) is a little bit easier, because you know all of the categories in the list and all 4 of the letters immediately when you get the card. There's a little bit less pressure to hurry and think on your feet (though it can still be pretty challenging!).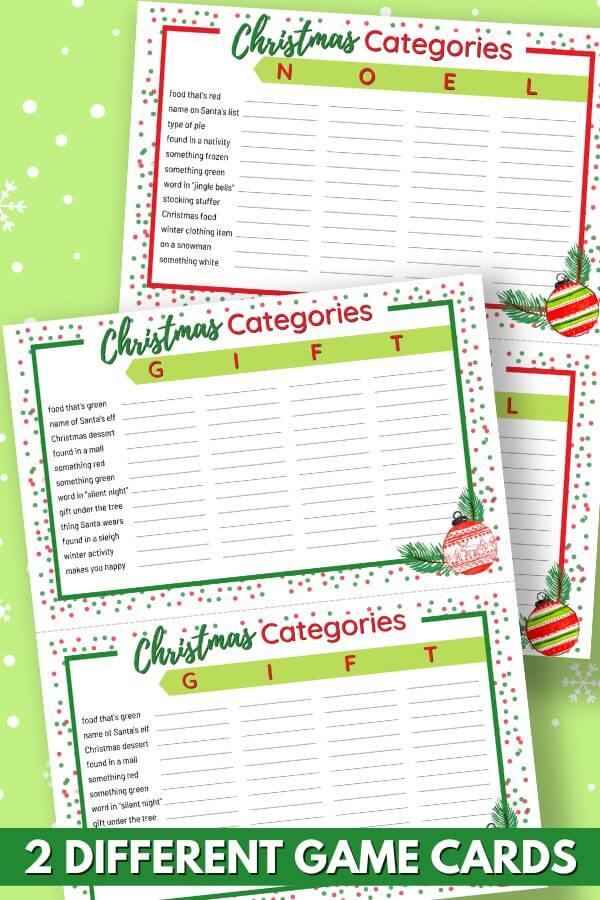 And if you need an easy Christmas Scattergories for kids, then this fun printable game comes with a version for that also! The blank "Christmas Words" cards are perfect for thinking of any holiday-themed word for each letter of the alphabet… Great for elementary aged kids! For instance, angel for A, beard for B, chimney for C, etc.
Scattergories Categories for Christmas
"Scattergories categories"… Say that 5 times fast!
One of the main parts of this fun game is coming up with categories to use for each round. So to make things easy on you, this printable Scattegories game includes category cards to use! Here are some of the categories that are included on the printable Christmas game cards: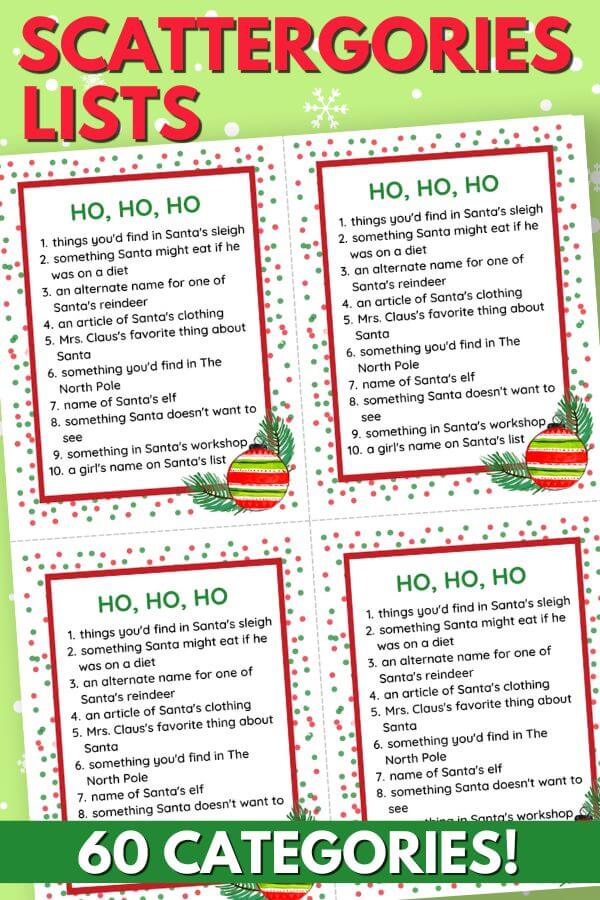 Santa Claus is Coming to Town – Scattergories List #1
things you'd find in Santa's sleigh
something Santa might eat if he was on a diet
an alternate name for one of Santa's reindeer
an article of Santa's clothing
Mrs. Claus's favorite thing about Santa
something you'd find in The North Pole
name of Santa's elf
something Santa doesn't want to see
something in Santa's workshop
a girl's name on Santa's list
Eat Drink and Be Merry – Scattergories List #2
All of these categories have to do with Christmas dinner!
a Christmas dinner side dish
a type of pie
a Christmas dessert
a food that's red
an ingredient that goes in Christmas cookies
a food that's green
something you'd find on the dinner table at Christmas
a fruitcake ingredient
something that could be peppermint flavored
a Christmas cookie cutter shape
I Love Presents – Scattergories List #3
These Christmas categories are all about holiday gifts and stocking stuffers:
something you'd find in a girl's stocking
a stocking stuffer for a man
something in a toy store
something used to wrap or give gifts
a gift for a pet
somewhere you might shop on Black Friday
something that you can wrap
an expensive gift
an edible gift
a gift for an adult
The Reason for the Season – Scattergories List #4
something found in a nativity scene
something you're thankful for
the name of a family member
a Christmas tradition or activity
something found in a church
something you give to charity
something peaceful
something joyful
a word in the song "Silent Night"
something you love about Christmas
That's just a sample of some of the Christmas categories in this printable game, and there are 6 separate list cards pre-filled with 10 different categories… so that's a total of 60 different words for your guests to come up with!
Printable Christmas Scattergories Game
Want to play this fun Christmas game for adults at your holiday party this year? You can check out the printable Christmas Scattergories game in my shop using the link down below: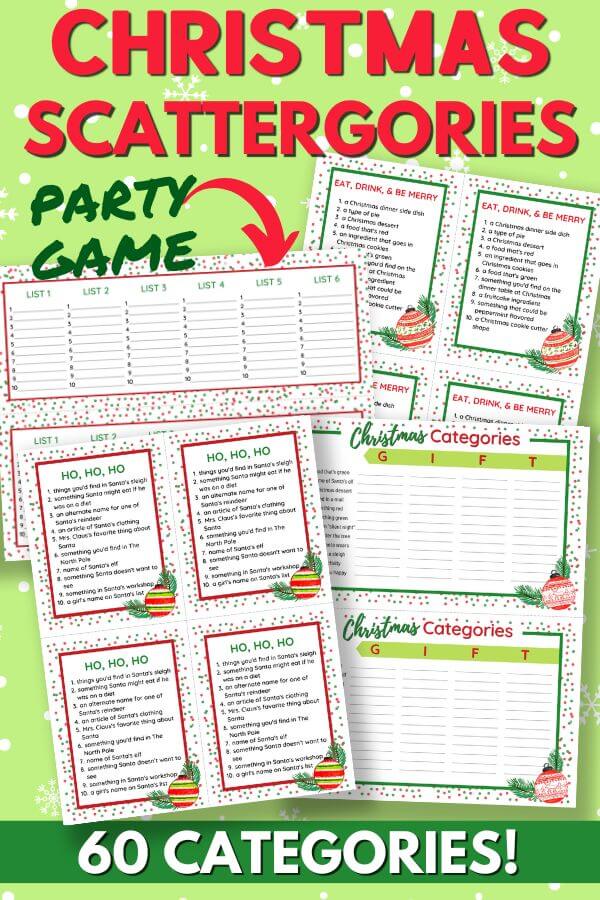 Click HERE to see the Christmas Categories Printable Party Game!
Other Christmas Party Games
Saran Wrap Ball Game – We played this fun prize ball game a few years ago with our big family, and it was SO much fun for everyone in the group, including toddlers and adults! The printable "Wrap Trap" cards make the Christmas game even more fun and challenging!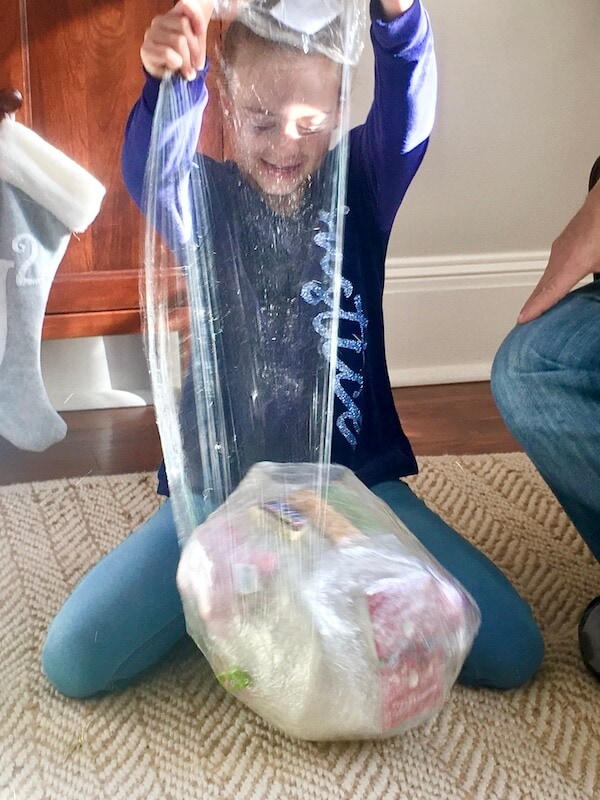 Christmas Charades – This classic game is great for groups with a wide range of ages, too! Draw out one of the printable cards and act out the Christmas-themed words!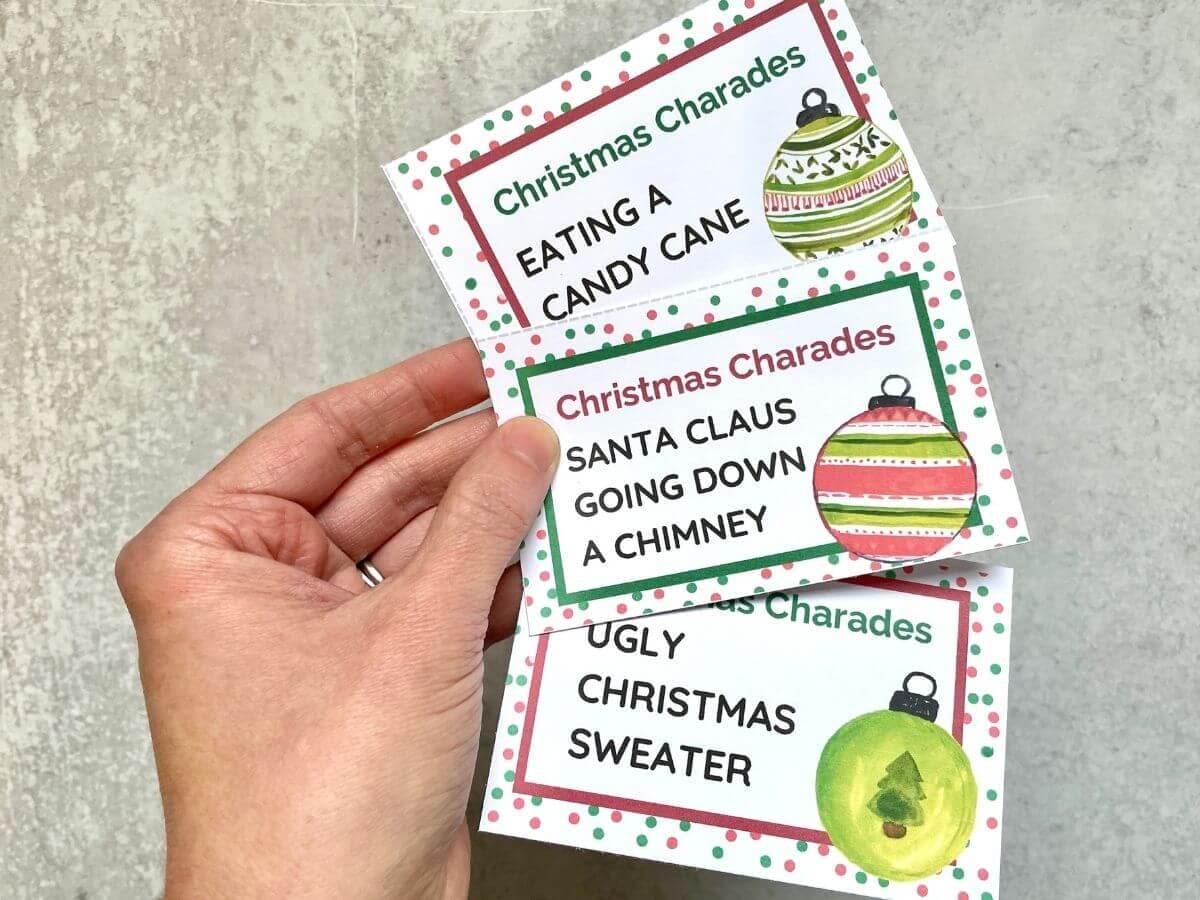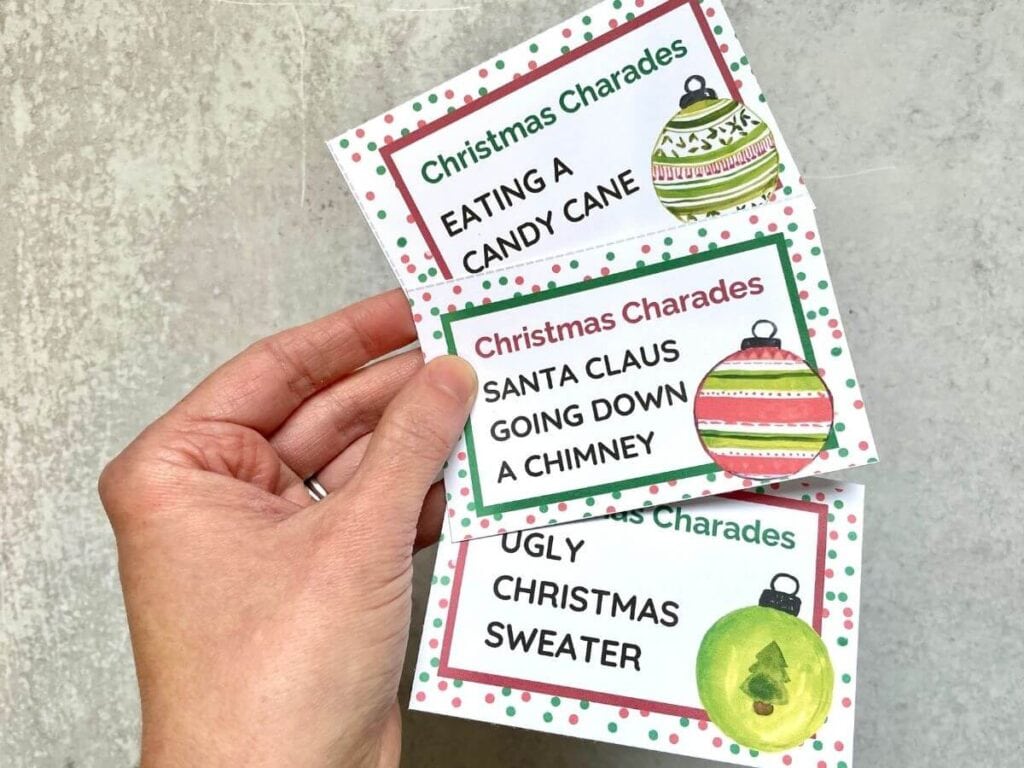 I hope you LOVE playing this fun Christmas party game for adults! And Merry Christmas to you and yours!