These printable 4th of July sparkler tags make awesome patriotic party favors! Just print the tags, cut them out, and add sparklers!
You can't have a 4th of July party without sparklers, right?!
And these super cute Fourth of July sparklers party favors are a cinch to make with printable sparkler tags! Whether you add them to a big bowl as a grab-and-go party favor as your guests are walking out the door or you drop them off on your neighbor's front porch as a little patriotic gift, these cute July 4th sparkler gifts are sure to be a hit with kids young and old!
Here's how to make your own DIY sparklers party favors for your Fourth of July party this year: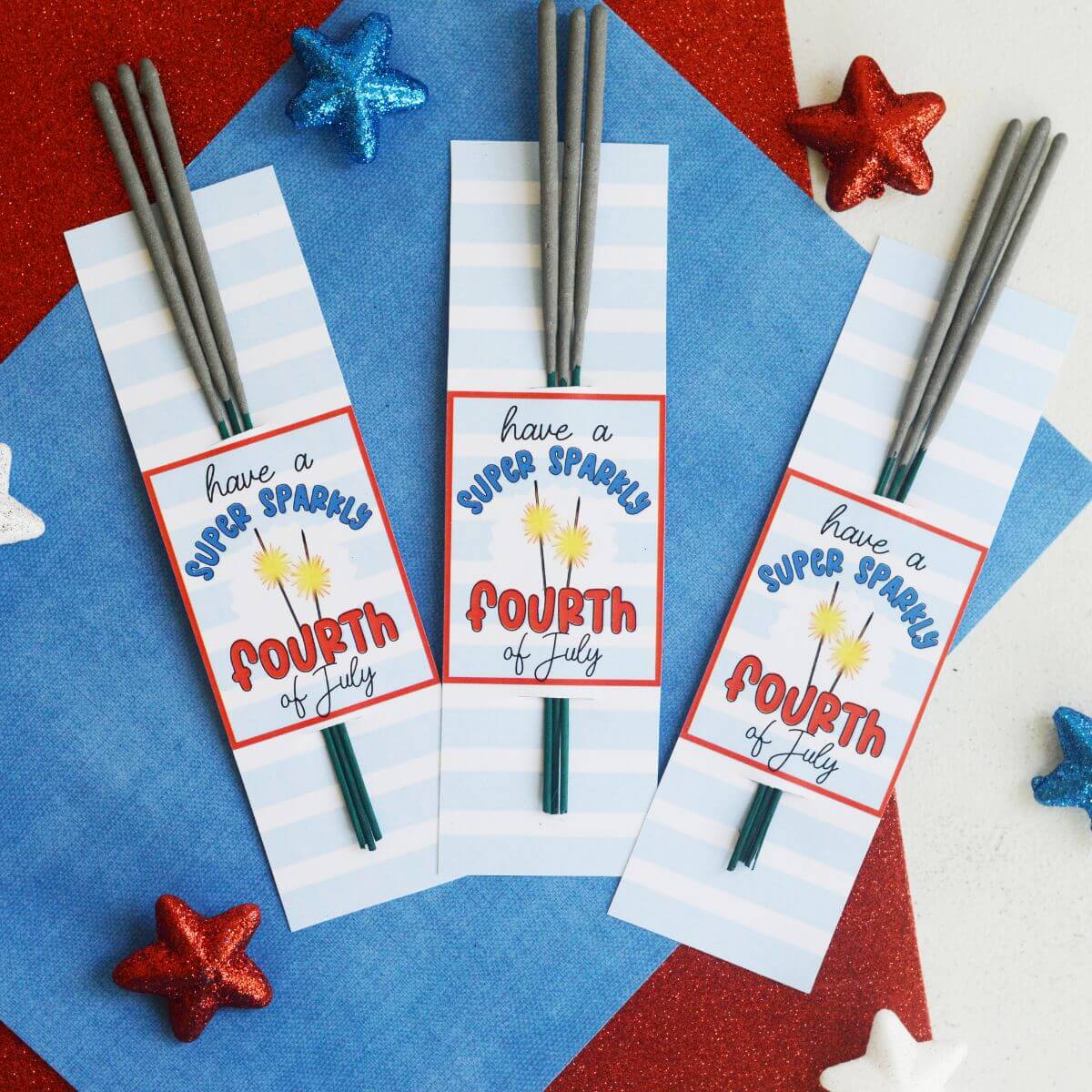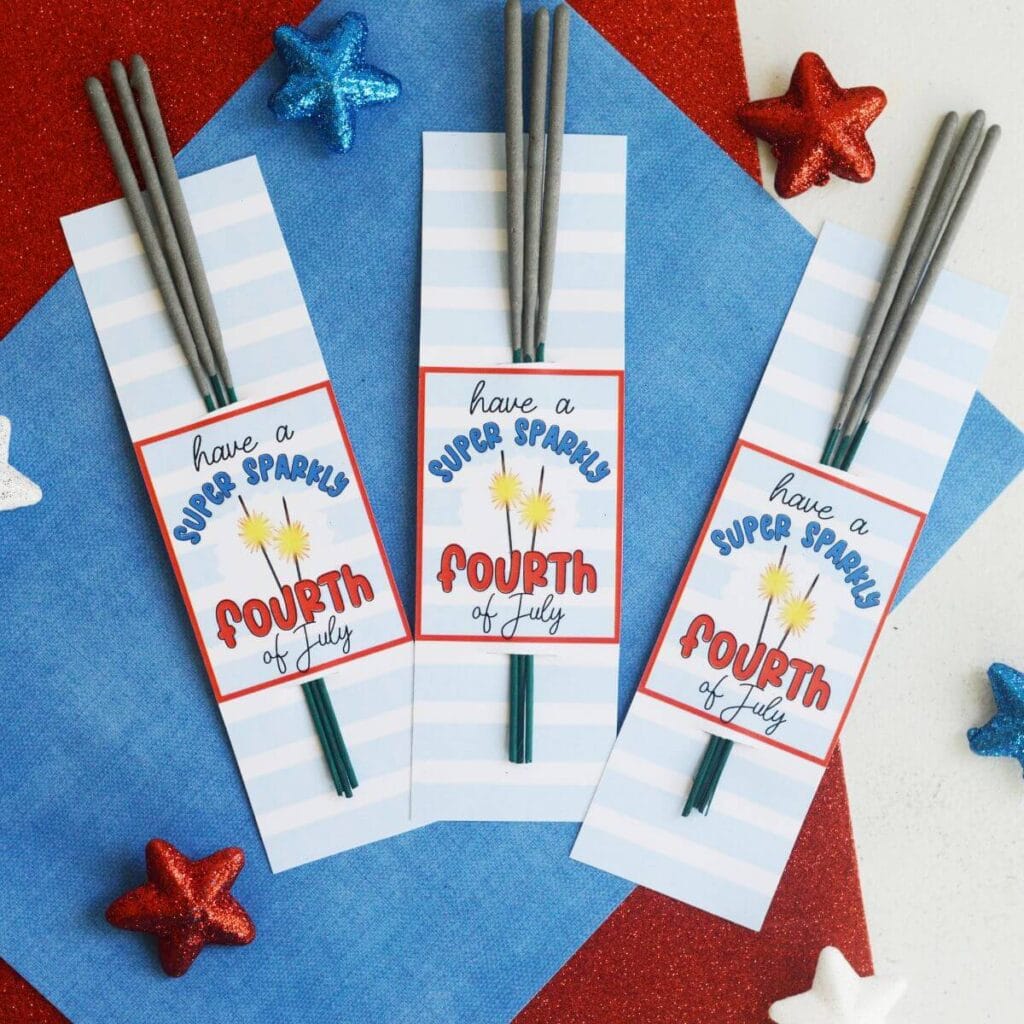 Supplies Needed for Sparklers Party Favors
To make your own July 4th sparkler party favors you will need:
sparklers – Or you can also use the printable 4th of July tags with glow sticks for the younger kids!
printable sparkler favor tags – You can grab two different designs of sparkler tags at the end of this post!
white card stock – US Letter (8.5″ x 11″) size
scissors and/or paper trimmer
hole punch and ribbon or colored twine – If you're using the smaller tags
craft knife and tape – If you're using the larger sparkler backing tags
How to Make 4th of July Sparklers Favors with the Printable Tags
These Fourth of July sparklers party favors are super easy to make with a few basic supplies, which means you can focus on other patriotic party prep like this fun no-bake flag cake! Here's how to make the sparklers party favors with the printable gift tags:
Step 1: Download and print the Fourth of July sparklers favor tags.
These super cute printable sparklers tags are available in my shop! Just download the PDF and print it on white card stock.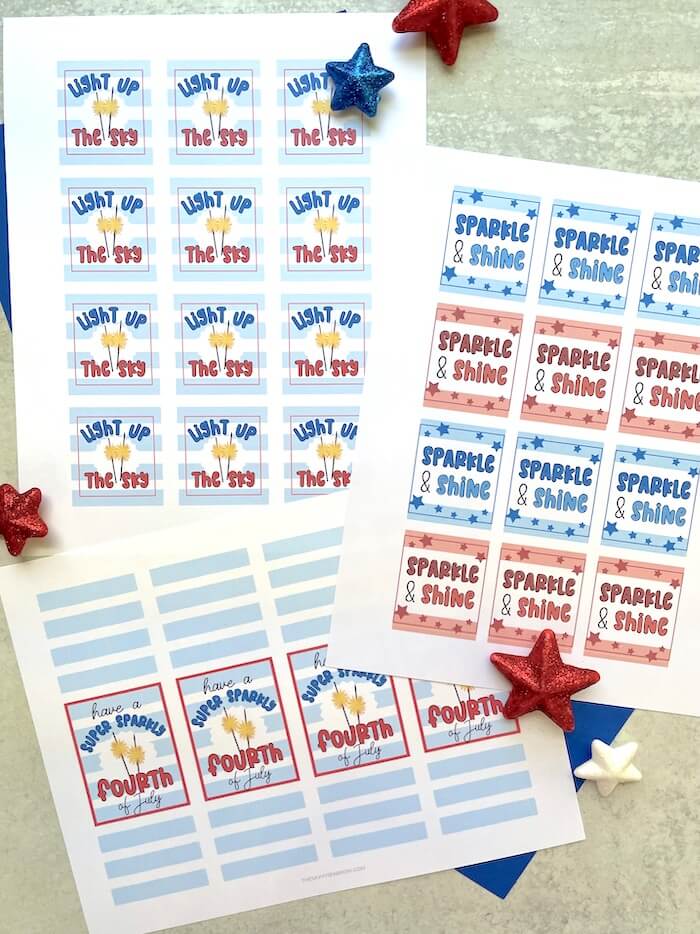 Step 2: Cut the sparkler tags out.
When you have the tags printed on card stock, simply cut along the outer edges of the tags. If you're using the larger backing cards for your sparklers party favors, then you'll also need to cut a small slit so you can insert 3-4 sparklers as well.
Just use an Xacto knife or a box cutter to carefully cut a slit right above and below the design on the printable cards like this: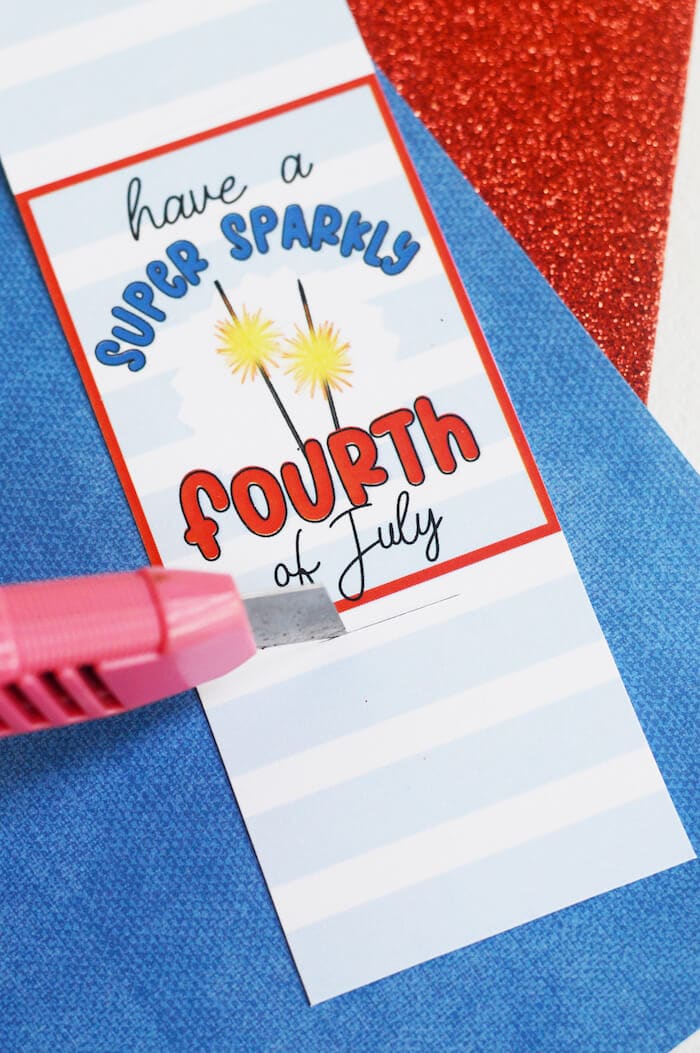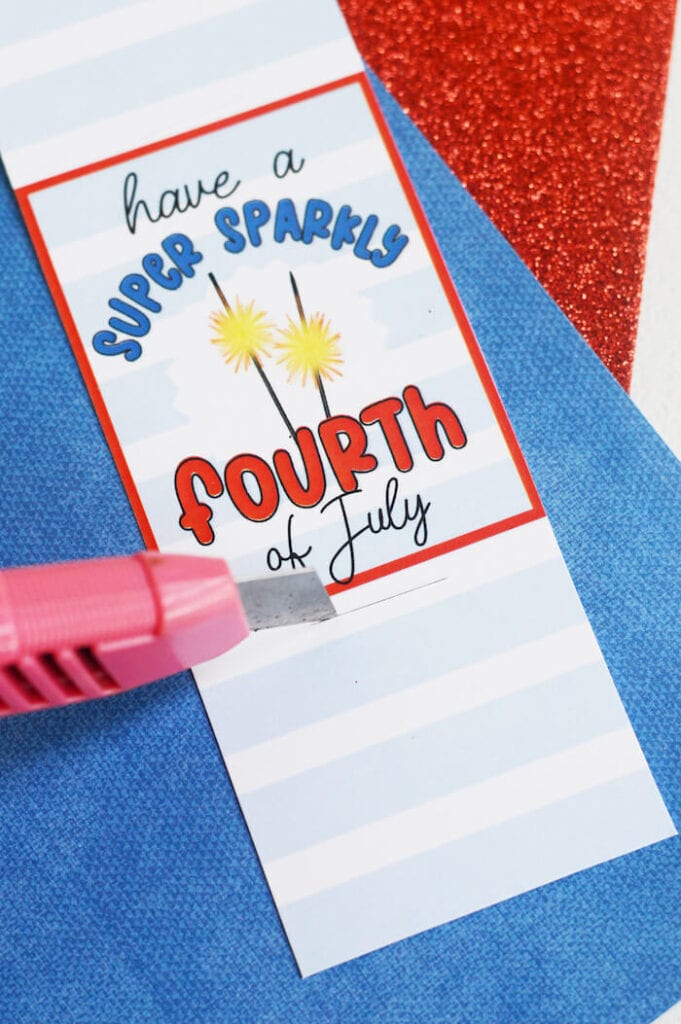 Step 3: Attach the printable July 4th favor tags to sparklers.
You have a few different options for attaching the sparkler tags to your sparklers, depending on which tags you decide to use. Here are some examples of the 4th of July sparkler party favors that you can create with the different printable sparkler tags:
For the large sparklers backing cards:
Both of the sparklers tags designs come with a large sparkler backing tag. These printable patriotic tags are perfectly sized for 3-4 sparklers, and they can be added to a large bowl or basket on your entry table for guests to grab as they leave, or add them to a 4th of July gift basket for your neighbors!
For these sparklers gift tags, you'll probably want to add a piece of tape across the back side of the tag (in between the two slits) to hold the sparklers in place so they don't slip out of the card stock tag.
Here's what the finished "Sparkle and Shine" sparkler tag printables look like: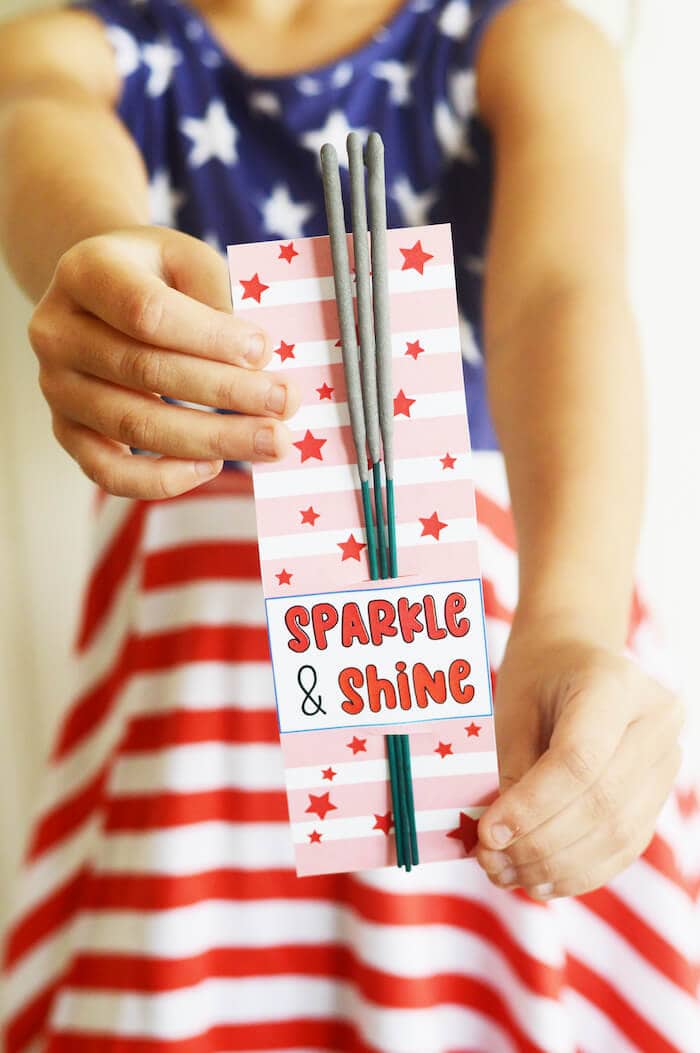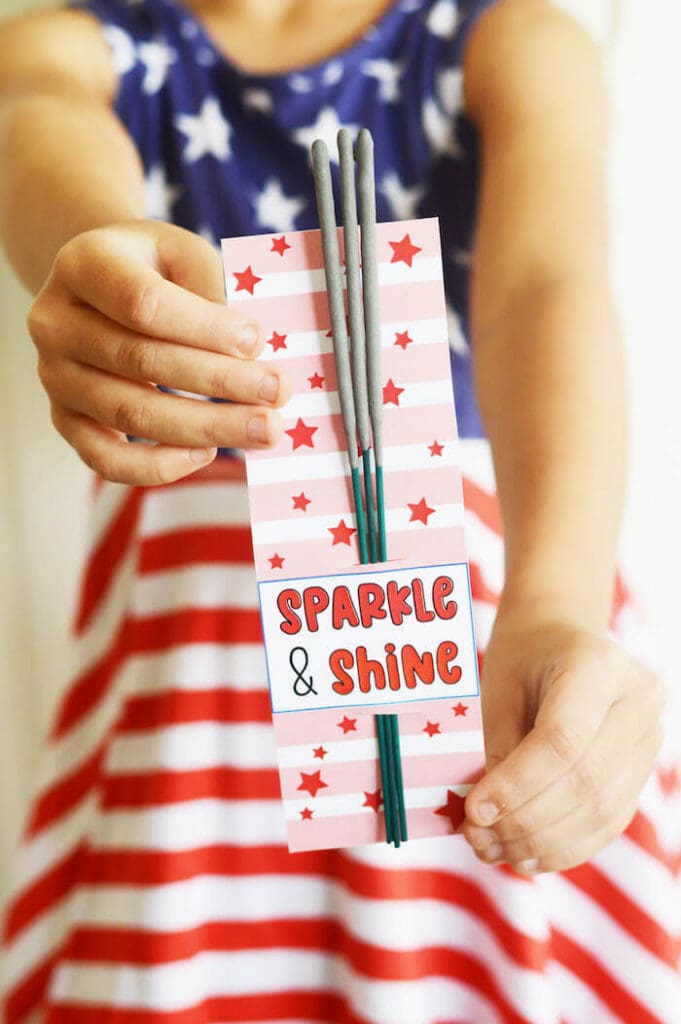 And here's an example of the "Super Sparkly Fourth of July" printable sparkler tag: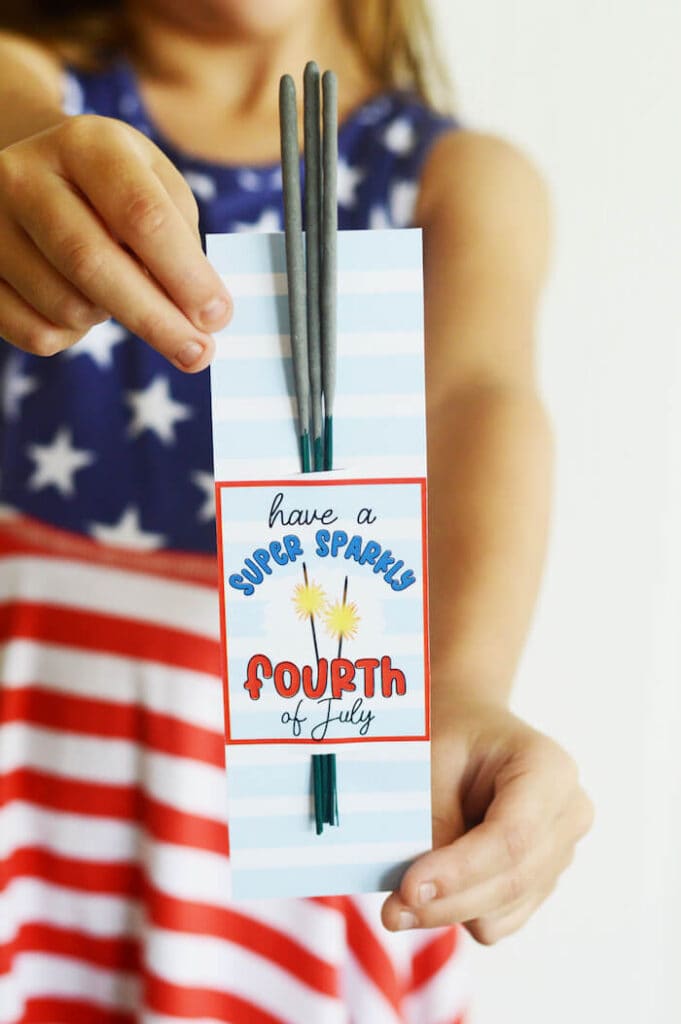 Just print one design or use them both! The fonts on both designs match, so the Fourth of July sparklers party favors would look great mixed together!
For the smaller printable sparklers tags:
The smaller printable Fourth of July sparklers tags are perfect for using with colored twine or curling ribbon to create little "bundles" of sparklers.
Just hole punch a hole in the top corner of each tag. Then tie the tag around 3-4 sparklers using twine or curling ribbon. Finish up your sparklers party favors by curling the ends of the ribbon or tying a pretty bow.
Here's the finished Fourth of July sparklers favors with the "Sparkle and Shine" tags: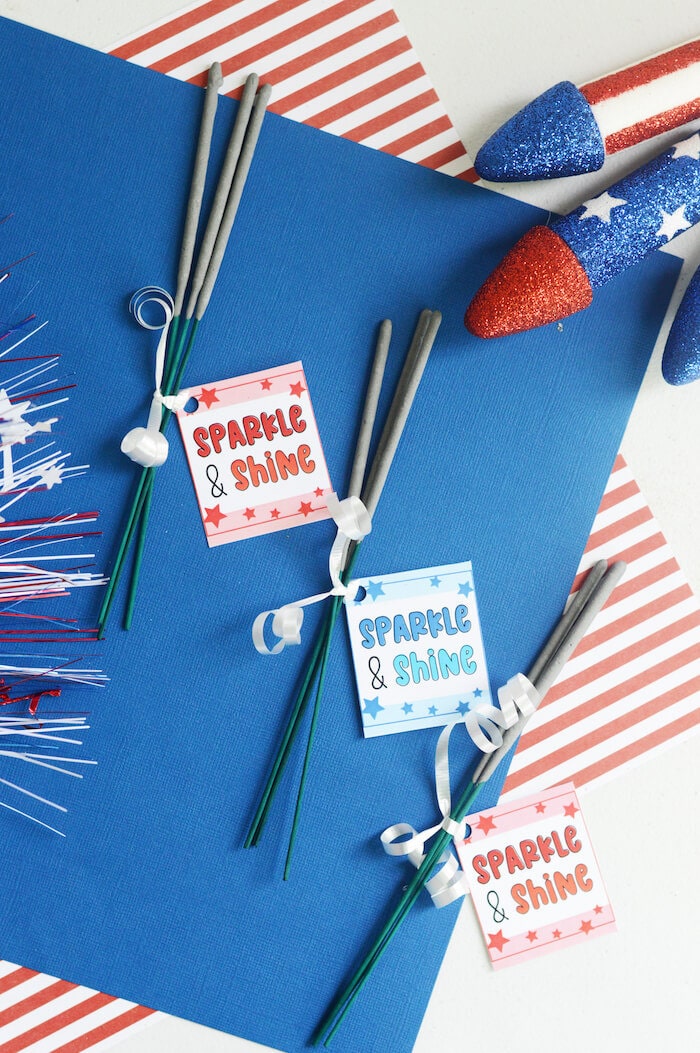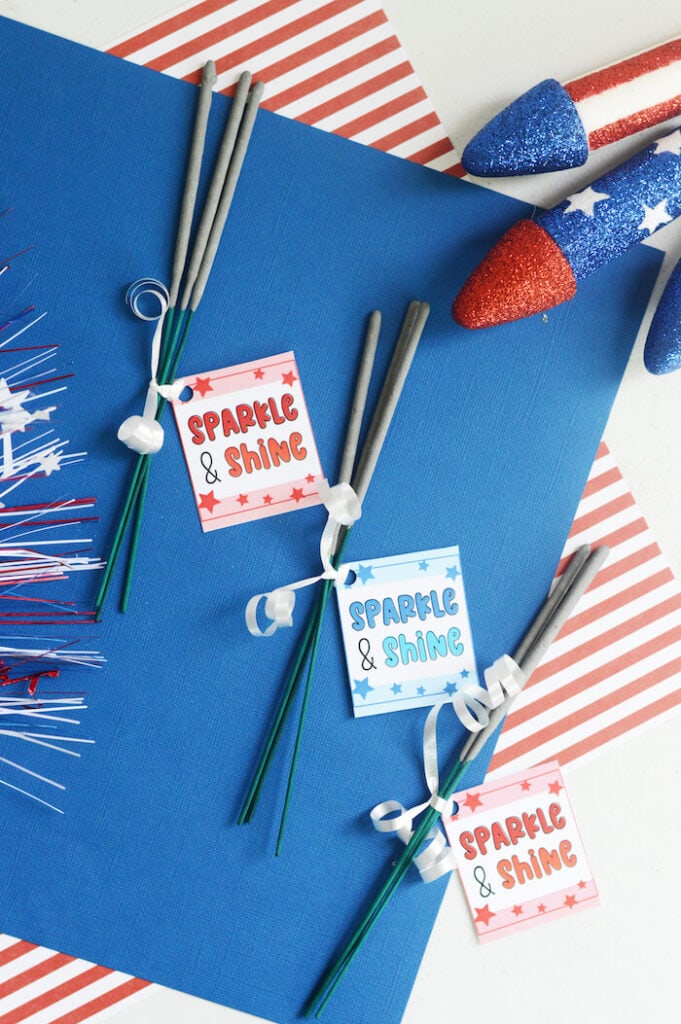 And here's the other printable sparklers tags that come in the PDF: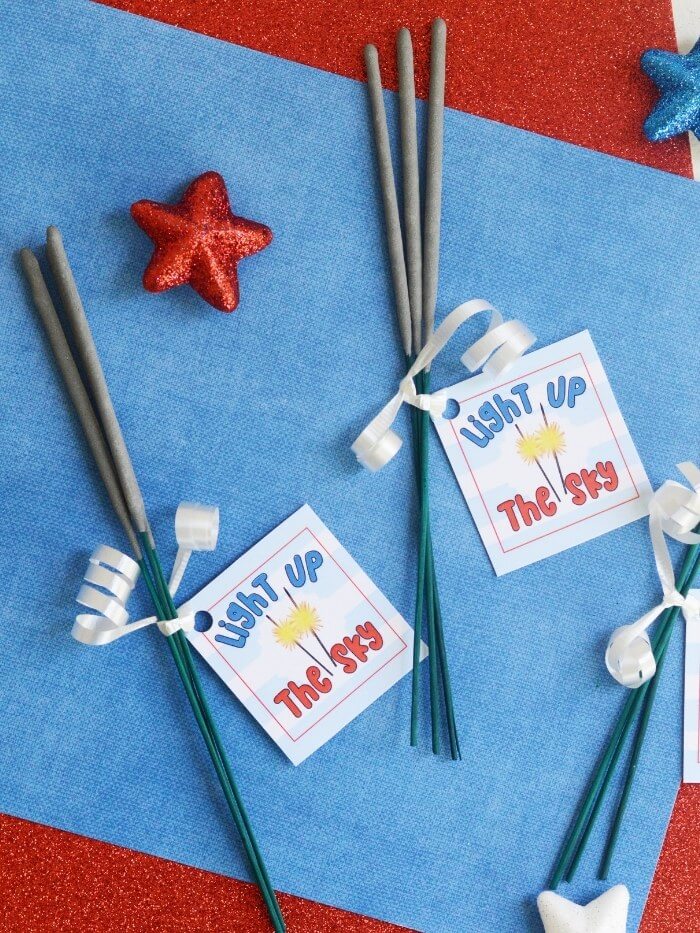 Printable 4th of July Sparkler Tags
Want to make your own cute patriotic sparklers party favors? Just hop over to my shop to check out these printable sparklers tags!
You get a 6 page PDF to download with ALL of the sparklers tags that you see in this post! Save the file to your computer to use year after year for easy Fourth of July party favors or neighbor gifts!
Get the Printable Sparkler Tags HERE!
Other July 4th Party Ideas
Looking for some FREE printable July 4th tags to use for your party? I've got those for you, too! Check out these posts for some super cute July 4th printable tags that you can download for free:
Free Poppin' Fourth of July Gift Tags – Tons of July 4th Party Favor Ideas! – These POPPIN' gift tags are perfect for making July 4th party favors that go POP, from confetti poppers to pop-its to popcorn!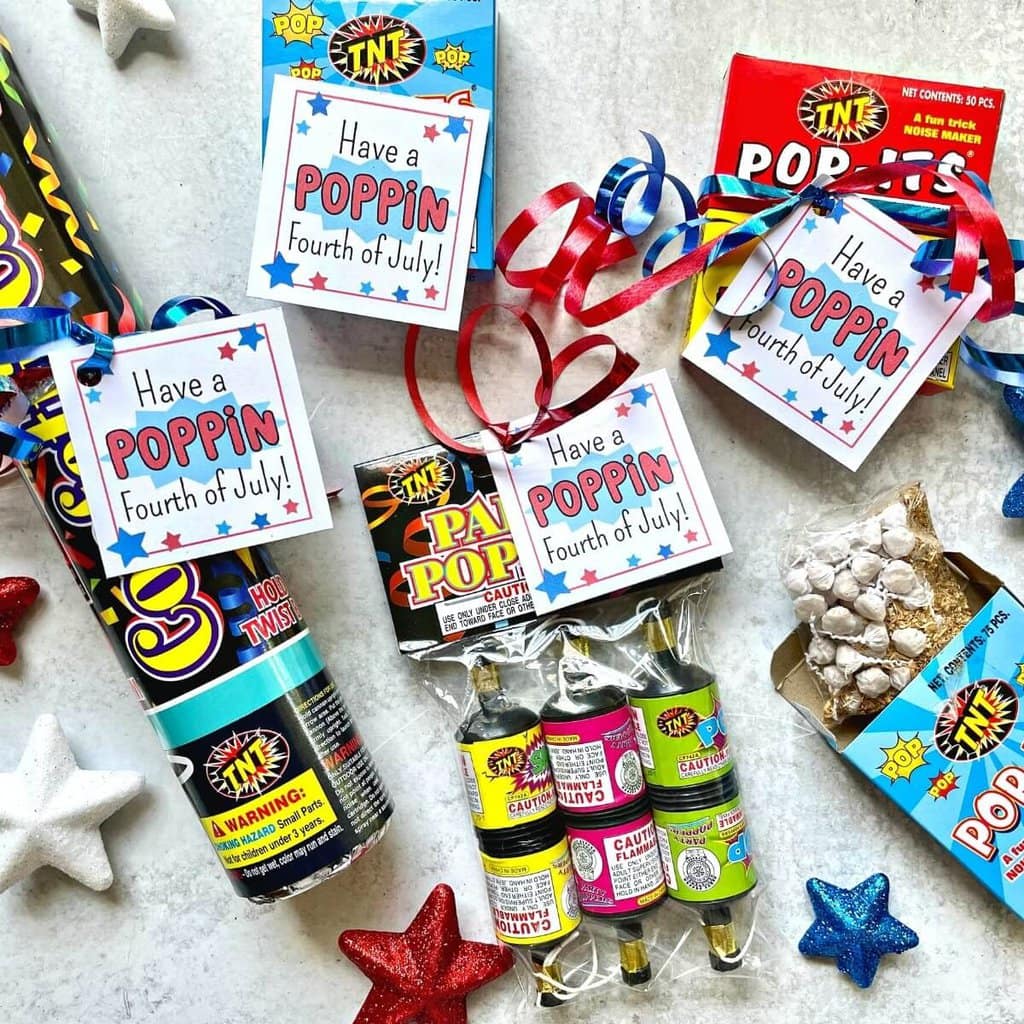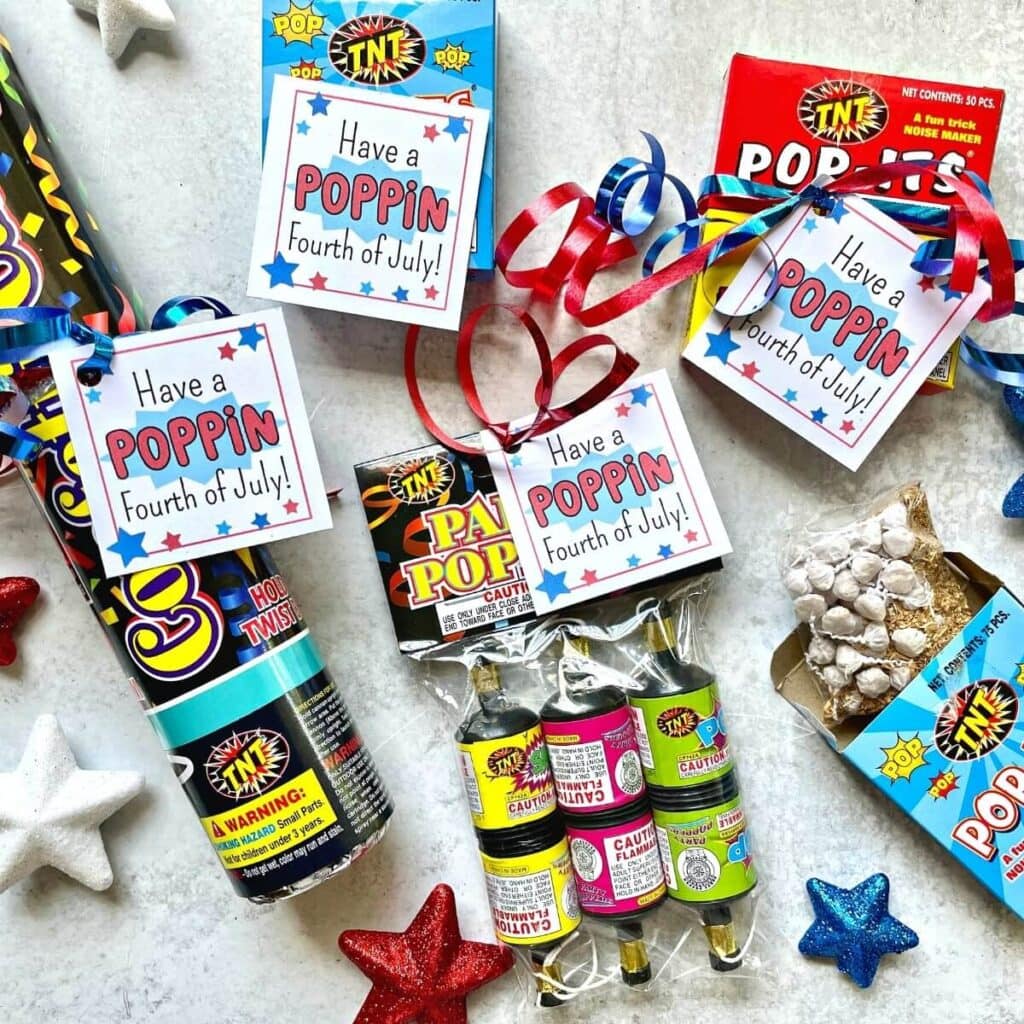 Pop Rocks Party Favors for Fourth of July with Printable Tags – Looking for a treat for the kids? Make your own Pop Rocks patriotic party favors with these free printable tags!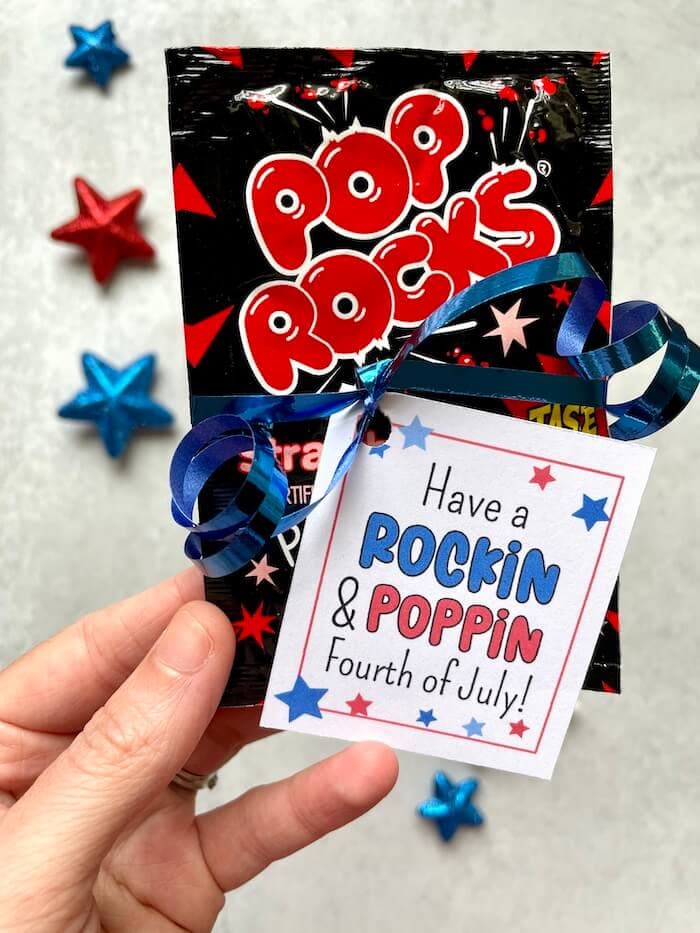 I hope you enjoyed these super cute and easy DIY Fourth of July party ideas!
What are some of your favorite ways to add some cute details to your July 4th party? Leave me a comment down below!
And don't forget to PIN this post for later: