Looking for easy reindeer Christmas crafts for kids to make this holiday? These Rudolph Popsicle Stick Crafts are so cute, and they would make awesome Christmas ornaments or handmade gifts for grandparents!
Christmas and popsicle stick crafts go together like hot chocolate and marshmallows! For decades, kids have been crafting wooden sleds, reindeer, and glittered frames using popsicle sticks.
I know because I was one of them!
And while those triangle shaped popsicle stick reindeer heads that we all made in kindergarten are durable (I've still got some hanging out in the bottom of my ornament bin 30+ years later!), these Rudolph popsicle stick crafts are WAY cuter!
Here's how to make these cute reindeer crafts with your kids this Christmas:
Supplies for Popsicle Stick Reindeer
These cute Rudolph Christmas crafts only take a few supplies, most of which you probably have in your kids' craft stash: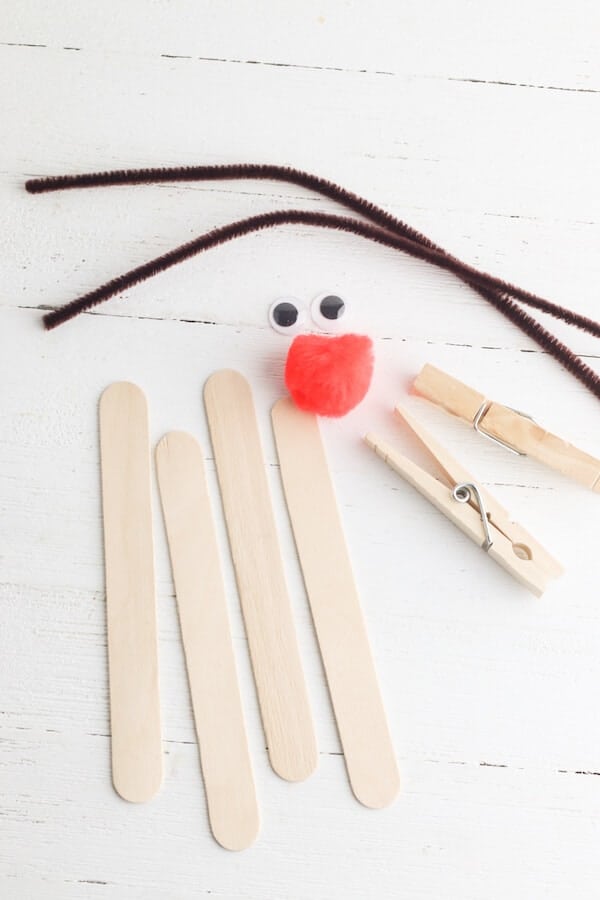 4 large craft sticks – the ones that are sized like tongue depressors
2 small popsicle sticks
2 clothespins
Brown paint – you can use the washable Crayola kids' paint
Brown pipe cleaners
2 googly eyes for each reindeer craft
1 red pom pom for each reindeer craft
glue
foam brush or paintbrush
black permanent marker
How to Make Rudolph Popsicle Stick Crafts
Lay the four large popsicle sticks together on a flat surface, like this: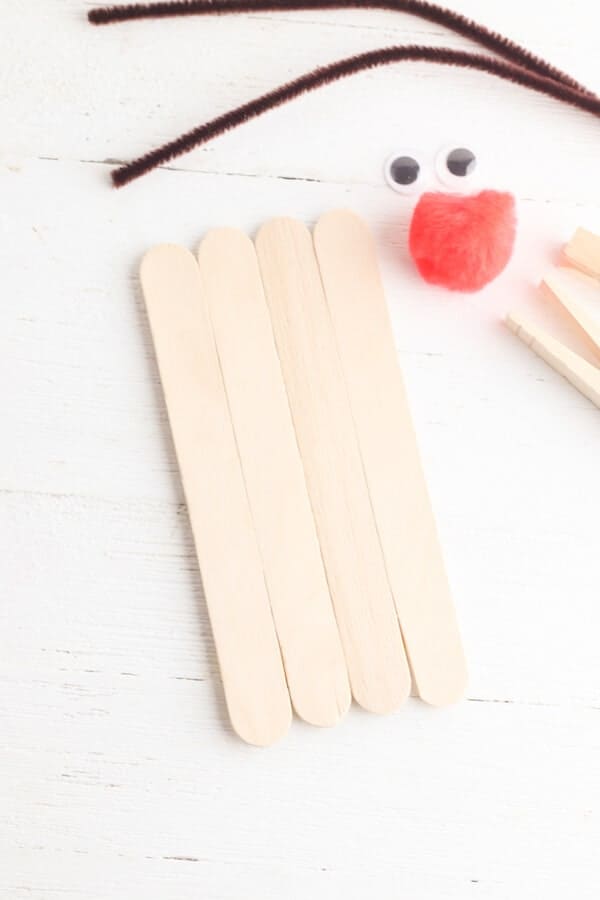 Cut the two small popsicle sticks so that each piece fits across the larger sticks horizontally. Glue the smaller stick pieces across the large popsicle sticks to act as a support and secure them in place.
Use a small foam brush to paint the large popsicle sticks and clothespins brown. You can also use a regular paint brush, but I find that a foam brush gives you a smoother paint finish.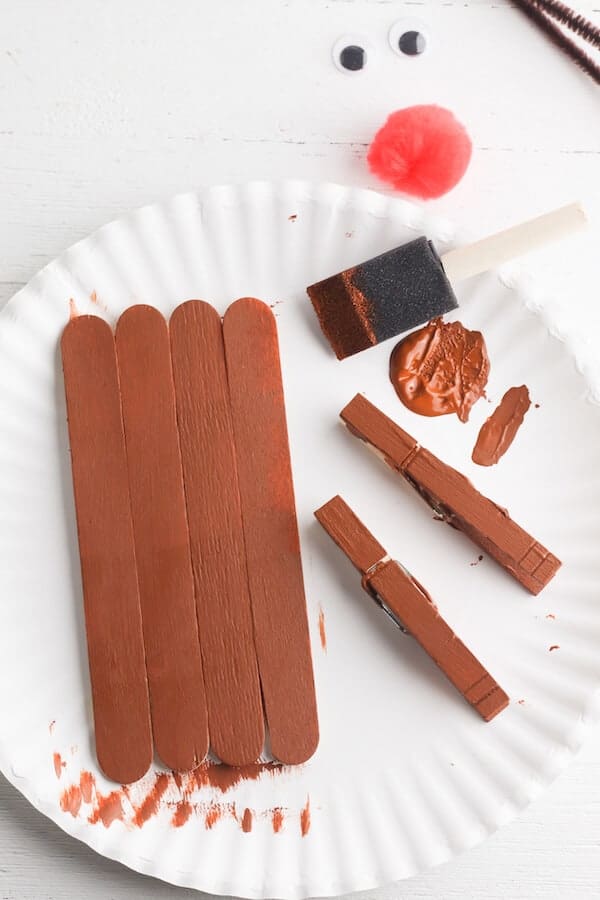 Once your paint is dry, glue the clothespins to the top of the large popsicle sticks. Open your clothespin and place a few drops of glue inside the clip part, then slide the clip part on to the large popsicle sticks.
Cut the brown pipe cleaners in half and wrap two pieces of pipe cleaner around each clothespin to make your reindeer antlers, like this: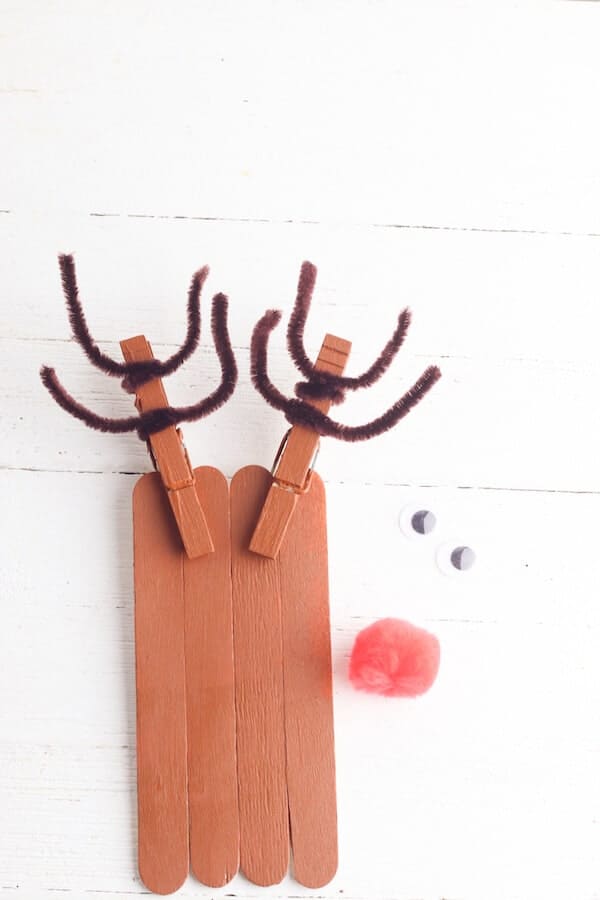 Glue the googly eyes and Rudolph's red pom pom nose to the front of the brown craft sticks to make a face.
Draw a smile on Rudolph's face using a black permanent marker.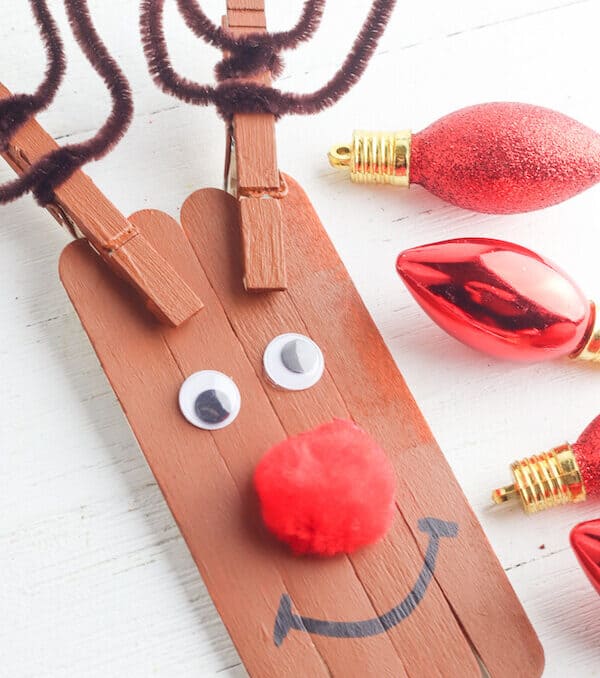 And that's it! Your cute popsicle stick reindeer are done!
You can add a magnet to the back to hang these cute Christmas crafts on the refrigerator, or glue a loop of ribbon to the back to turn them into popsicle stick ornaments.
And then you can check out some of my other fun Christmas ideas for kids: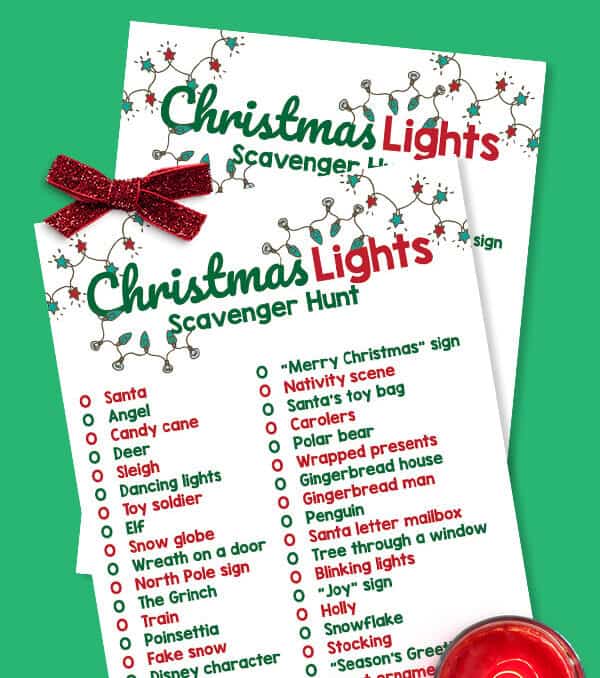 Or hop over to Country Living for even more Christmas crafts for kids to make!