These 11 awesome Tooth Fairy ideas will make losing a tooth super special for your kids! Whether you want to go the easy route with Tooth Fairy printables, or you've got a few minutes to spend on a dollar bill craft, you'll find some great ideas here!
The Tooth Fairy has a funny history at our house. She was often a day late, and she would even "forget" some of her teeth in our kitchen cabinet or the junk drawer or my jewelry box.
And as my kids got older, and they no longer believed in the tooth fairy but they still believed in the money (their words not mine!), they would write me notes and tape them to my bedroom door to remind me to perform my obligatory tooth fairy duties that night.
Mom of the year, right here!
If your kids still believe in the tooth fairy, then try some of these fun tooth fairy ideas to make losing a tooth even more special!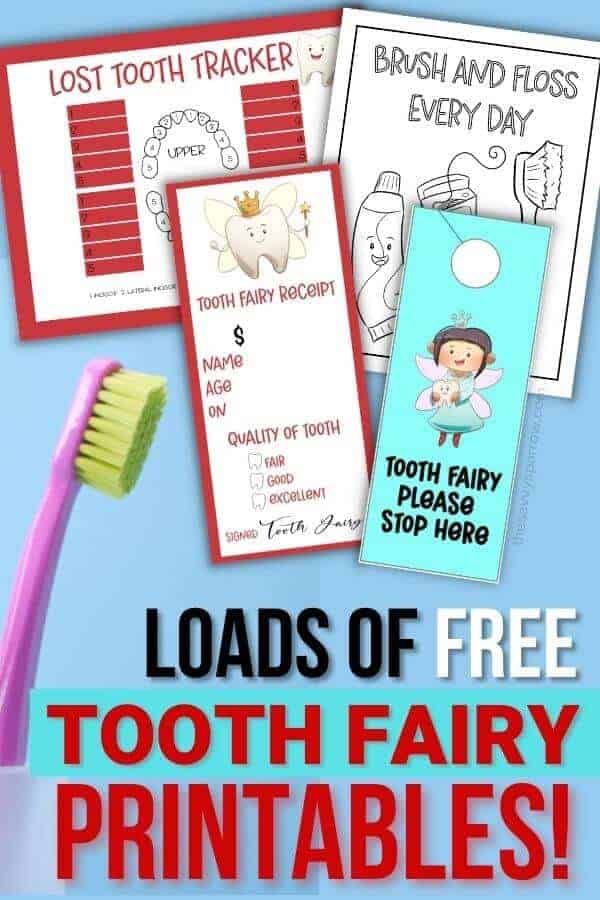 *This post contains affiliate links, which means if you click a link and make a purchase, I earn a commission at no additional cost to you. Read my full disclosure here.
Printable Tooth Fairy Ideas
If you want to make losing a tooth extra special for your kids, but you don't have a ton of extra time to spend sewing a special pillow or glittering up some dollar bills, then tooth fairy printables are the way to go!
You can find SO MANY printable Tooth Fairy ideas (like the free ones at the end of this post!), including lost tooth certificates, tooth fairy receipts, printable door signs, and more. Then all you have to do is download and print… doesn't get much easier than that!
Here are some of the BEST printable Tooth Fairy ideas:
Leave a Tooth Fairy Certificate.
A printable Tooth Fairy certificate is a great way to encourage healthy teeth habits and offer extra "proof" that the Tooth Fairy was there. You can even use a "Healthy Teeth" certificate that encourages good brushing and take a photo of your kids holding their certificates to add to your sentimental file.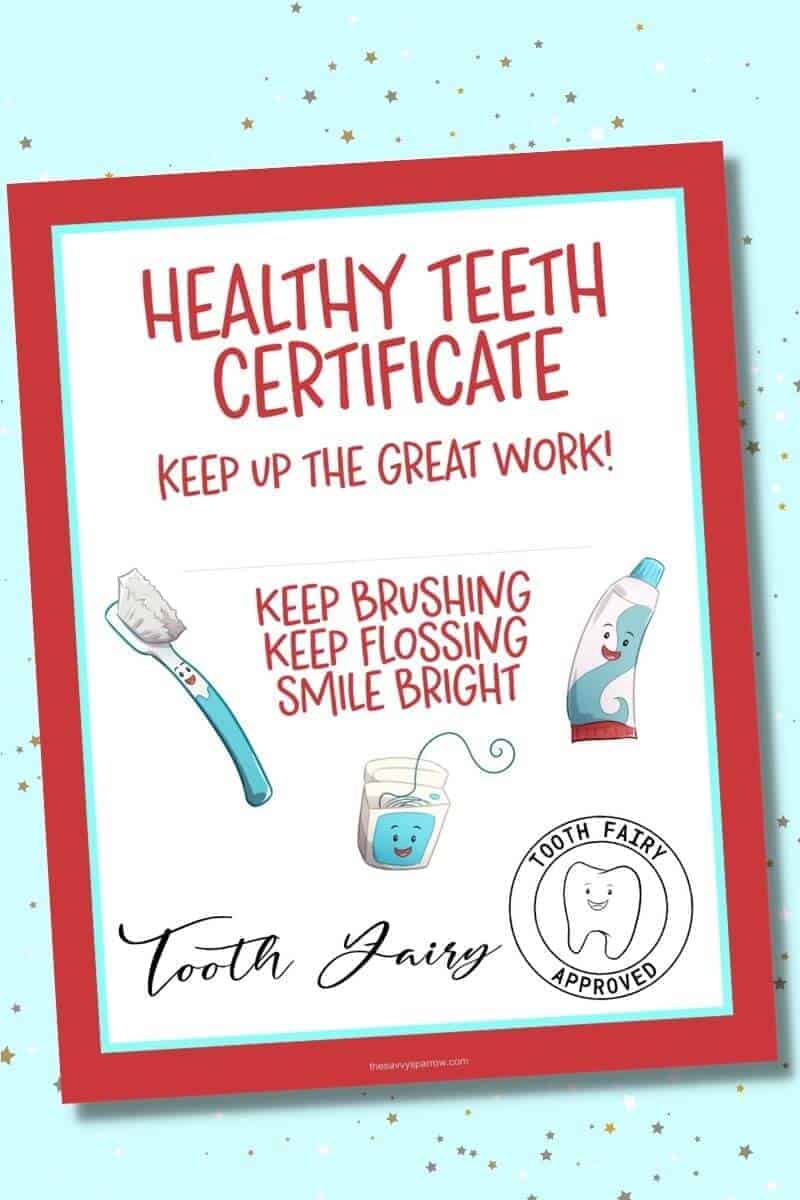 Have your child write the Tooth Fairy a letter.
This is a great way to have your kids practice writing! You can even use a Tooth Fairy letter template like the one below if your kids are younger and can't write a full letter just yet: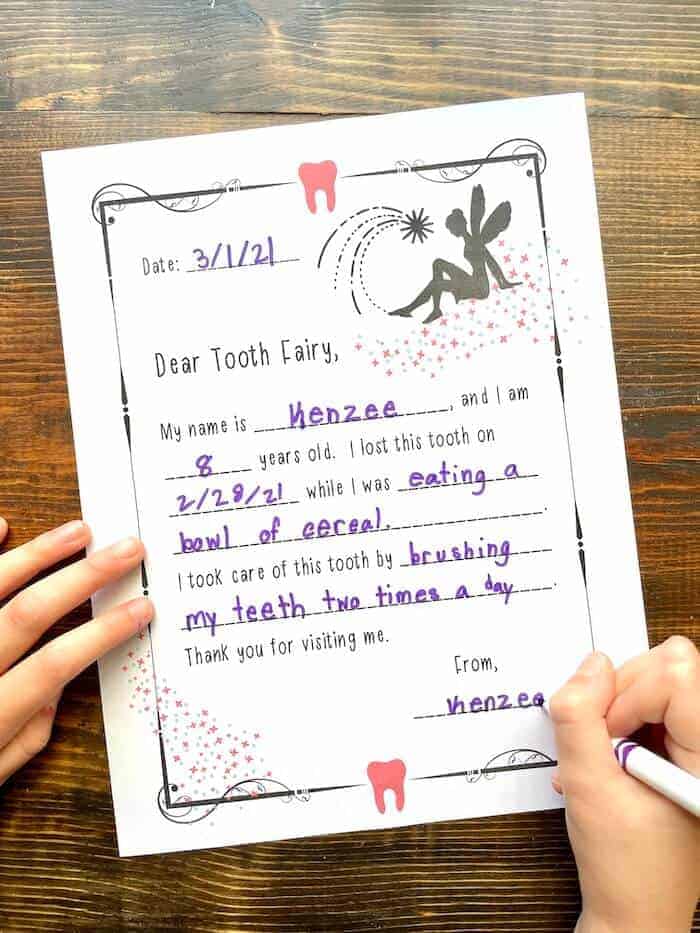 Use Tooth Fairy printable coloring sheets.
If your kids are too young to write the tooth fairy a letter, then let them color a beautiful picture to leave underneath their pillow instead. My free printable tooth fairy ideas include these four different tooth fairy coloring pages: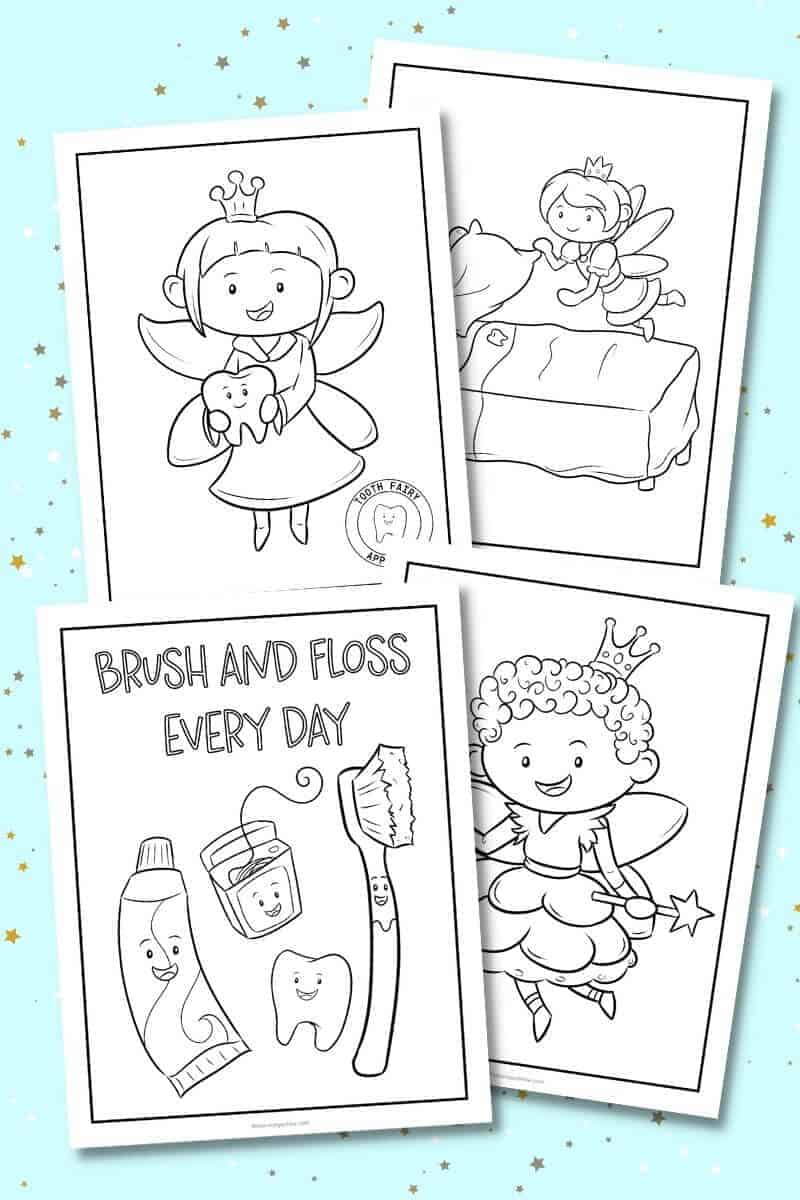 Make a "Tooth Fairy Please Stop Here" door sign.
A printable tooth fairy door sign is another easy way to get your kids excited about losing a tooth. You can make a door knob hanger to hang on your child's door when they go to bed at night, and reuse it every time your kids lose a tooth.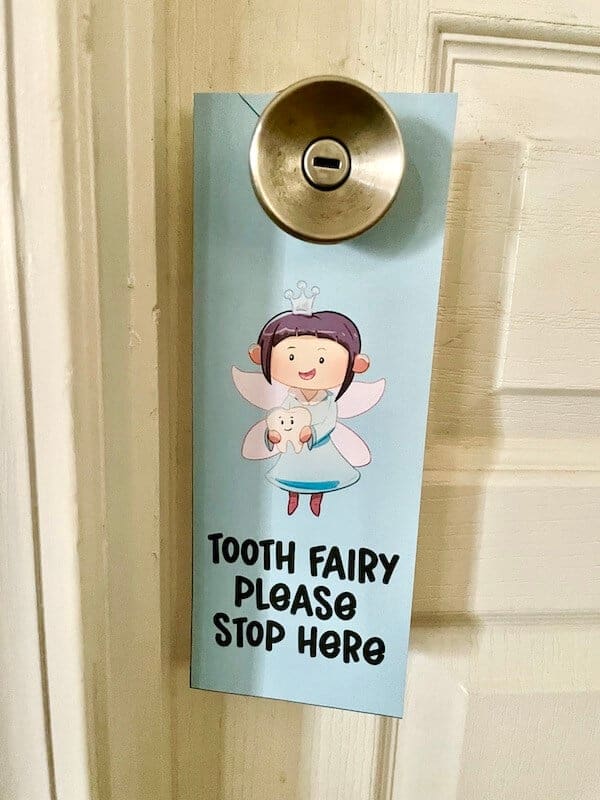 If you don't want to use a printable door knob sign (like the one above), then you can also turn this into a fun and easy craft project and let kids make their own. Just purchase some foam or wood door knob hangers and some fun embellishments like foam letter stickers or ribbon.
Have the Tooth Fairy give your child a receipt.
Your kids can keep track of their tooth fairy earnings with a printable tooth fairy receipt. Just have the tooth fairy leave a receipt under your child's pillow along with the money.
A receipt that includes the date is also a great way to keep track of when your kids lose teeth, and it could be a fun addition to a scrapbook.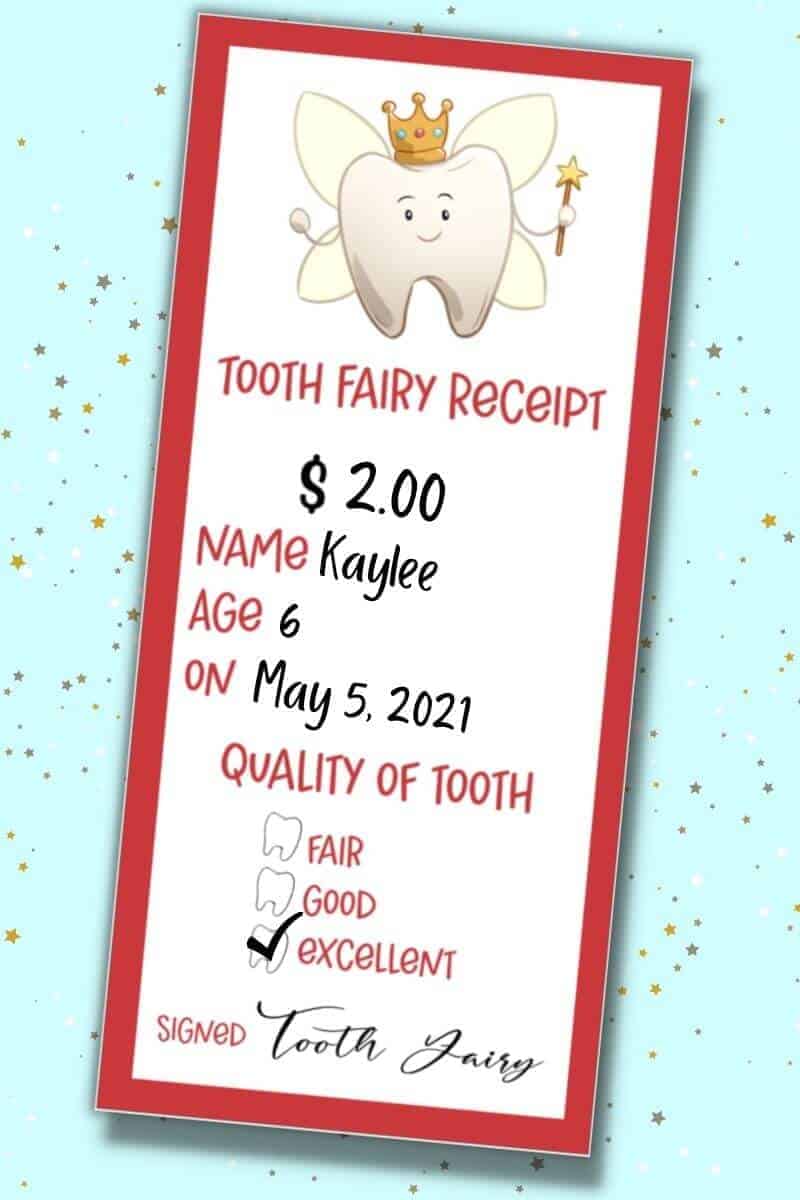 Other Tooth Fairy Ideas
If you've got a few extra minutes to work on your Tooth Fairy duties (or at least longer than it takes to press "Print"), then here are some other Tooth Fairy ideas that your kids will LOVE:
Fold dollar bills into fun origami shapes.
Don't just leave a plain boring dollar bill! Have the Tooth Fairy leave a fun origami folded dollar bill! You can even do a different folded shape each time that your child loses a tooth, so they never know what dollar shape they're going to get.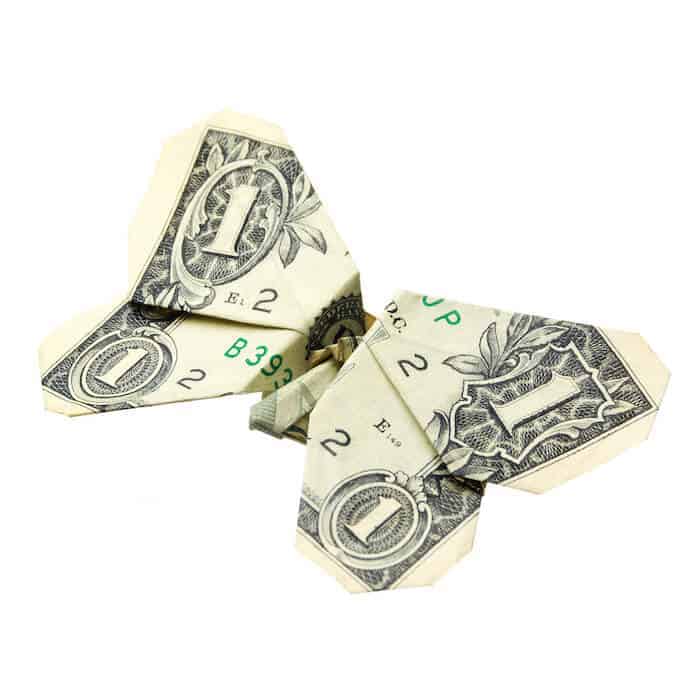 "Catch" the Tooth Fairy… with photo evidence!
You know the old saying, "Seeing is believing"? Well what better way to show your child that the Tooth Fairy visited them than showing them an actual photo for proof!
You can easily superimpose an image of a real life fairy onto a photo of your sleeping child using the free app iCaughtTheToothFairy. Here's how to do it:
Download the free app on your cell phone – Just search "I Caught the Tooth Fairy" in the app store.
Take a cell phone photo of your child sleeping.
Add a mini fairy picture to the photo.
Download the photo to your camera roll to show your child the next morning!
Here's a Tooth Fairy photo that I made using the app… it took me less than 3 minutes to do, and it was completely FREE: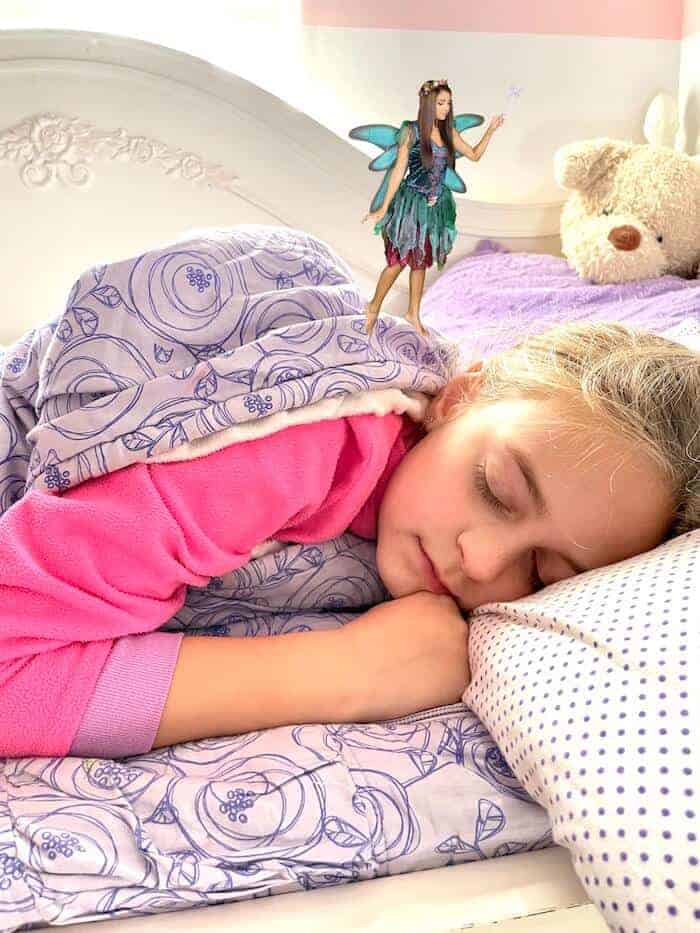 So cute, right?! And props to my 8 year old for fake sleeping in the middle of the day so I could take this picture to show you guys how it works!
Add a fairy door to your baseboard for the Tooth Fairy.
When my daughters were younger, we had this magical fairy door that was hung on their bedroom wall right above the baseboard. They would write small notes for their "fairy" and place them in the little mailbox, and she would write them back.
You can use the same idea for the Tooth Fairy. Have the Tooth Fairy leave notes reminding your child to floss or use their rinse, or just to say "hi".
Make Tooth Fairy Dollars with Glitter.
This is another SUPER easy way to go above and beyond with your Tooth Fairy duties. You can use spray adhesive and glitter to make glitter Tooth Fairy money in less than 2 minutes.
Just spray the front and back of a dollar bill (I used Krylon Spray Adhesive), and then sprinkle on glitter. And that's it!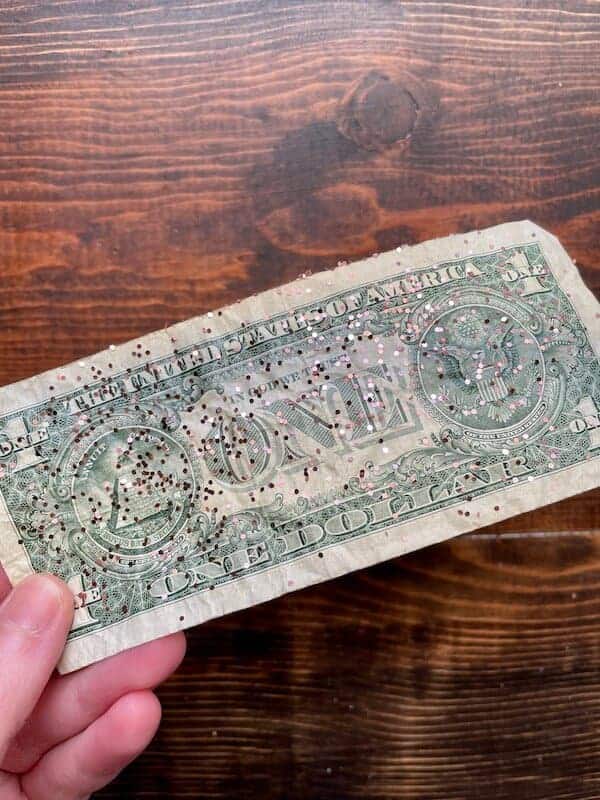 Here is the Tooth Fairy money that I made really quickly, but I definitely recommend using a finer glitter. This chunky glitter is the only glitter I had on hand. You can also use a glitter spray or brush glitter glue in a thin layer over the dollar bill.
Leave Tooth Fairy footprints in glitter.
This is one of the easiest tooth fairy ideas because it takes just 2 minutes! Sprinkle a bit of glitter on your child's dresser, and then use a Barbie doll shoe or your finger to make little fairy footprints in the glitter.
Use a special tooth pillow.
A special Tooth Fairy pillow is another great way to make losing a tooth special for your child. You can sew your own tooth pillow with white felt and a little bit of stuffing, or you can buy a special tooth pillow already made for you.
This tooth fairy pillow is super cute, and it even includes a cool wooden keepsake box where you can store your child's baby teeth (so they don't end up floating around in your junk drawer like mine!).
Other Items the Tooth Fairy Can Leave
If you don't want to leave glitter money or origami dollar bills, there here are some other ideas for treats that the Tooth Fairy can leave for your kids:
a gift card to an ice cream shop
a $5 iTunes or app store gift card for a new app for your child's tablet
"Mom" coupons good for different treats – similar to my Easter Bunny Money printables!
a $2 bill
a silver dollar
a new toothbrush
cute floss picks for kids
a keepsake box to store future lost teeth
a new book
custom Tooth Fairy coins – You can find some super cute stamped quarters on Etsy!
a Tooth Fairy check – Great if you're running low on cash!
small toys like a Hot Wheels car or new Barbie doll outfit
What to do if the Tooth Fairy is late?
As I mentioned above, it was not uncommon for the Tooth Fairy to show up late to our house. But, when she did, she always brought an extra treat… call it "penalty and interest"!
On those nights that I just flat out forgot to put money under my kids' pillows, I would simply explain that the Tooth Fairy must have been SUPER busy because so many kids lost teeth the day before.
Then, I would be sure to leave a king-sized candy bar AND money under their pillow… so, really, they didn't mind at all that the Tooth Fairy was late because they got an extra bonus.
You can also leave a printable Forgetful Tooth Fairy note!
Free Printable Tooth Fairy Bundle
Want to grab my FREE printable Tooth Fairy ideas, including all of these goodies: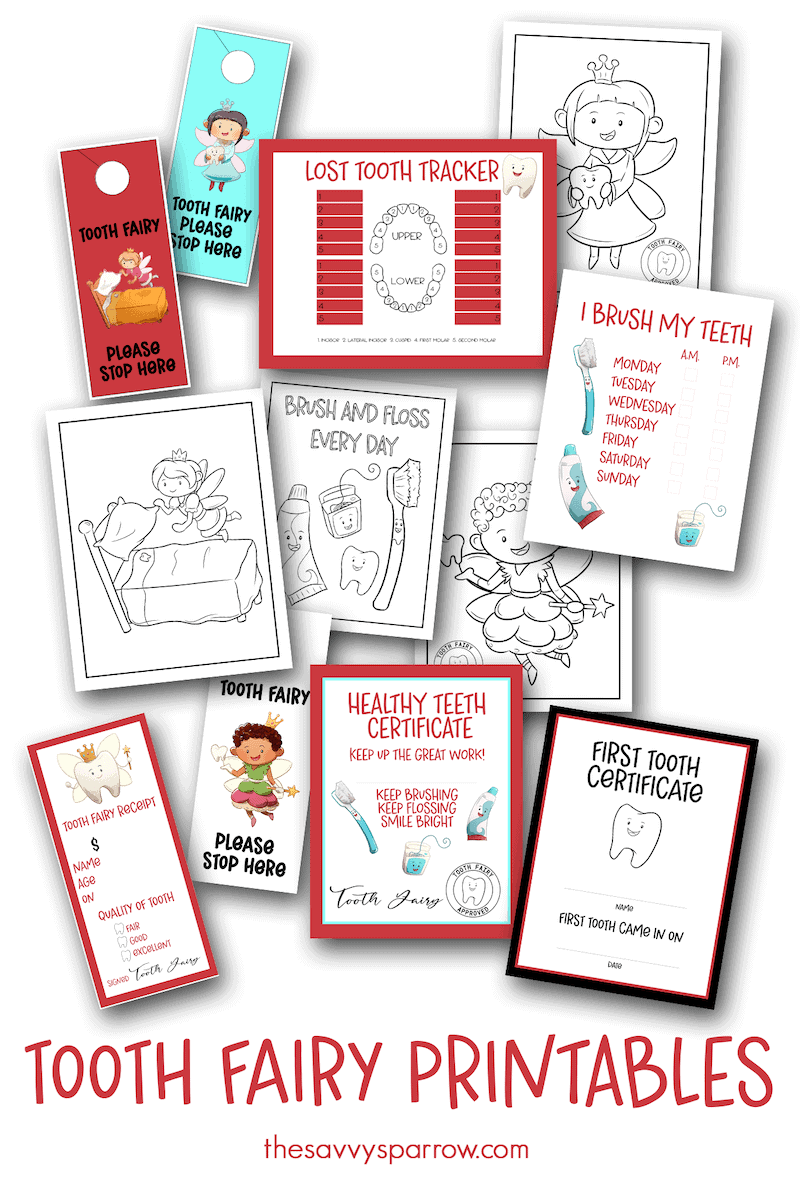 Just use the form below to sign up for my email newsletter, and you'll get access to my entire freebies library as a gift!
And then be sure to come back and let me know how these Tooth Fairy ideas work out for you! Or, feel free to leave a comment telling me what makes YOU the best Tooth Fairy ever! I'd LOVE to hear from you!