Need a bat template printable to cut out? Choose from loads of free printable bats templates for all of your kids' crafts and Halloween projects!
Sometimes the hardest thing about DIY Halloween projects or crafts is making a perfectly symmetrical shape… especially if you're a perfectionist like me! So I created some different sizes and shapes of bat cut outs to help you this October!
You can print and cut the templates and then trace them on black card stock for the super trendy bat wall decor that you've probably seen all over Instagram. Or even fold up a bat to use as a cute candy bar wrapper or gift tag! Just print the bat templates that you need down below, and let your imagination run wild this Halloween!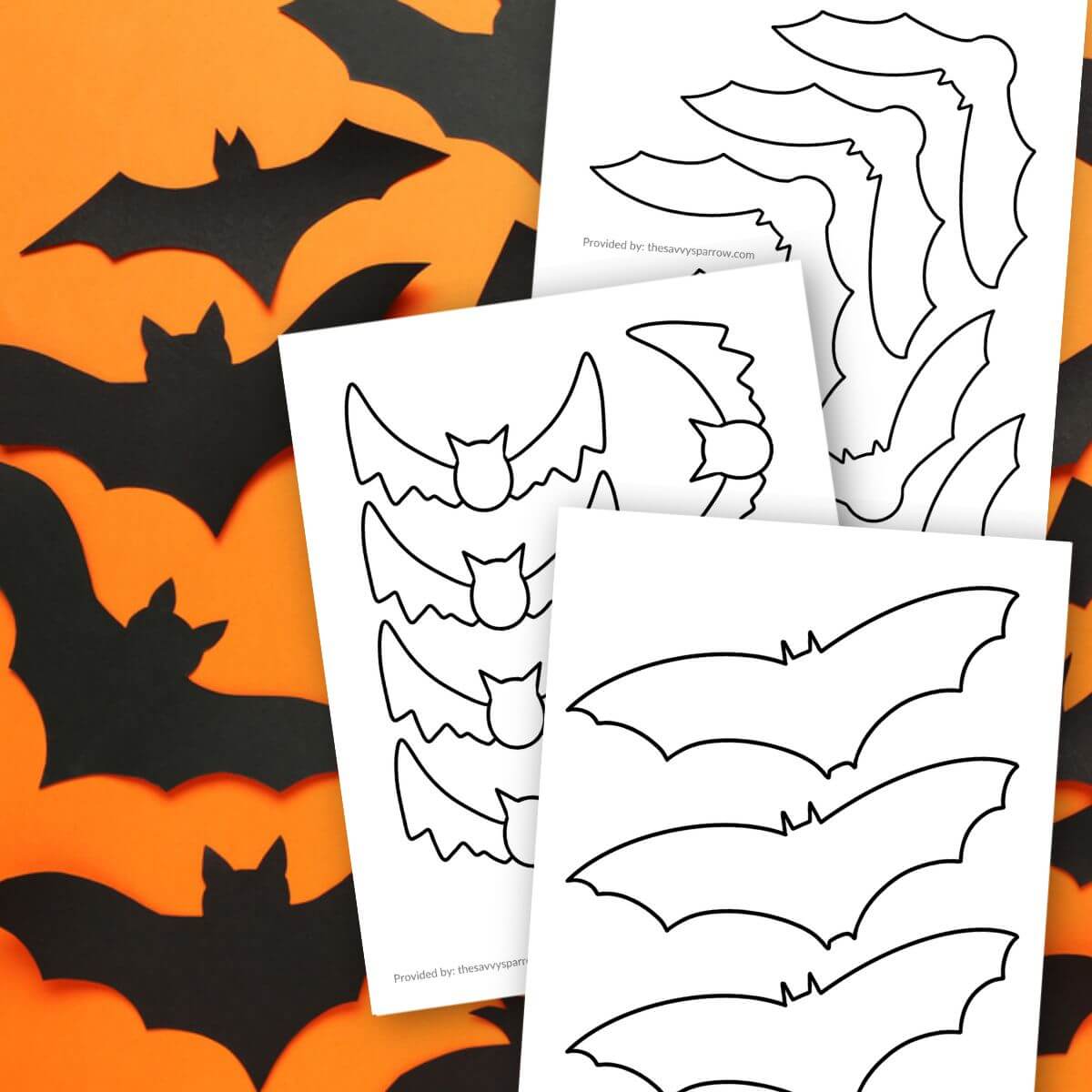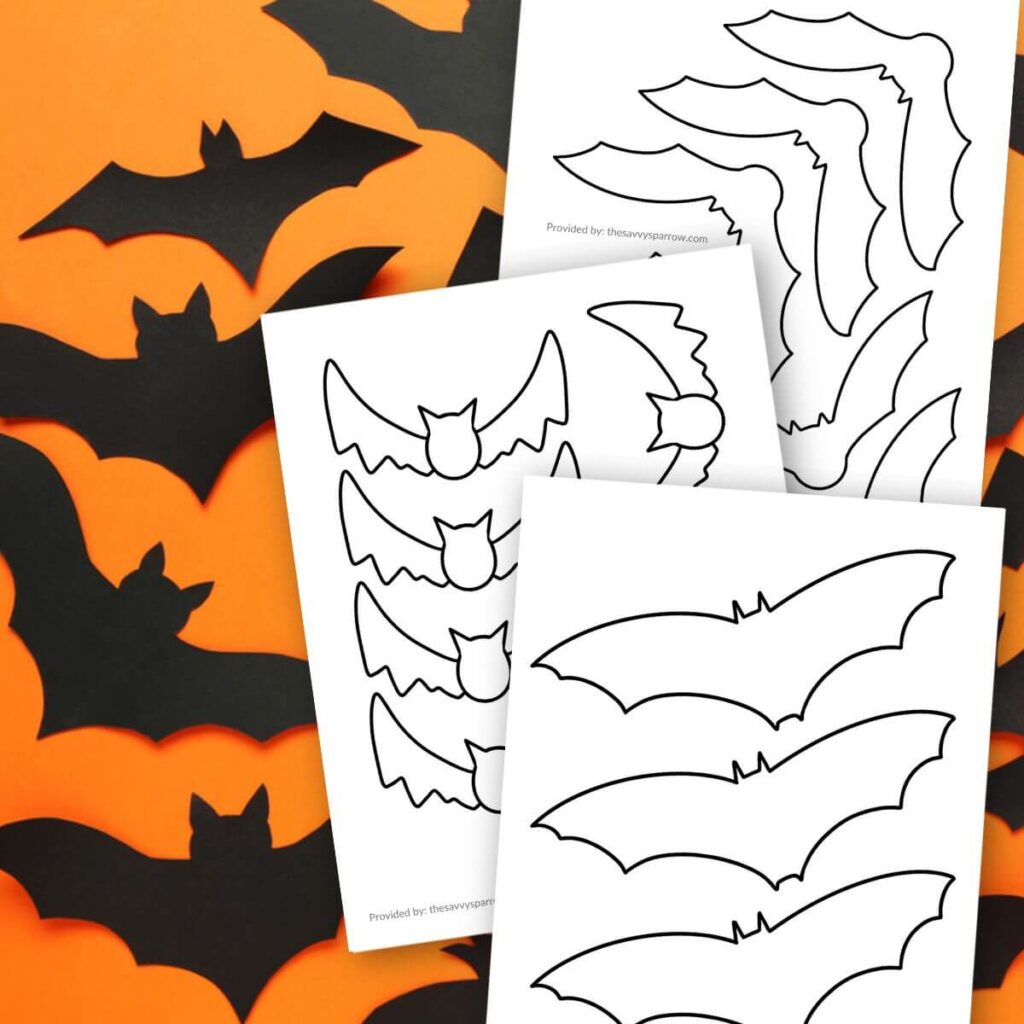 Ideas for Using the Bat Template Printable
These bat template printables are perfect for all of your Halloween decor, or even to use for superhero birthday parties. Here are some ideas for using the cut out bat template:
Combine the bat cut outs with other Halloween shapes for a simple garland.
DIY Halloween decor doesn't get much easier than this! Find some pumpkin and ghost templates, and add the bat cut outs to a large piece of jute rope using mini clothespins like this: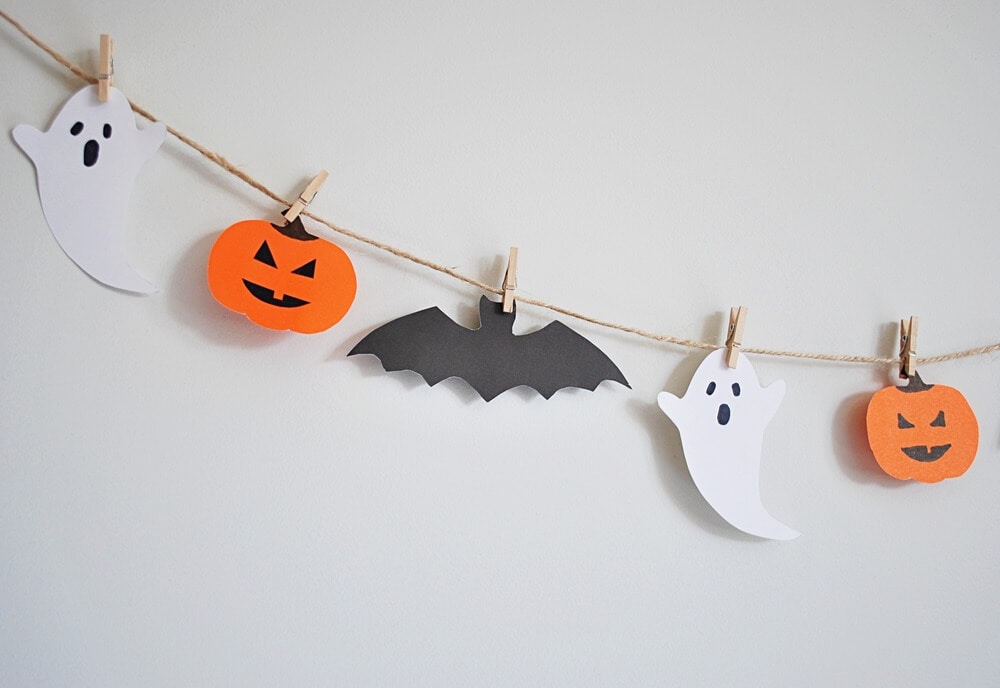 By the way, this is one of my favorite ways to make a DIY garland, because it's so easy to do… Just clip the different banner pieces up to the twine, like I did with this DIY Fall Garland (that took me less than 10 minutes to make!).
Attach the paper bats to small branches and place in a vase for easy decor.
Cut out a handful of the smaller printable bat templates, and grab some small branches or twigs from your backyard. Then, attach the bat template cut outs to the branches using fishing line or even glue. Add the branches to a spooky colored vase and you've got super easy and trendy Halloween decor for your entry table or fireplace mantel!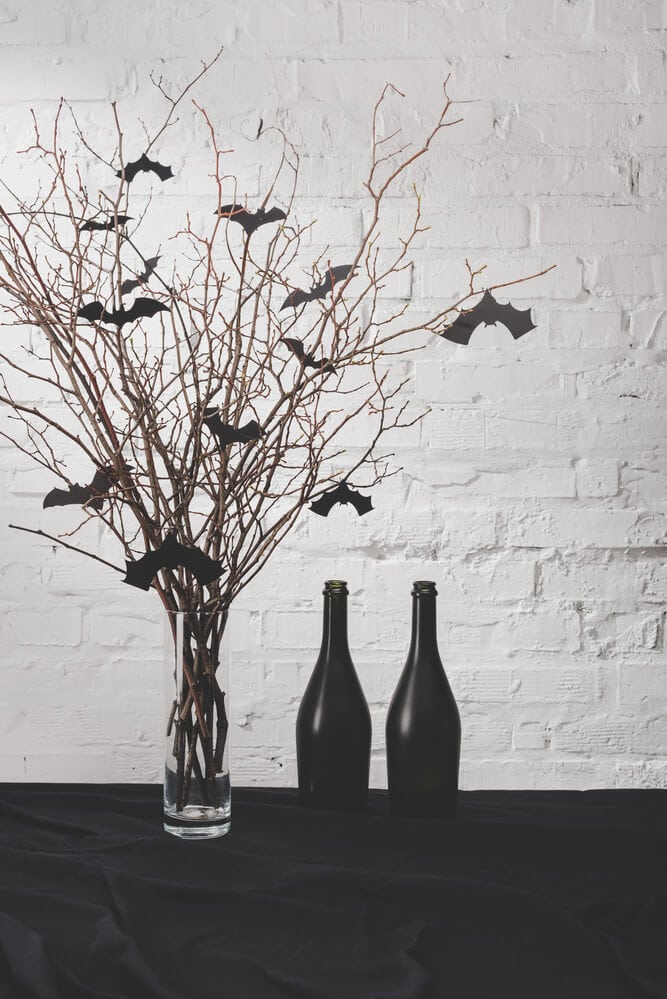 Create a simple photo backdrop for your Halloween party.
Having a big party this year? Create a super easy photo backdrop for all of your costumed guests to pose in front of! Just cut out a bunch of bat shapes and tape them to the wall like this: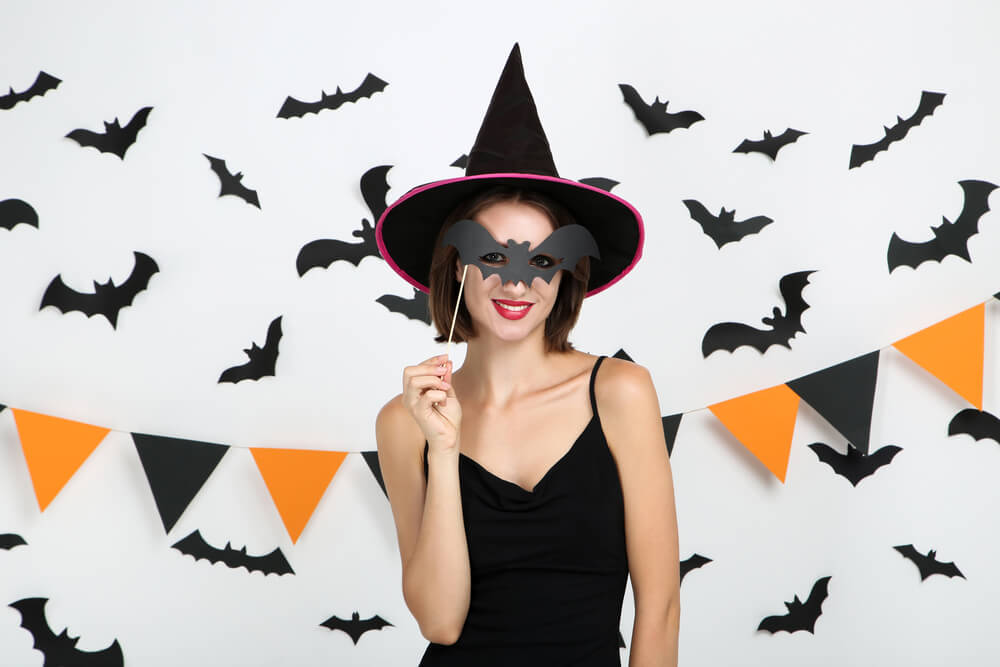 Add the bat cut outs to your Fall mantle decor.
Using printable bat templates and making paper cut out decorations for your fireplace is another super popular Halloween trend! (I'm sure you've seen this floating around on Pinterest!). Just cut the bat pattern out on black card stock, and hang them on your fireplace mantel or over an entryway table like this: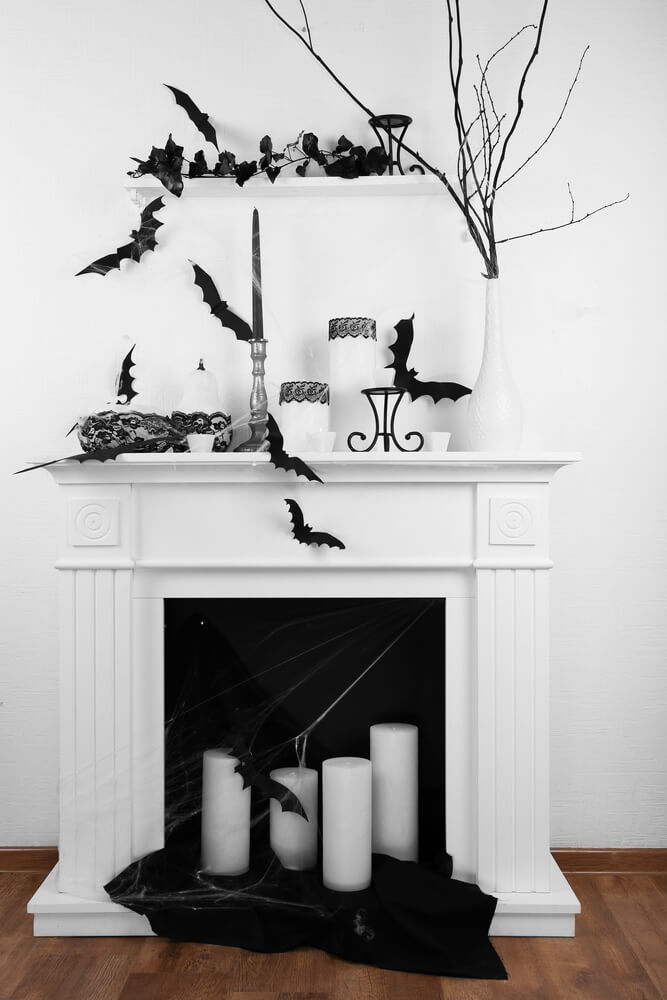 Make Festive Halloween Straws or Cupcake Picks with Bat Cut Outs
If you need some easy DIY Halloween decor for your Halloween party, then just cut out the bat patterns on black card stock and attach to a toothpick or straw for cute party details!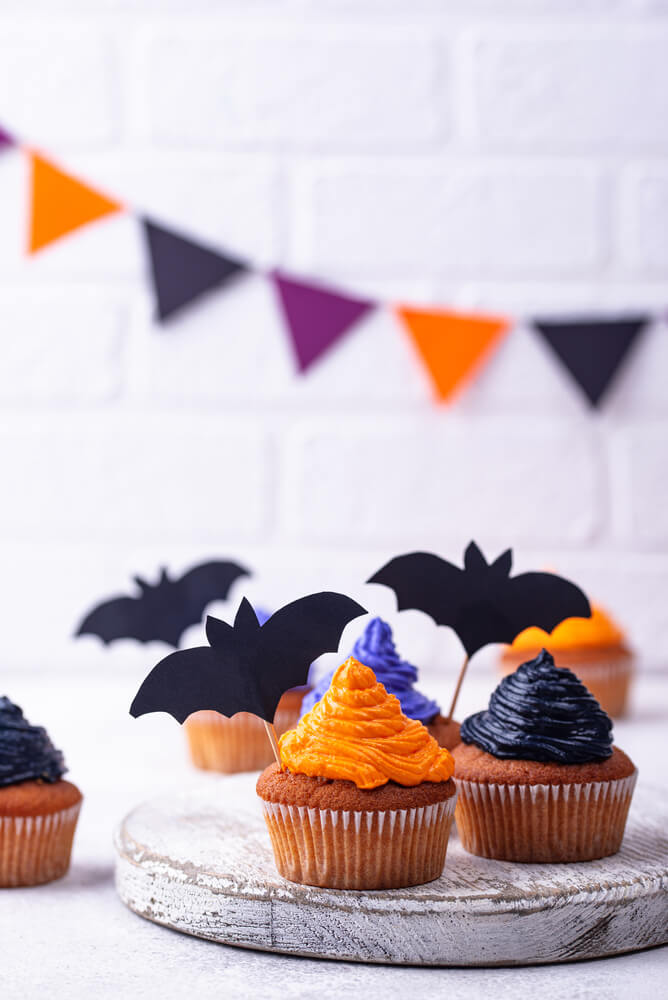 Tips for Printing the Bat Templates
Here are some tips for making the bat template printable work for you:
Adjust the scale in the print window for even more sizes. Need smaller bats? Adjust the scale percentage down so that the bat patterns print smaller.
Mix and match different sizes and styles of the bats for your DIY Halloween decor.
Print the templates on card stock for sturdier patterns. I find it easier to trace a template that has been printed on a thicker paper, because it's less likely to wrinkle or move against the pressure of the pencil.
For colored bat decor, you can print directly on colored card stock and then just cut out the bats. For instance, print the bats on neon green, bright orange, or purple card stock and make a festive Halloween banner for your fireplace.
Free Printable Bat Templates
I've got a TON of bat templates and patterns for you to download for free! From large black and white outline bat shapes that take up a full page to smaller bats that you can print and use to make your own festive garland! Better yet, print out a few different sizes to create an awesome Halloween project!
Just click on the links right below each picture to download the bat template printable that you need.
Large Bat Template Printables – 1 per page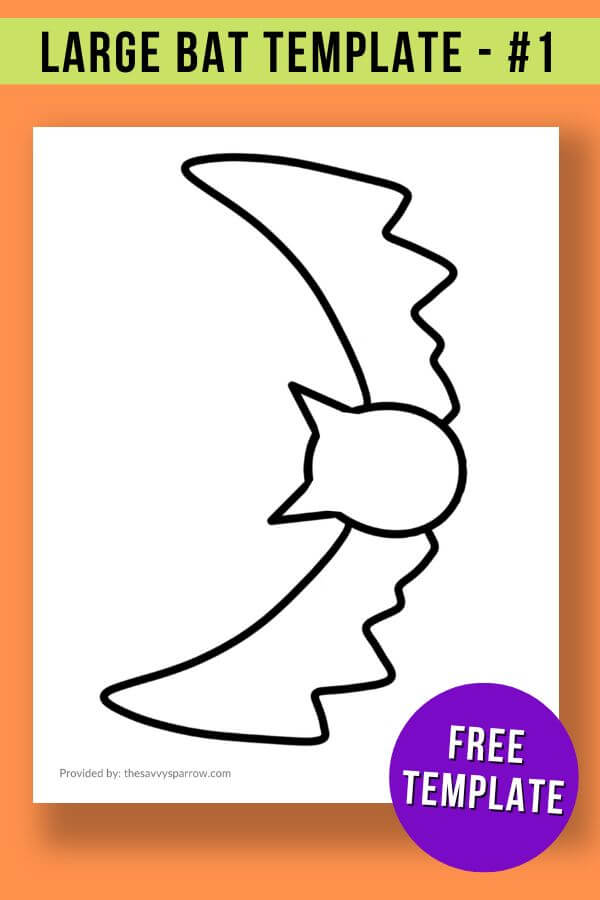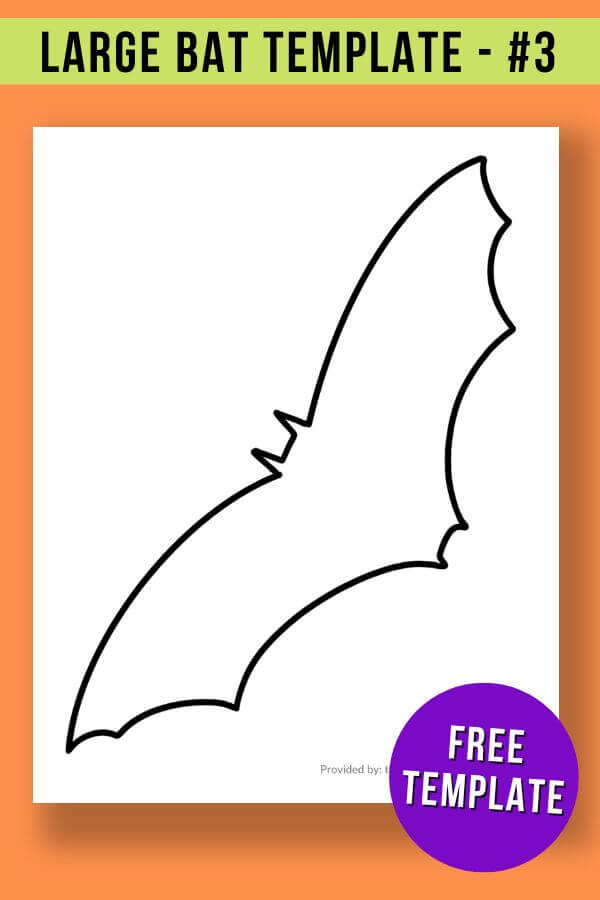 Medium Bat Templates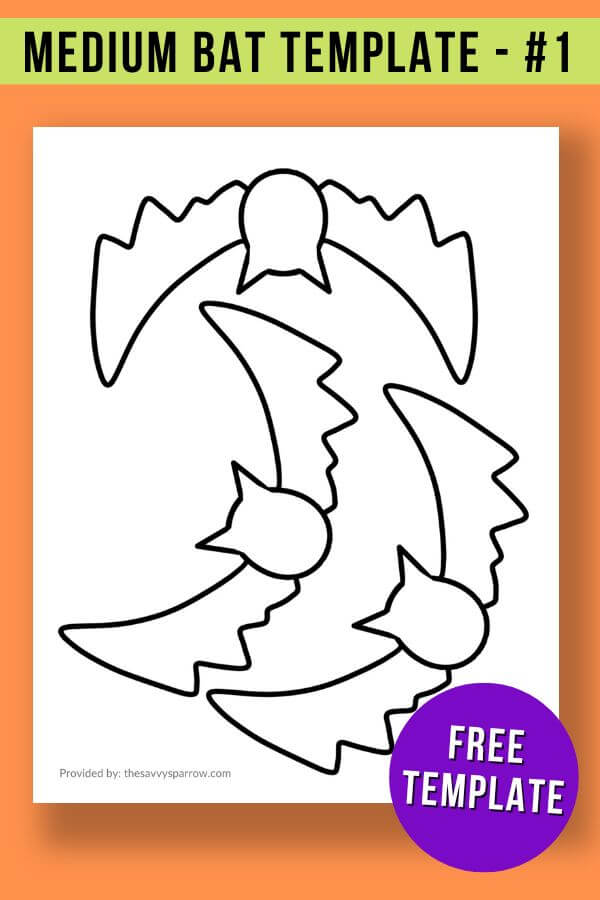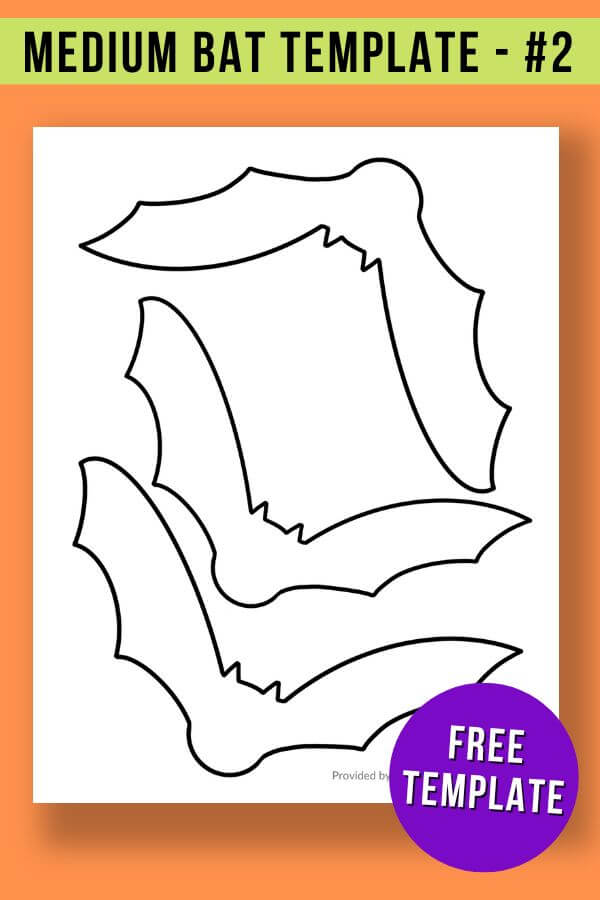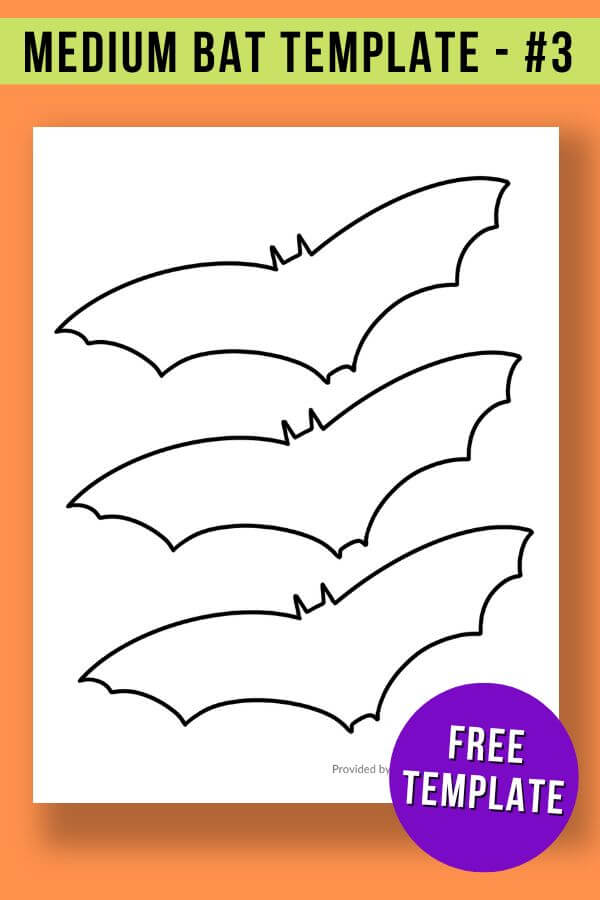 Small Bat Patterns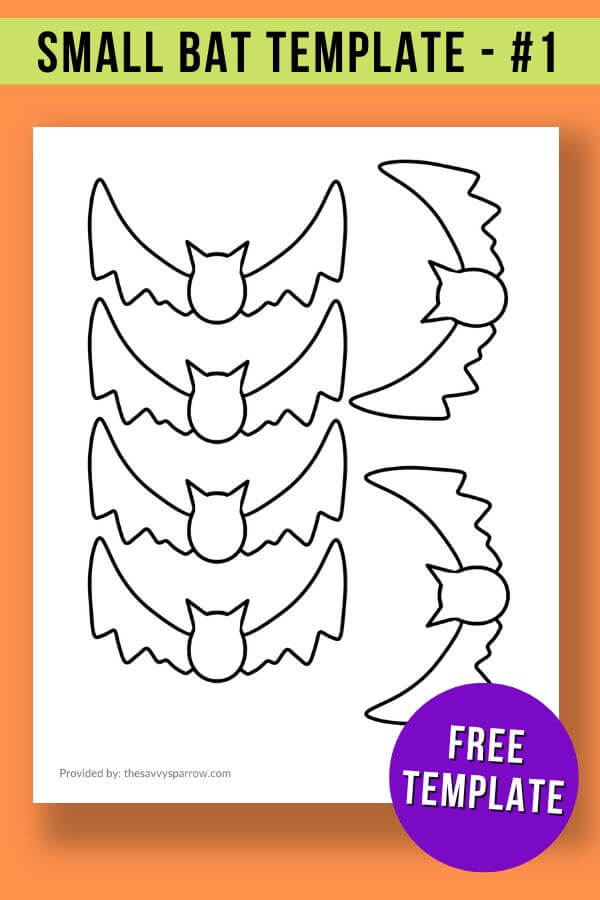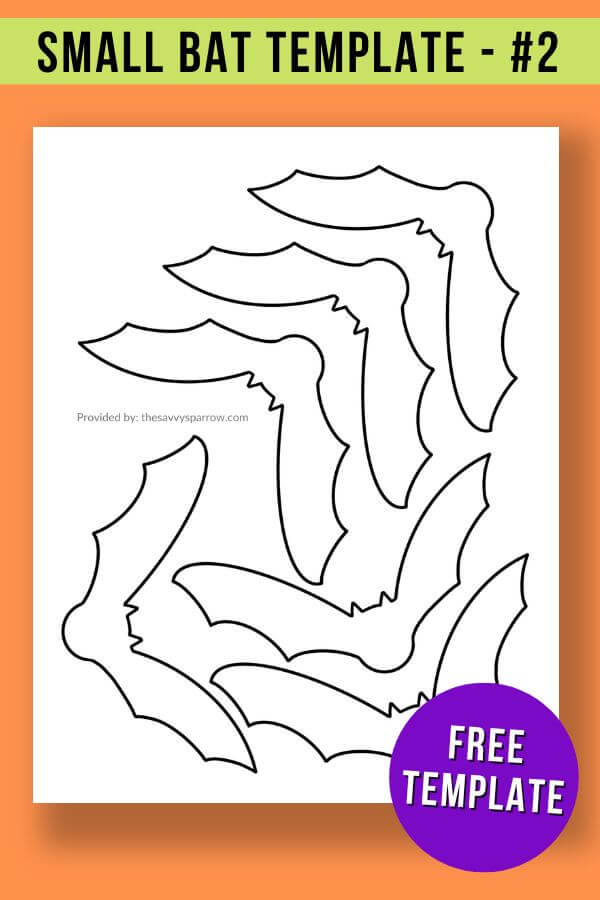 Hope these free bat template printables help you with all of your Halloween decor and crafts this year!
And check out some of my other Halloween printables too:
Printable Halloween Puppets – Easy Halloween Coloring Crafts – Just print, color, cut, and glue to make your own Halloween hand puppets with your kids!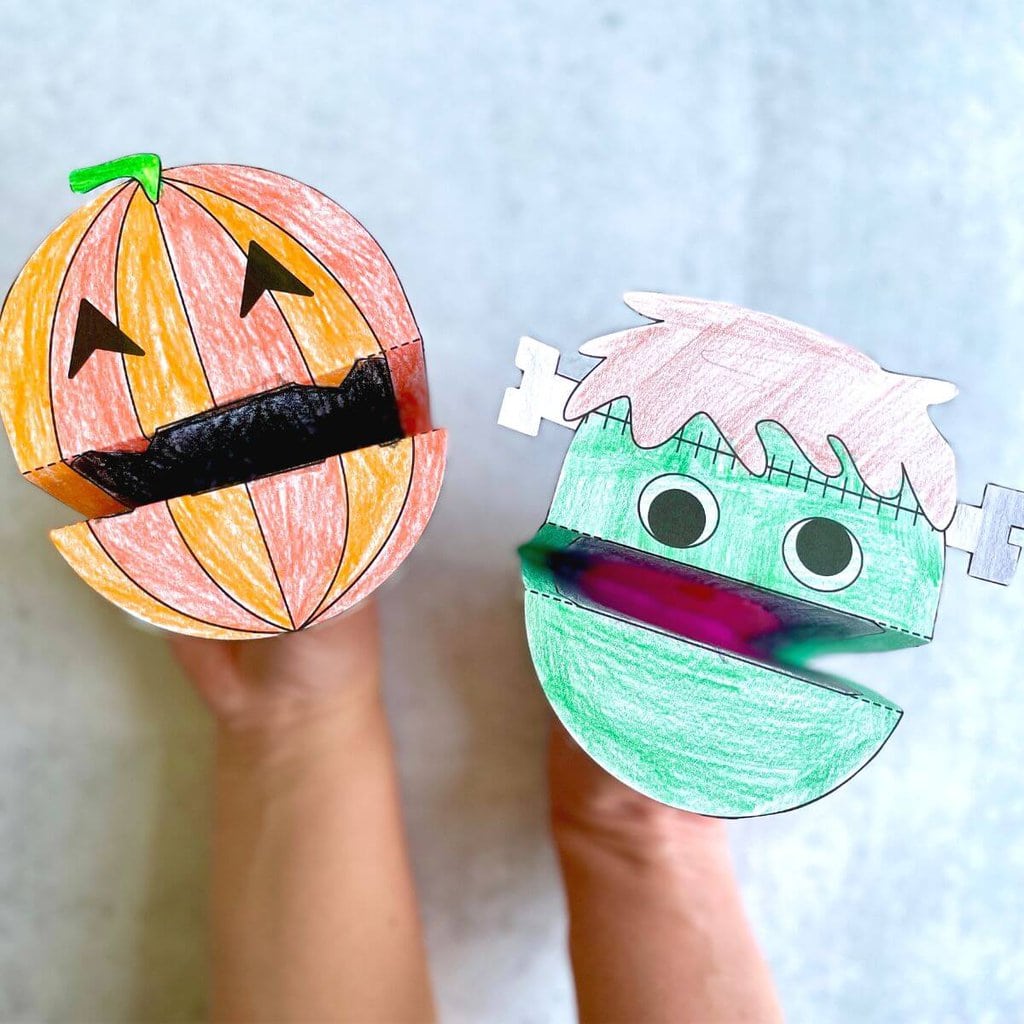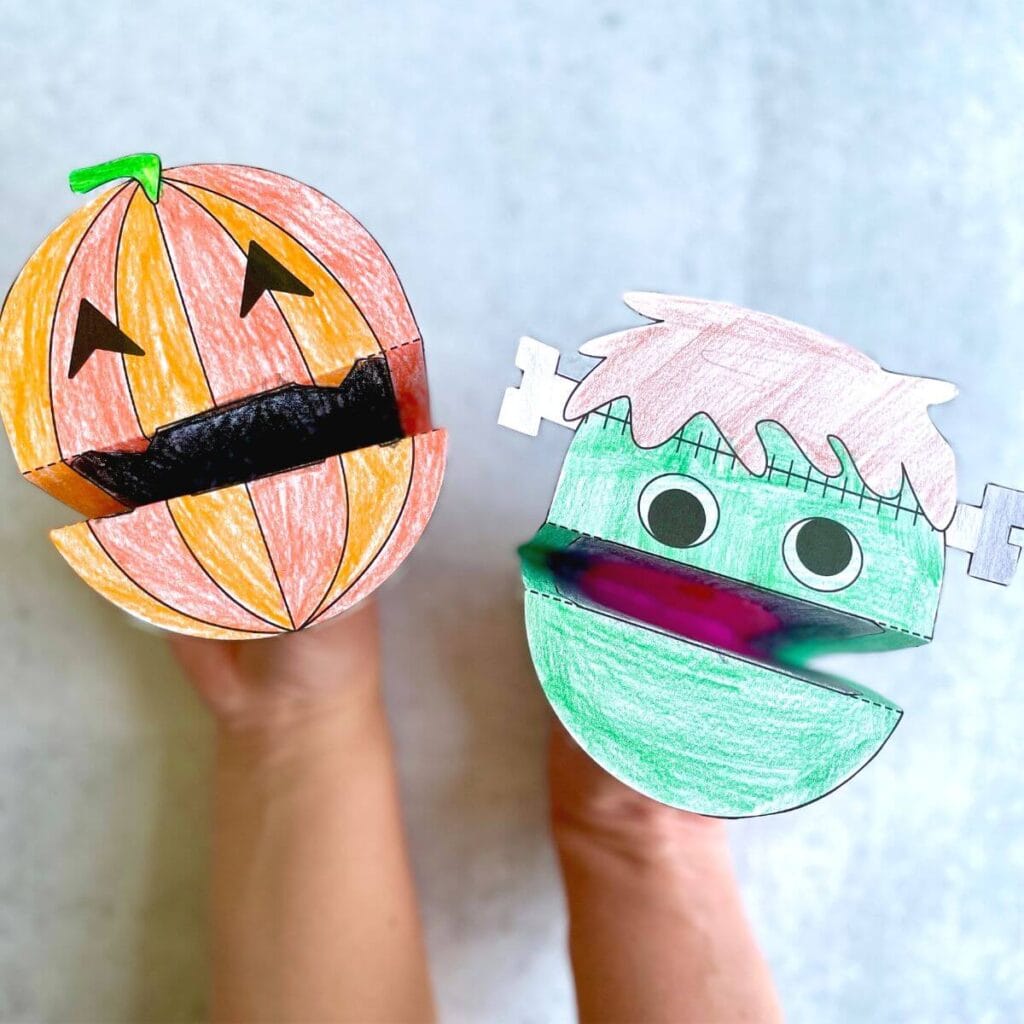 Pumpkin Scavenger Hunt for Kids – Fun Neighborhood Halloween Activity! – This is an awesome Halloween activity that you can do while you take a walk around your neighborhood this October!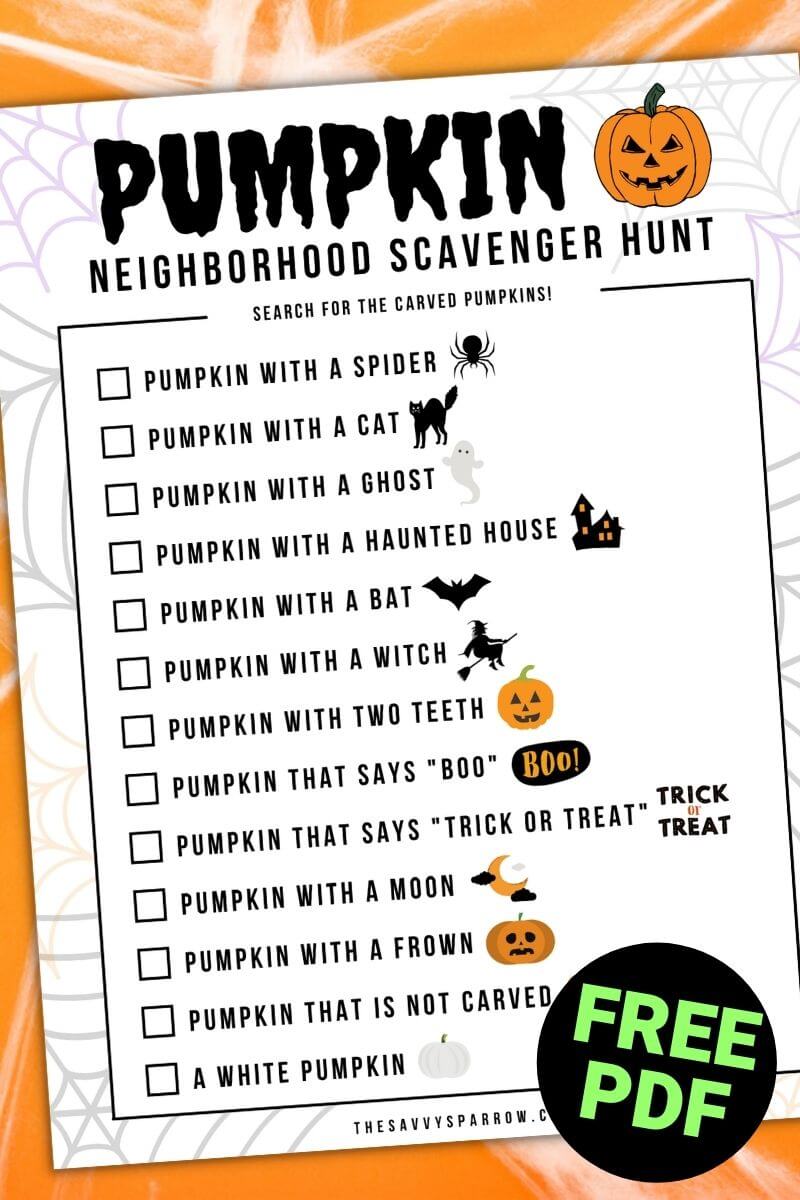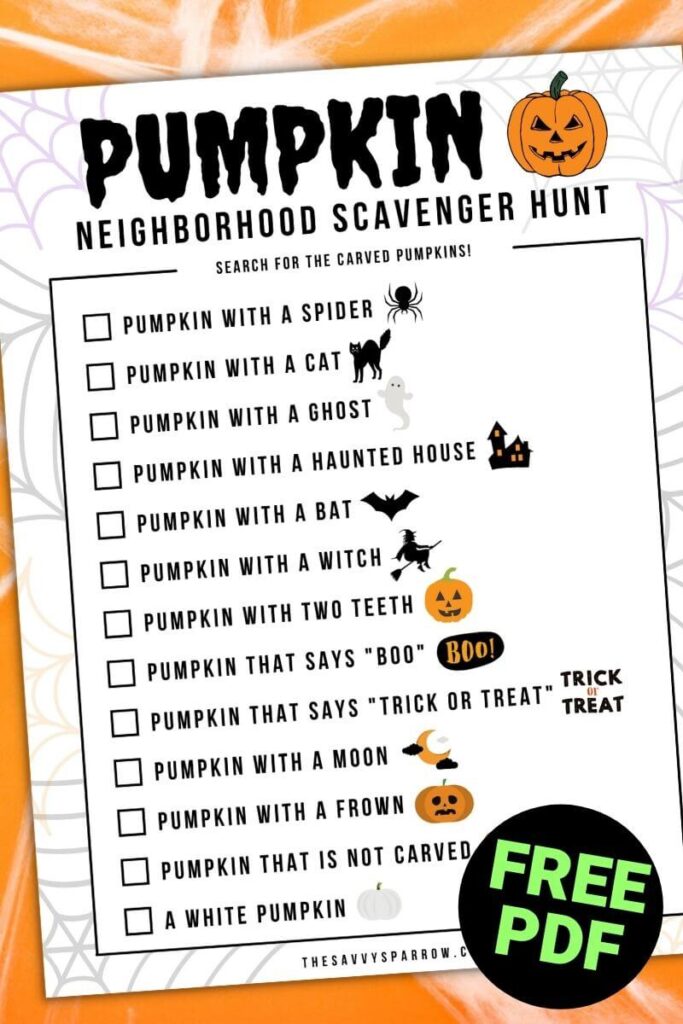 What will you use the cut outs for? I'd LOVE to know what you make with them. Leave me a comment down below!
And don't forget to PIN this post for later: