Making witch hats out of ice cream cones is probably one of the easiest Halloween treats for kids, because there's nothing to bake and your kids can help you decorate them! Learn how to make witch hat ice cream cones with candy inside for your child's Halloween party!
If you've never used ice cream cones to make kids' treats, are you even really a parent?! From Christmas trees to princess castle towers to witch hats, ice cream cones are the perfect shape to make a wide variety of fun themed snacks for kids.
And fill the cones with small candies and you've got a tasty and surprising dessert for kids' classroom parties or a Friday afternoon snack!
I volunteered to do the Halloween party snack a few years ago at my daughter's school, and I made these adorable witch hat cones, and they were a HUGE hit! If you need an easy Halloween treat for your kids too, then give these a try!
Or, for a dessert that the whole family will love, make these Mini Cherry Pie Mummies too!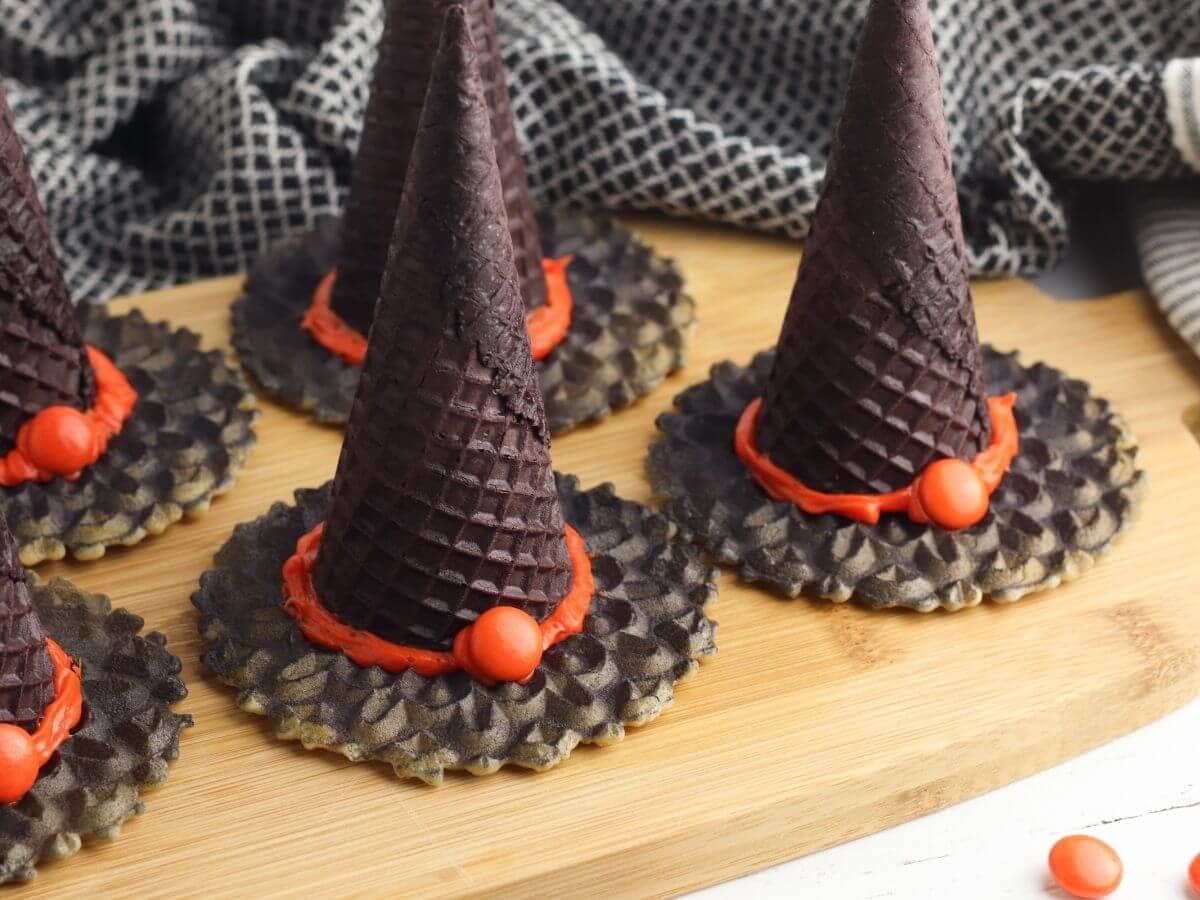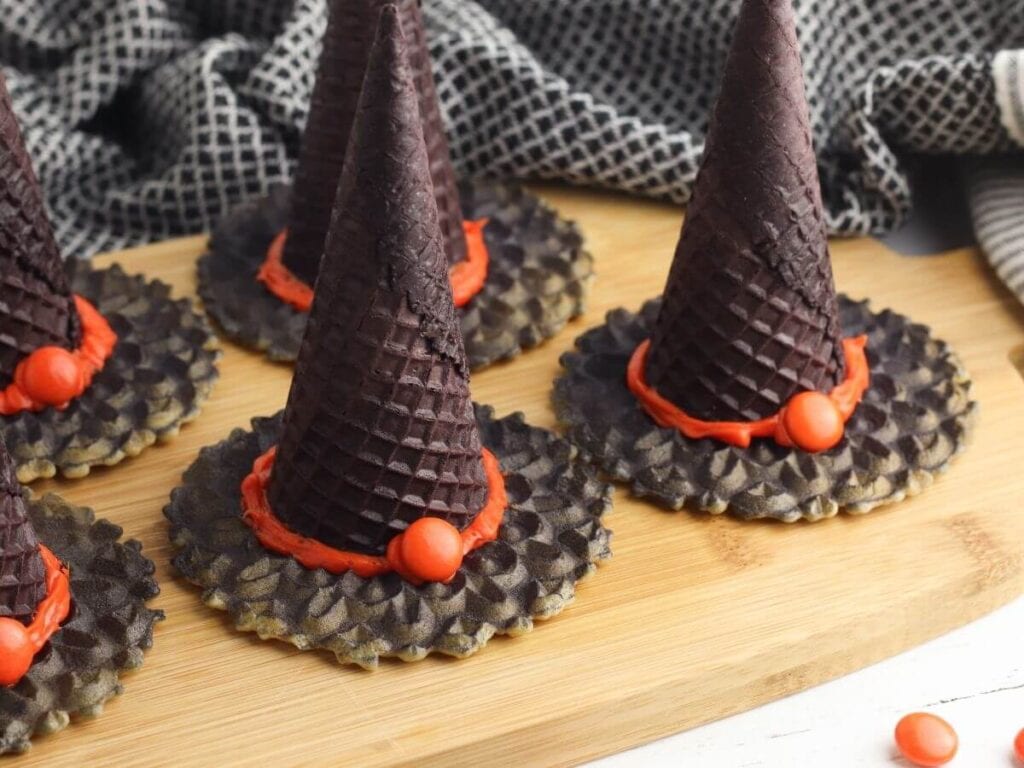 *This post contains affiliate links, which means if you click a link and make a purchase, I earn a commission at no additional cost to you. Read my full disclosure for more info.
Ingredients
1 package Oreo sugar ice cream cones (Joy brand) – You can find them on Amazon here!
12 Pizzelle cookies – Mine are from Aldi, but you can find them at most grocery stores, probably in the bakery department.
Wilton black Color Mist
Orange icing – I used Pillsbury Funfetti All-Star Orange, but you can also use a white canned icing and just add orange food coloring.
9-ounce package Reese's Pieces – or other small candies to hide inside the witch hat cones
How to Make Witch Hat Ice Cream Cone Treats
These Halloween treats are so easy to make, and your kids will love helping you fill them with little candies! Here's how to do it:
Step 1: Prep your Pizzelle cookies.
Start by coloring your Pizzelles black to match the black Oreo ice cream cones. Simply spray the cookies using the Color Mist spray, according to the instructions on the bottle.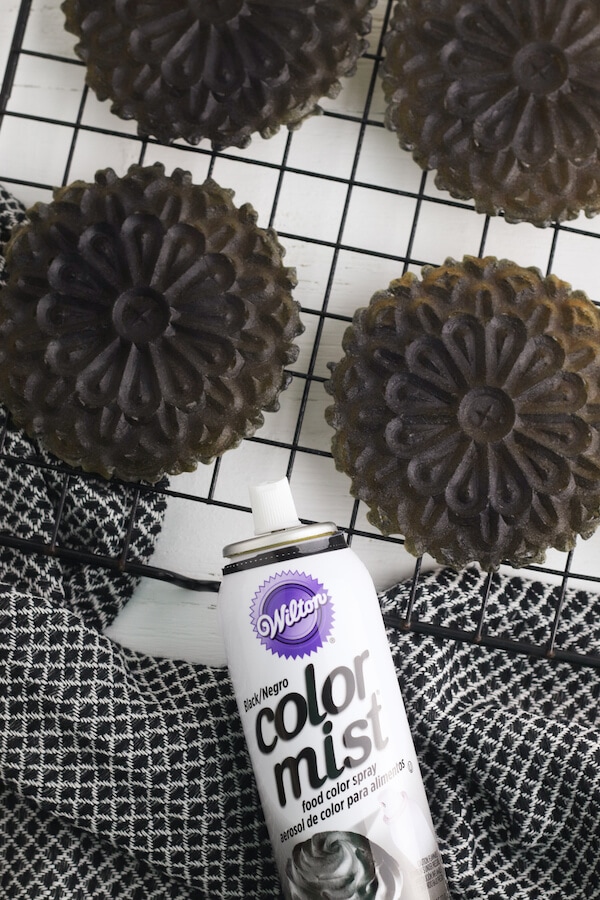 Step 2: Fill each ice cream cone with small candies.
Next it's time for the fun part… hiding sweet treats inside the witch hat cones!
The great thing about stuffing your cones with Reese's Pieces like I did is that they're already different shades of orange, perfect for Halloween! But these small treats would also be great to hide inside the witch hat snacks:
Candy corn
Marshmallows
Small candies like M&M's or Skittles – You can even find some that are Halloween colors like purple, green, and orange!
Small pretzels
Homemade trail mix – You can mix raisins, Cheerios, and Kix for a healthier treat to go inside the cones.
Chocolate chips
Yogurt raisins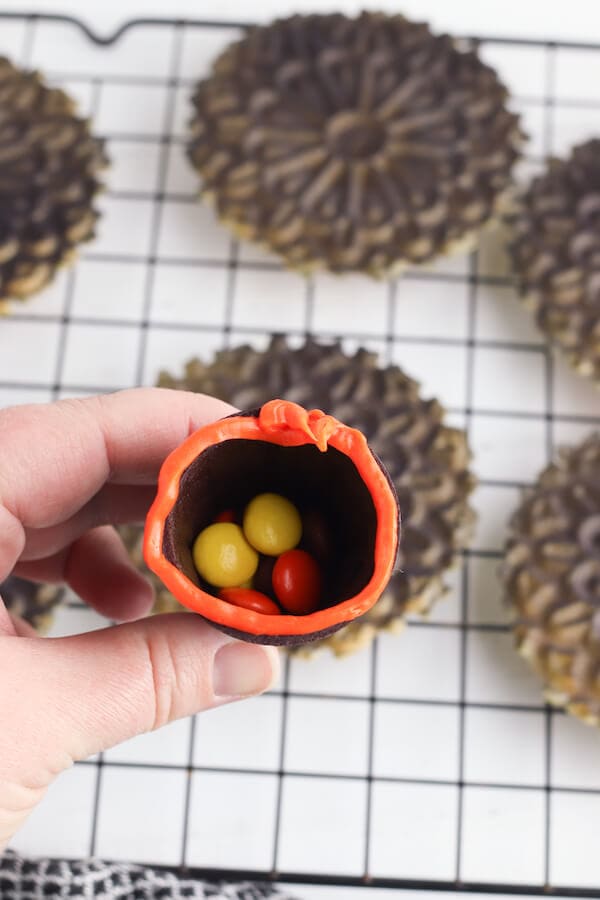 Step 3: Add icing to a piping bag.
If you don't have a piping bag and tips, then don't worry! You can also add icing to a zipper top bag and snip off a small corner of the bag. If you go this route, then I would recommend using an actual Ziploc brand bag, because they seem to make sturdier make-shift piping bags.
Of, if you don't want to fool with a piping bag, you can also use a store-bought icing that comes packaged in a handy bottle with a tip already attached, like this one from Wilton.
Step 4: Use icing to put your witch hat ice cream cones together.
To put your watch hat cone treats together, first pipe a line of icing around the rim of each ice cream cone. Then, press the center of the pizzelle cookie onto the cone and set it on a flat surface to set.
Once the icing has hardened, pipe a line of icing around the bottom edge of the cone (where it meets the pizzelle) and add a small candy for the "buckle" on the witch hat.
Then your Halloween treats are ready to serve! (Maybe with these cute Jack-o-lantern Quesadillas!)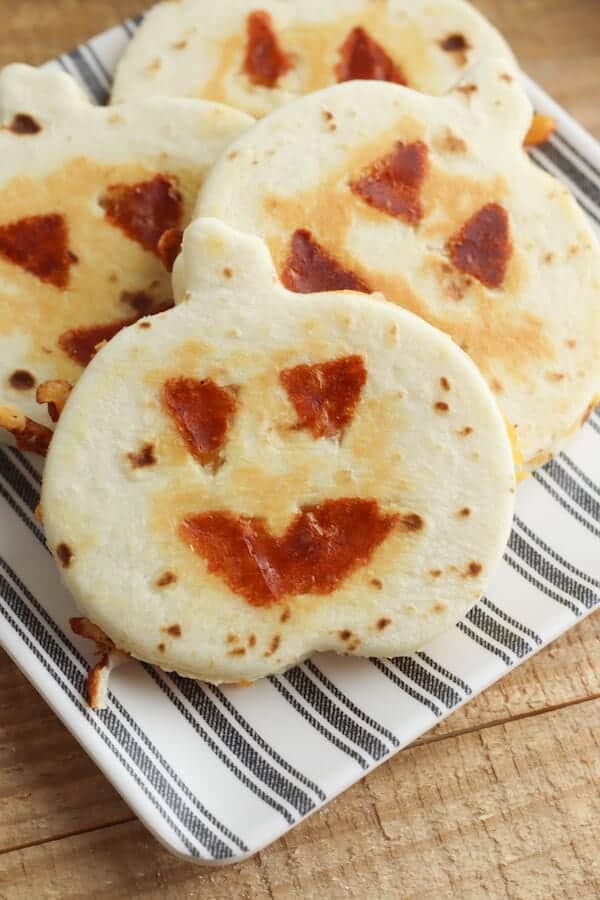 And be sure to check out some of these other Halloween posts for more ideas that your kids will LOVE:
And don't forget to PIN this post for later: