This household chores list can help you stay on top of your cleaning and better plan your days! Grab the free printable list of chores now and learn how to put it to good use!
If you ask any busy Momma out there, she'd probably say that the number one biggest contributor of stress in her life is keeping up with the cleaning.
When you single-handedly clean an entire house that four or more people live in (including two preteen daughters that drop their shoes literal inches in front of the shoe rack but not on the rack), it's rough.
I get it. And I despise cleaning, too. Especially when I feel like the house is just going to be dirty again in two days. Definitely seems like a waste of time.
But one of the things that I find to be part of that time not-so-well spent is the hassle of figuring out what to clean first or what needs to be done in each room… but that's where a Household Chores Checklist can help!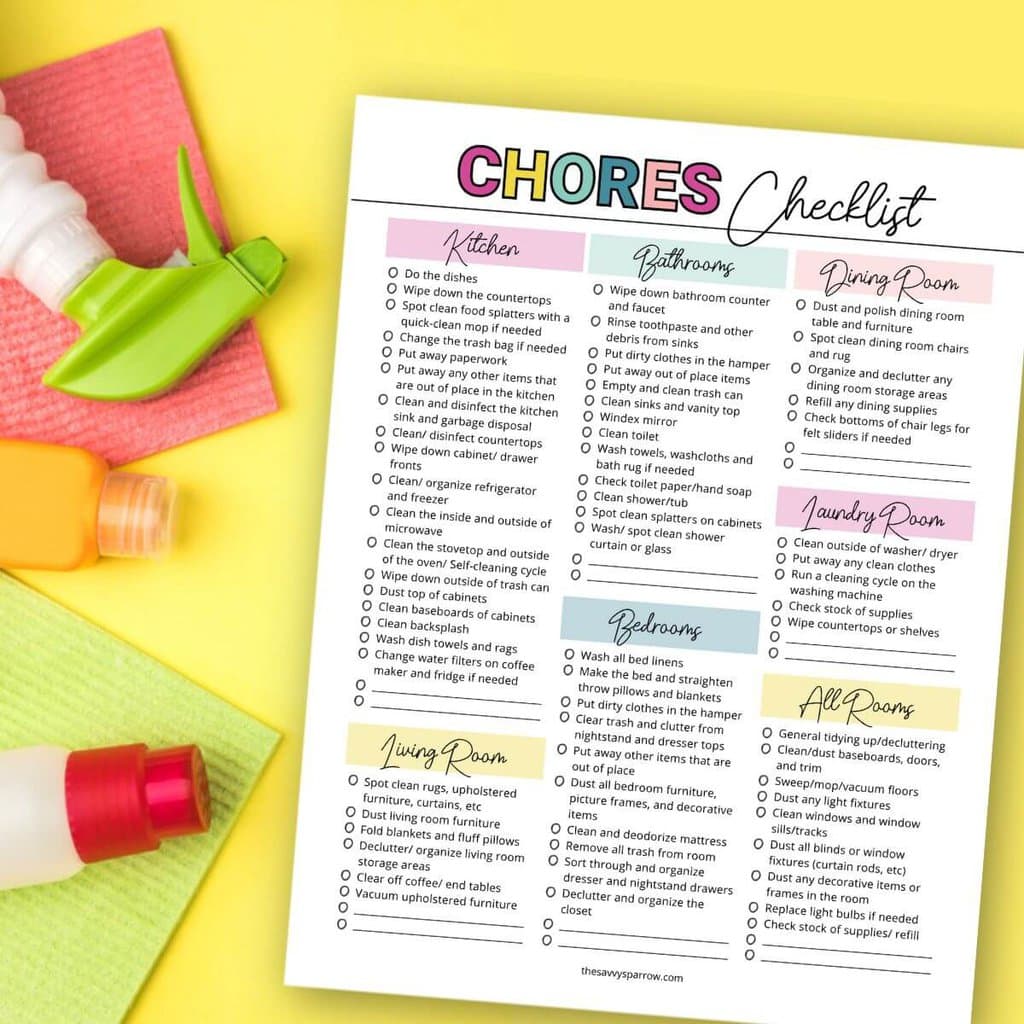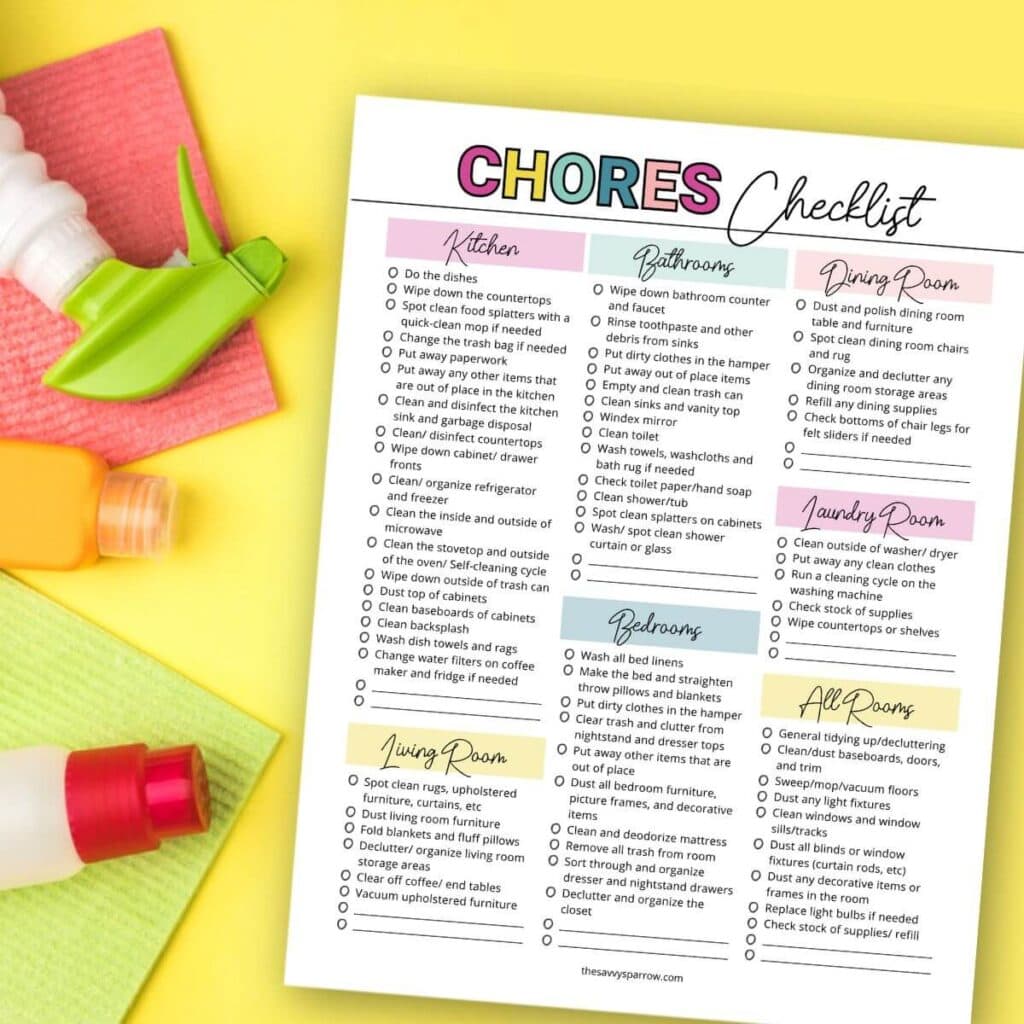 *This post contains affiliate links, which means if you click a link and make a purchase, I earn a commission at no additional cost to you. Read my full disclosure for more info.
Why You Need a Household Chores List
You may be wondering how a list of household chores can help you? Like you need another list, right?!
But actually having a printed checklist of chores has a number of benefits like these:
A household chore list helps you plan your time. I find it easiest to plan my productive time when I have a complete list of all of the things that I need to get done (cleaning or otherwise). And I use that list to set my intentions for each day.
Use your list of chores to quickly assign tasks to your family. You can easily pick off a chore from the list and delegate to your kids when you need some help around the house.
Having a printed chore list means you have one less thing to remember. Much like a brain dump can help you get all of your to-do's and important things to remember out of your head and on to paper, a chores list can help you not forget things that you need to get done around the house.
How to Use a Household Chores List
It's one thing to have a cute and colorful list of household chores hanging on your fridge… But it's another thing to actually put it to good use to help you stay on top of your home cleaning and upkeep.
Here are some ideas for how to use the printable list of chores that I've got for you at the end of this post: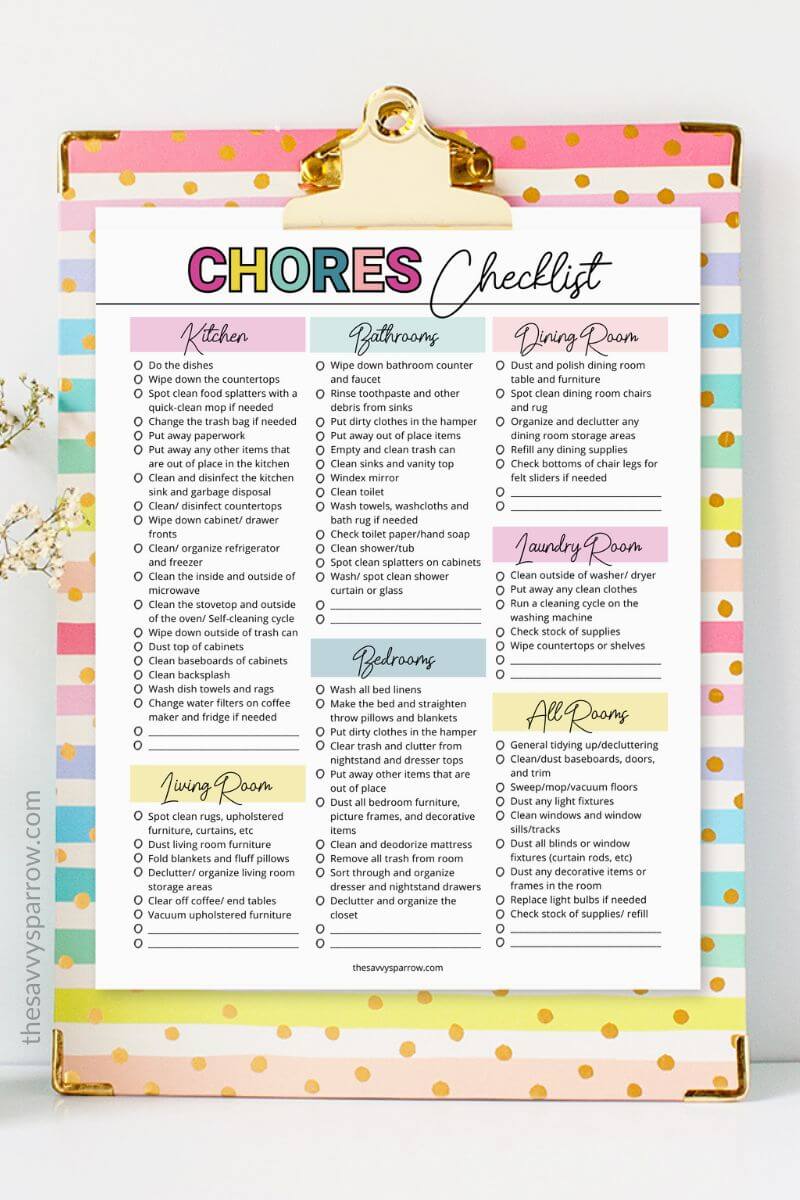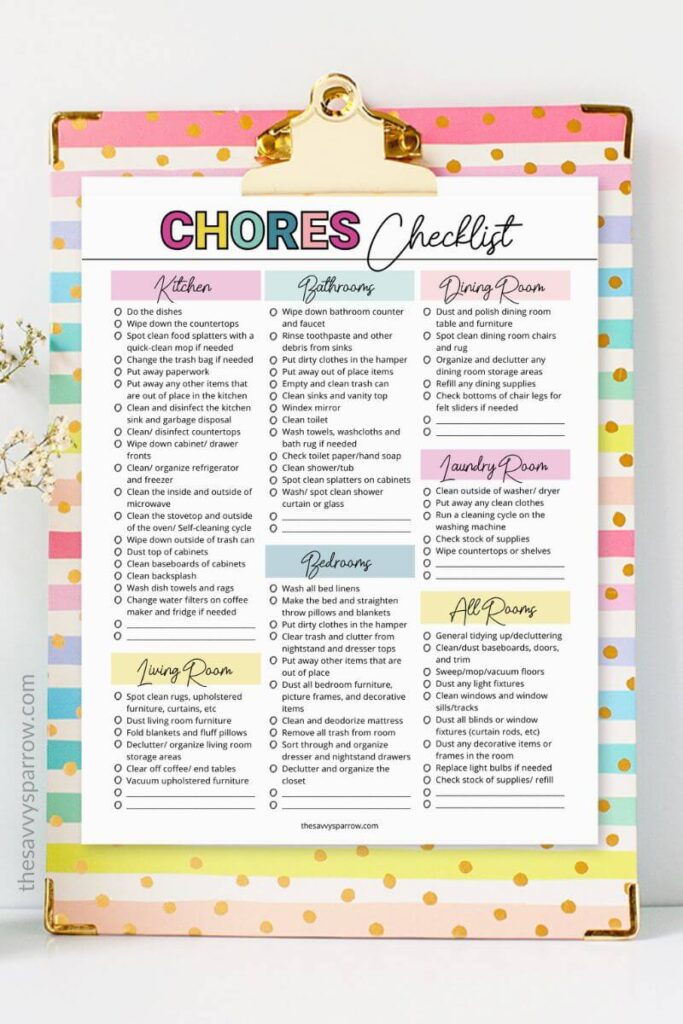 Laminate the list of household chores to hang on your fridge.
This is my favorite way to use the printable chores list down below. Having my list of chores hanging front and center on the fridge is a great way to keep your daily, weekly, and monthly cleaning jobs top of mind… every time you open the fridge you'll be reminded to complete your chores for the day.
Just laminate the printable list of chores (this is the laminator that I have and LOVE!) and use a dry erase marker to check things off the list as you complete them. Doesn't get much easier than that!
Print one copy of the chores list for each week.
If you don't have a laminator or if you prefer having a fresh chore list for each week, you can also print off multiple copies of the printable cleaning list. Then, you can hang the list on a clipboard in your family command center or on the fridge. Just use a pen to mark out the jobs that are done, and get a fresh household chores list at the beginning of the following week.
Add the printable household chores checklist to your planner.
If you like to organize your whole life with a paper planner, then why not include your chores list in there also? You can add specific chores to different days of the week in your weekly planner to help keep up with your cleaning list.
Or, just print out the giant list of chores at the end of this post and add it to your planner as is for when you have some extra time and feel like being productive.
Use the list of chores to get help around the house.
Sometimes I feel too busy to even think about delegating chores and other household tasks to my kids and husband… As a full-time working Mom, I know that I need the help keeping up with housework, but thinking of jobs for my kids to do or actually vocalizing what specific chores I need help with is just ONE. MORE. THING. on my to-do list.
Maybe you can relate?
But having a list of chores at the ready can take one thing off your plate… Even if it's as simple as cleaning out the dishwasher.
When you're starting to feel overwhelmed, simply tell your kids to each pick one chore from the chore list and get it done. This allows them to choose how they want to be helpful, and it also helps to alleviate your workload. Win win!
Daily Household Chores List
The key to keeping a clean home is to clean every day. I know that sounds worse than getting a root canal, but smaller daily household chores really can make a big difference in the overall cleanliness of your home. Here's a list of daily household chores that you can add to your cleaning list: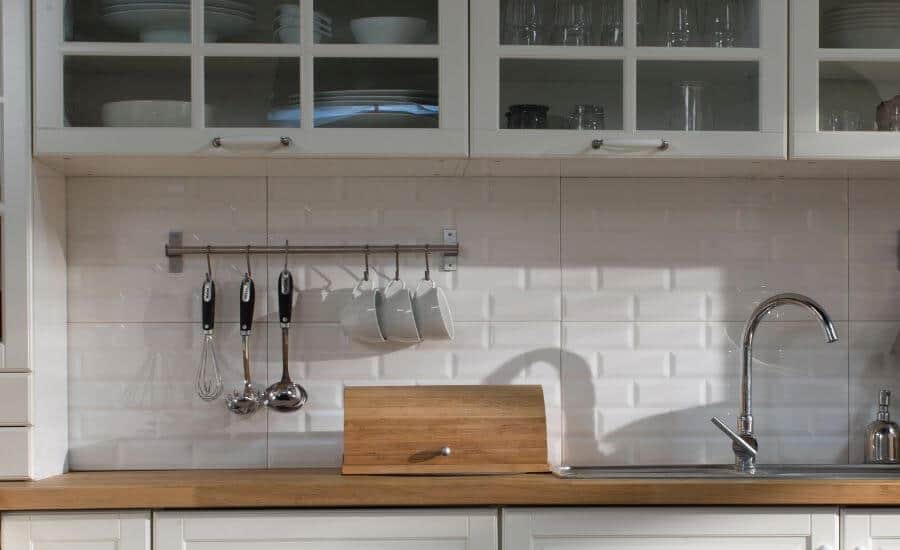 Load and unload the dishwasher
Wash dishes
Make sure there are no dishes left in the sink at night
Sort paper clutter – Organizing important mail, filing away kids' school papers, trashing junk mail, etc.
Take out trash
Wipe down the dining table
Sweep under the dining table/eating areas
Sweep the kitchen
Meal prep
General tidying up
Weekly Household Chores List
These jobs can be done weekly to help you maintain a nice and tidy house:
Vacuum, sweep, or mop all floors – I really LOVE this steam mop for my hard surface floors!
Dust shelves, picture frames, tabletops, and other flat surfaces
Wash bed linens and bath towels
Sweep and mop under the dining table
Wipe down appliances in the kitchen
Wash all kitchen linens – kitchen towels, dish cloths, cloth napkins, etc.
Scrub the kitchen sink
Sweep/mop the kitchen floors
Change out kitchen towels and dish rags
Spot clean dining chairs (if needed)
Spot clean rug and couches (if needed)
Wipe down all mirrors
Clean the toilets
Clean bathroom counters and faucets
Sweep/mop bathroom floors
Vacuum bedroom floors
Dust all bedroom furniture
Clean off nightstands
Water the plants
Pay bills and sort paper clutter – I've got an awesome guide for creating an at home filing system for your family paper work here!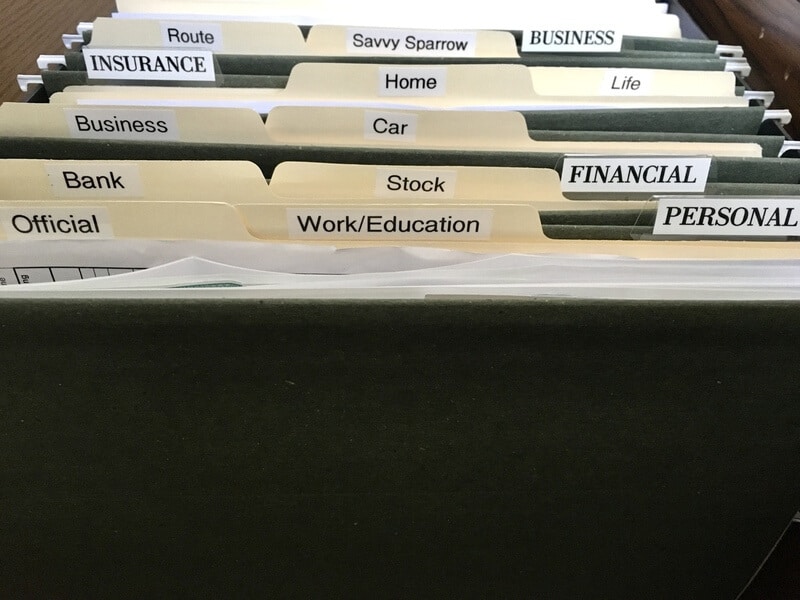 General decluttering
Laundry
Organize and declutter mudroom and/or entryway
Dust mudroom or entryway furniture
Monthly Cleaning Jobs
Here are some ideas for monthly cleaning jobs to add to your household chores list:
Wipe down cabinet and drawer fronts
Dust all window blinds
Dust all light fixtures
Clean window sills
Shampoo rugs if needed
Clean out and organize the fridge and freezer – I've also got an awesome free printable freezer inventory sheet you can use to keep your freezer organized after you're done!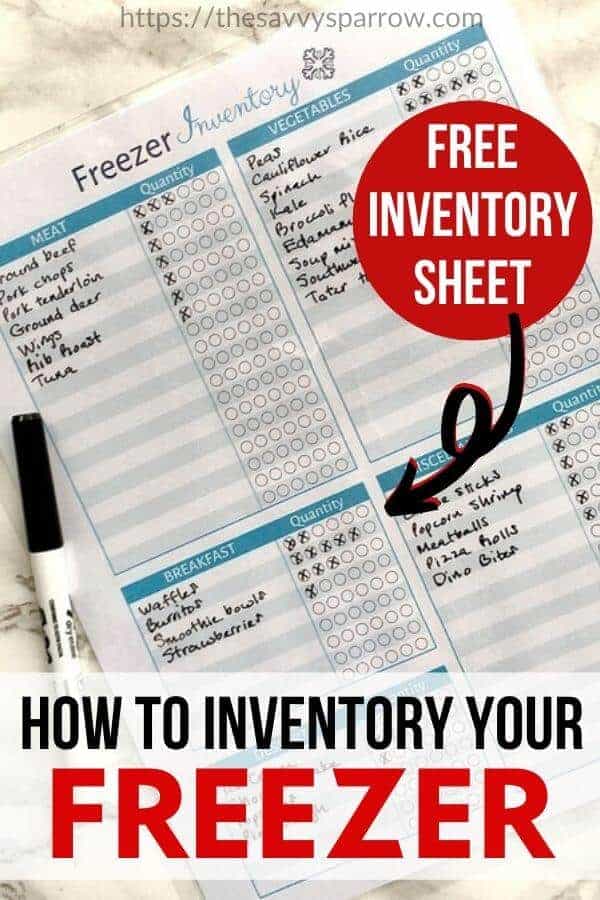 Clean baseboards
Change air filters
Clean the garbage disposal – I'm a fan of these garbage disposal cleaning tabs.
Clean the insides and outsides of kitchen and bathroom trash cans
Organize and declutter bathroom countertops and drawers
List of Household Chores – Separated by Room
Instead of focusing on what chores need to be done daily, weekly, and monthly, you may find it easier to separate your list of chores by room instead. This is sometimes referred to as "zone cleaning" and it can help the gigantic task of keeping your entire house clean feel not so daunting, because it allows you to focus on only one room at a time.
If this Zone Cleaning system seems more your style, then here's a household chores list separated by rooms or "zones" to help you get started:
Kitchen Chores List
For a giant list of kitchen chores that can be done daily, weekly, and monthly check out this post: Kitchen Cleaning Checklist for Daily, Weekly, and Deep Cleaning – And you can even grab this super cute free printable kitchen cleaning checklist: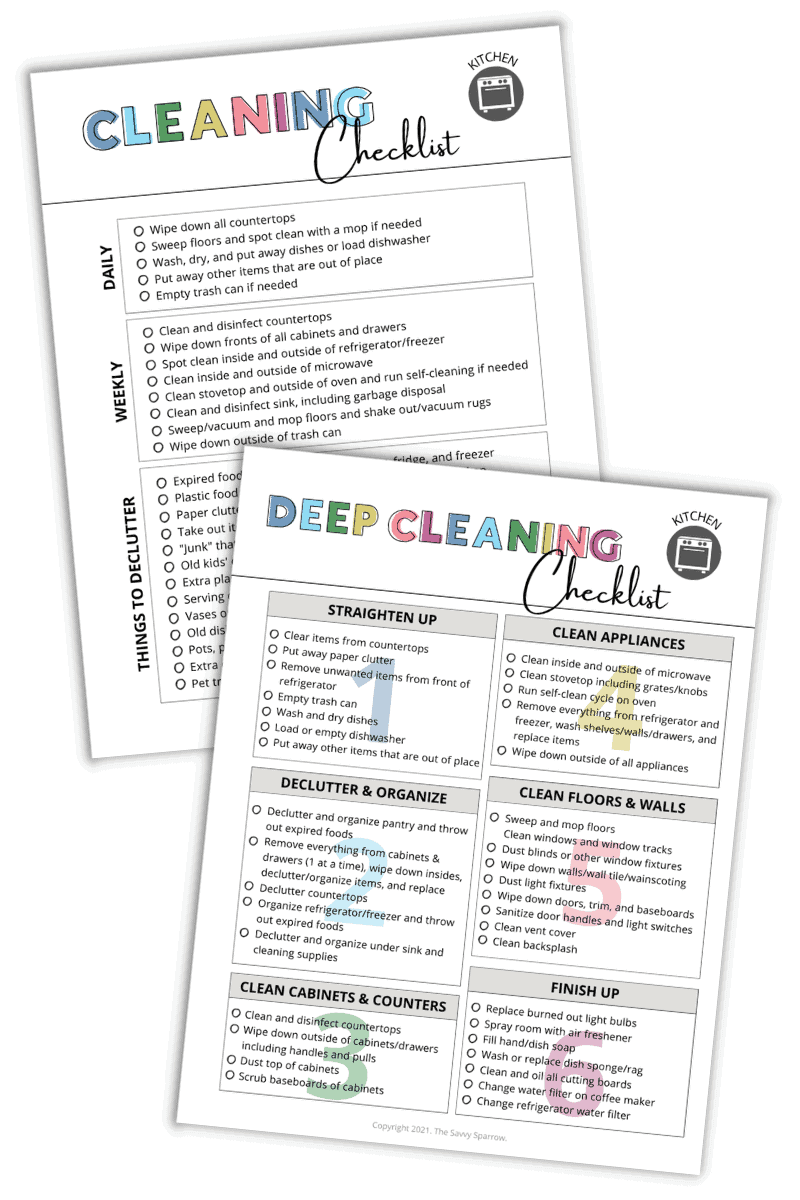 And here are some kitchen cleaning jobs to add to your list of household chores:
Do the dishes – I try to make sure every night before I go to sleep that the dishes are done and the sink is completely cleaned out.
Wipe down the countertops
Spot clean food splatters with a quick-clean mop if needed
Change the trash bag if needed
Put away any paperwork or mail from the day
Put away any other items that are out of place in the kitchen
Clean and disinfect the kitchen sink and garbage disposal
Clean and disinfect kitchen countertops
Wipe down cabinet and drawer fronts
Clean and organize the refrigerator and freezer
Clean the inside and outside of the microwave
Clean the stovetop and outside of the oven, and run the self-cleaning cycle on the oven if needed
Wipe down outside and inside of trash can
Dust top of cabinets
Clean baseboards of cabinets
Clean backsplash
Wash dish towels and rags
Change water filters on coffee maker and fridge if needed
Living Room Chores List
Sweep/mop/vacuum living room
Spot clean rugs, curtains, and upholstered furniture
Dust living room furniture
Fold blankets and fluff pillows
Declutter and organize the living room storage areas (like bookshelves, hutches, etc)
Clear off coffee and end tables
Vacuum upholstered furniture
Dust fireplace mantel and clean off hearth (if applicable)
Bedroom Chores to Do
Wash all bed linens
Make the bed and straighten throw pillows and blankets
Sweep/mop/vacuum bedroom floors and rugs
Dust all bedroom furniture, picture frames, and decorative items
Clean and deodorize the mattress
Declutter nightstand and dresser tops
Remove all trash from the bedroom
Sort through and organize dresser and nightstand drawers
Declutter and organize the closet
General tidying up
General decluttering in the bedroom – And you can check out this post to help you with bedroom clutter and grab this free printable checklist: How to Declutter Your Messy Bedroom Today – Free Checklist!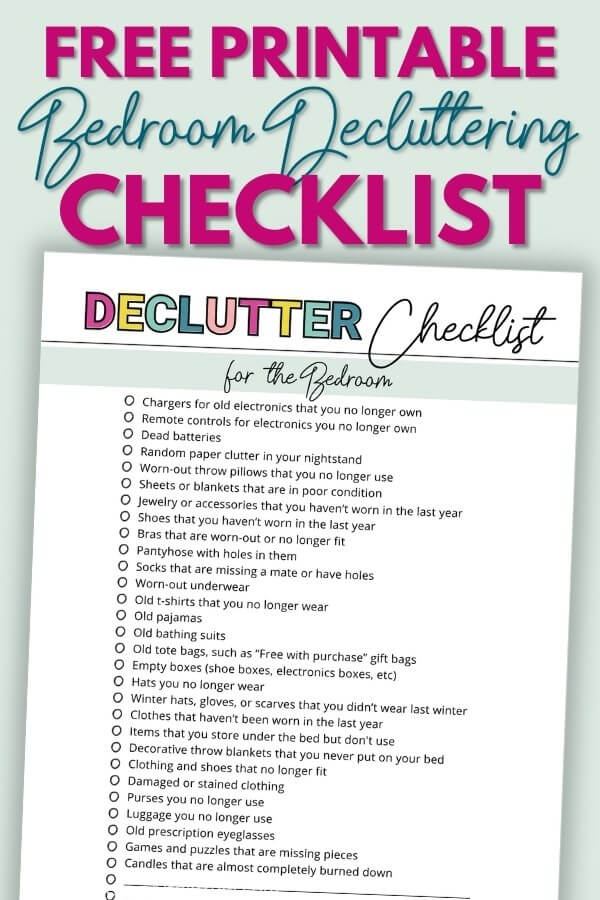 Dining Room Cleaning List
Our dining room is fairly easy to clean, probably because we don't have a lot of "stuff" in there. Hopefully this is an easy room for you to clean as well:
Sweep/mop/vacuum dining room floors
Dust and polish dining room table and furniture
Spot clean dining room chairs and rug
Dust decorative items and wall art in the dining room
Organize and declutter any dining room storage areas (buffet, hutch, etc.)
Refill any dining supplies like napkins, plastic cutlery, etc.
Clean baseboards in the dining room
Dust light fixtures, curtain rods, etc.
Check bottoms of chair legs for felt sliders if needed (to prevent damage to your hard floors)
Bathroom Chores List
The bathrooms can be one of the most daunting places to clean in any house… for me personally, I would rather go to the dentist than have to clean the shower.
And since these rooms can be overwhelming to clean, I've devoted an entire blog post to daily, weekly, and deep cleaning jobs for the bathroom! And be sure to grab these cute free printable cleaning checklists too: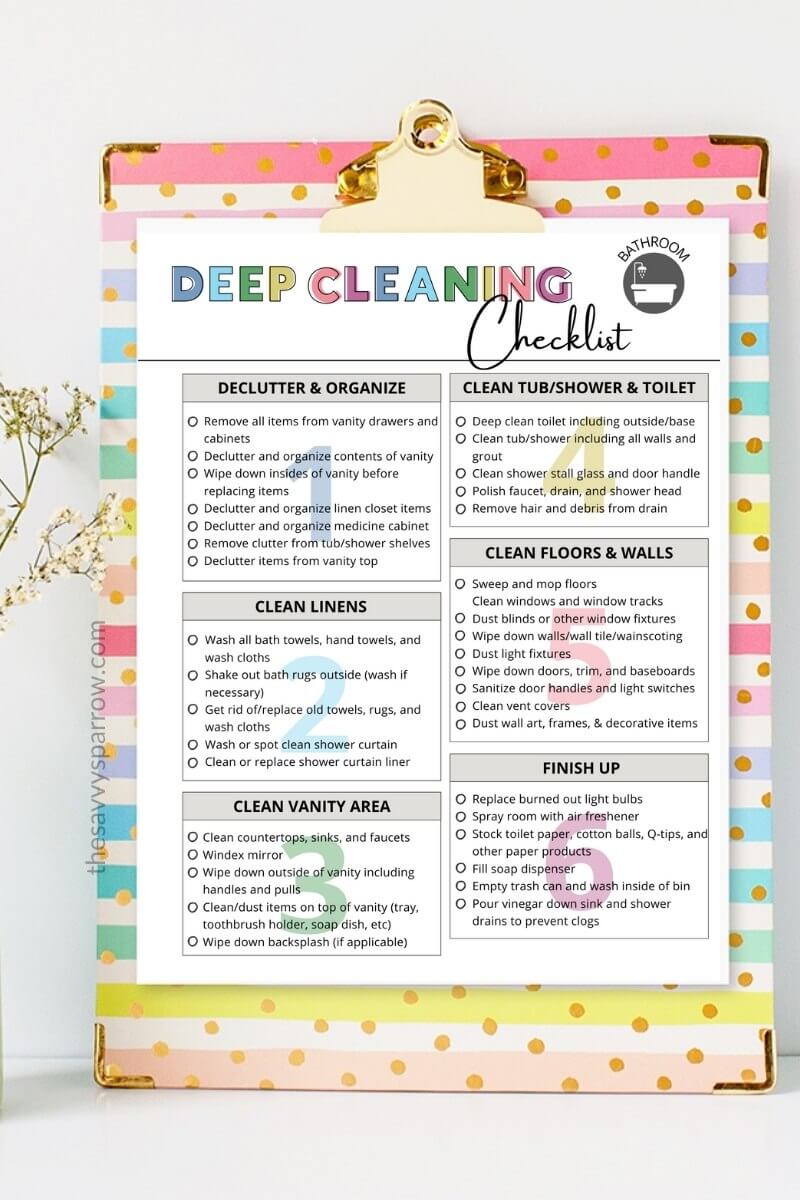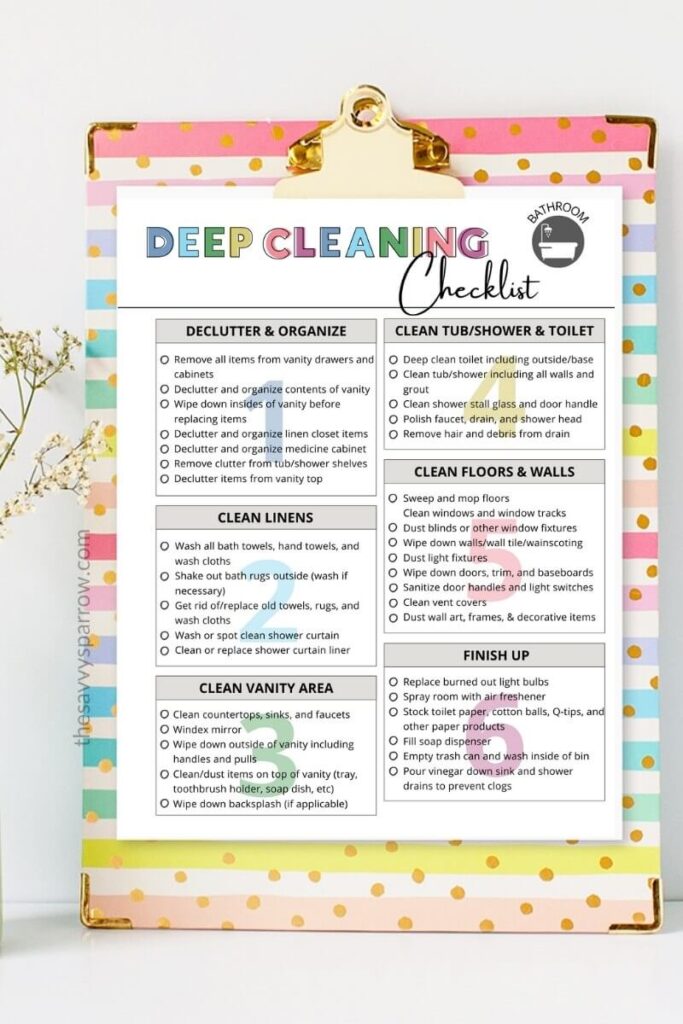 Be sure to hop over to that bathroom cleaning post for more ideas, but here are some general cleaning jobs for the bathroom "zone":
Wipe down bathroom counter and faucets
Rinse toothpaste and other debris from the sinks
Put dirty clothes in the hamper
Put away out of place items
Empty and clean the trash can
Clean sinks and vanity top
Windex mirror
Clean toilet
Wash towels, washcloths, and bath rug if needed
Sweep/mop bathroom floors
Hang bath mat to dry
Check toilet paper and hand soap supply
Clean shower/tub
Spot clean splatters on cabinets
Wash/spot clean shower curtain or glass
Laundry Room Chores List
Good news… the laundry room is one of the smaller rooms in the house, so there's not as many household chores to do in this area of the home (at least that's how it is in my house). Here are some common chores for the laundry room:
Wipe down outside of washer and dryer
Sweep/mop/vacuum floors
Put away any clean clothes
Run a cleaning cycle on the washing machine
Check stock of supplies (detergent, dryer sheets, etc.)
Clean or dust baseboards, door, and trim
Dust or wipe down any countertops or shelves
General decluttering
Printable Chore Checklists
I LOVE creating printables to help around the house! Some people read books, do crafts, or watch Netflix in their free time… but I enjoy making PDF templates that help make Mom Life easier! Here are some of my awesome printable chore lists:
Free Printable Household Chores List – Just click the link below to grab a super cute printable list of common household chores! Then hang the list on your fridge or add it to your planner as a reminder of the cleaning jobs that you want to get done!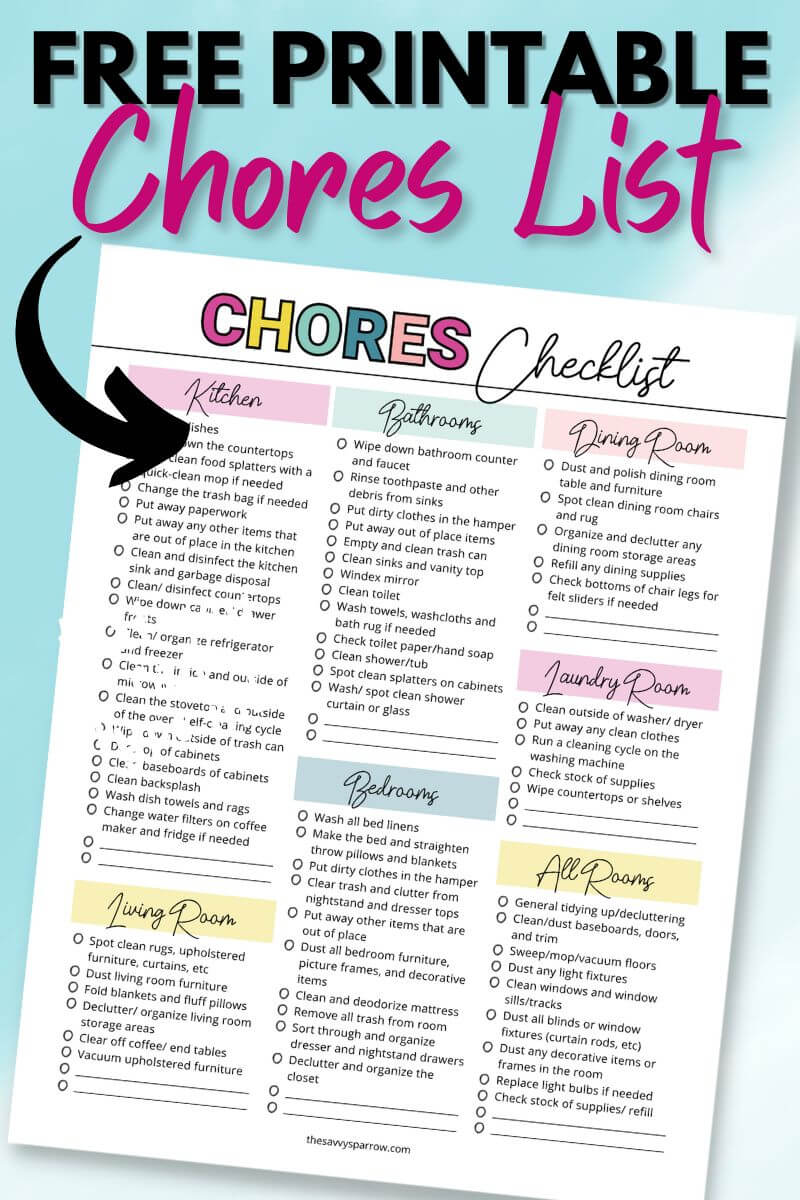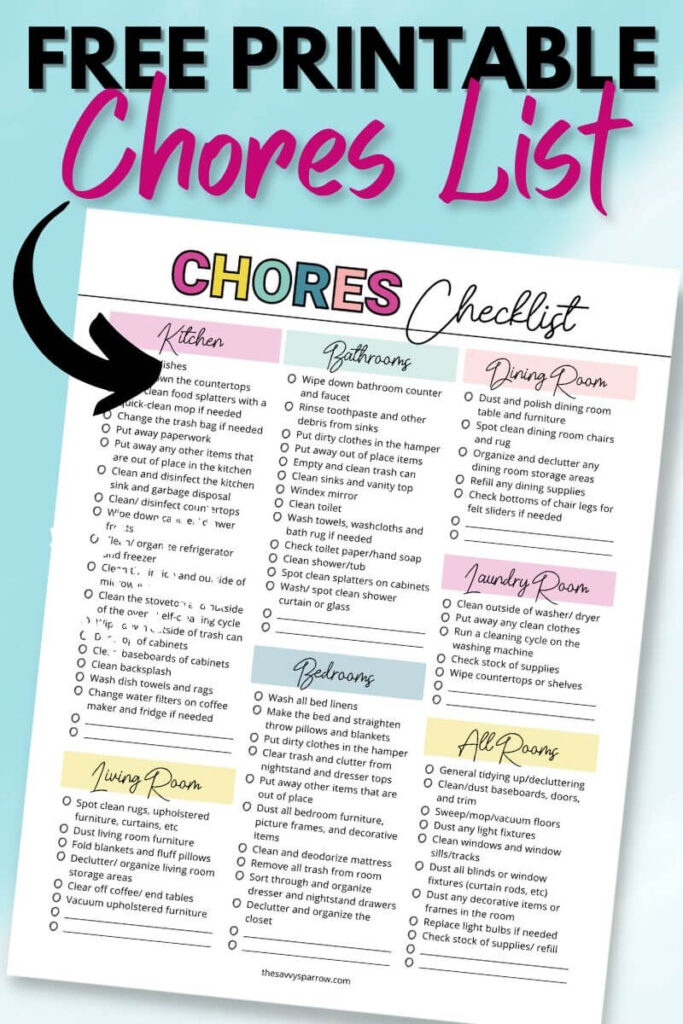 Click HERE for the Household Chores List!
Weekly Cleaning Schedule Templates – These cleaning list templates are actually fillable, which means you can type directly in to the PDF to customize your own Weekly Cleaning Schedule! Then, hang the checklist on the fridge or add it to your planner to stay on track of your household chores!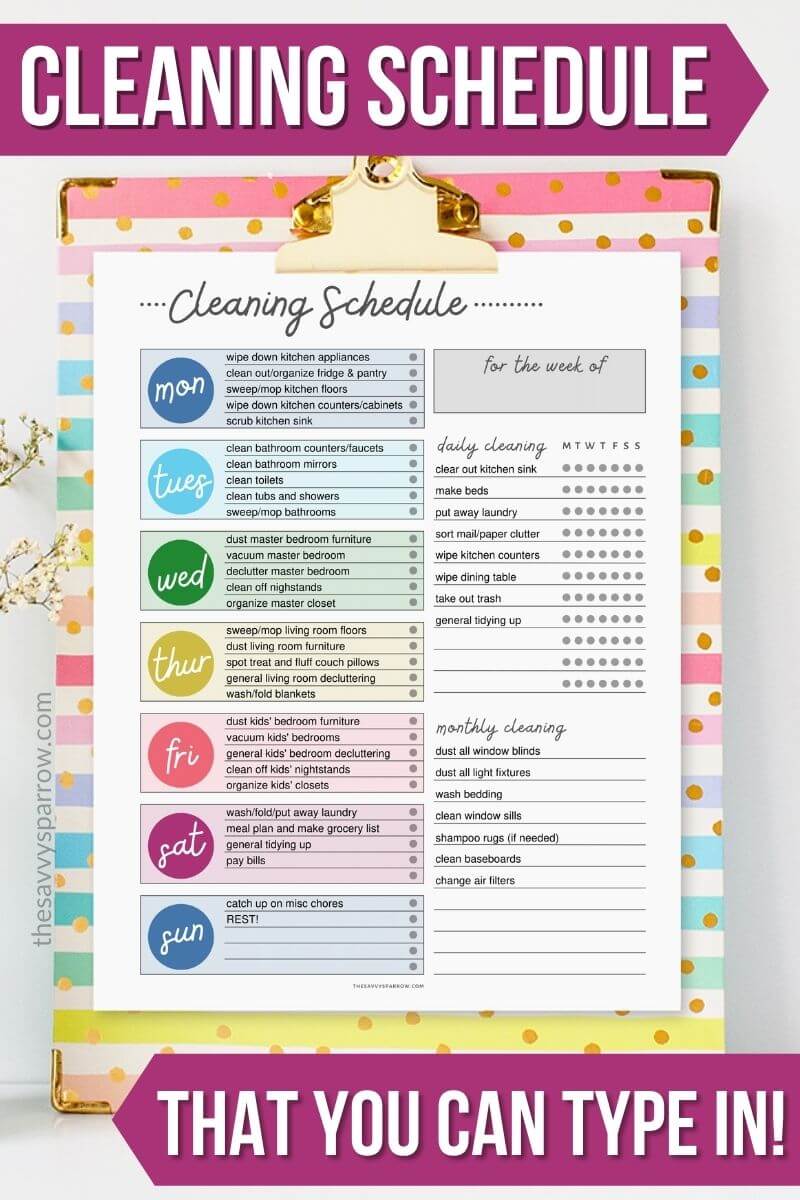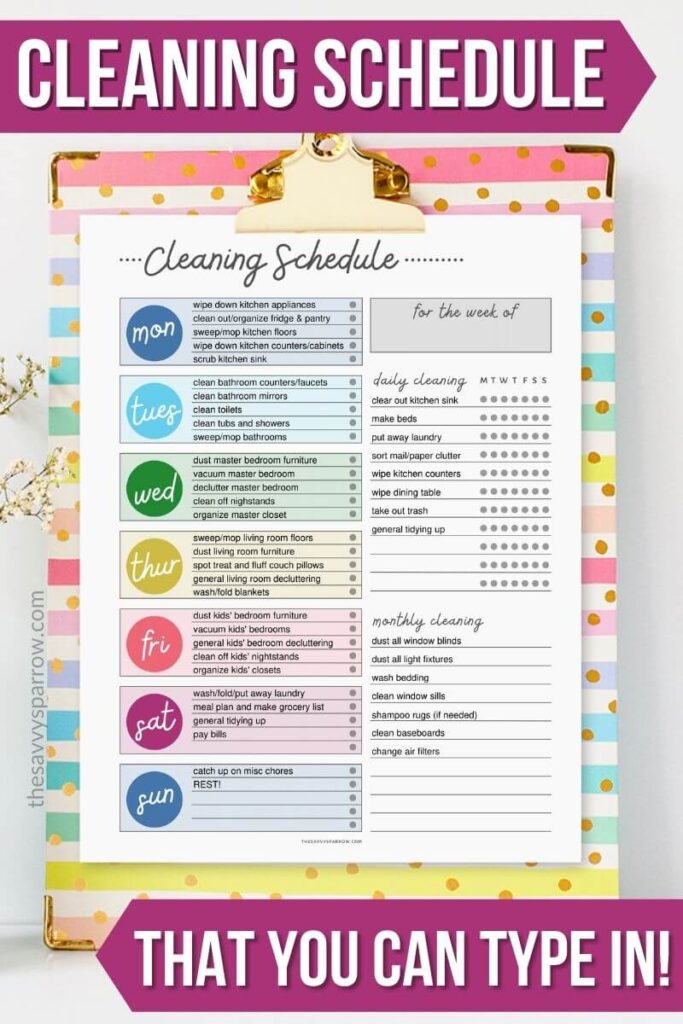 I hope these cleaning checklists and chore lists help you to be a little less overwhelmed with all of the house work!
How do you keep up with your cleaning schedule? Do you have a list of jobs that you use, or are you more of the "just wing it" type? Leave me a comment down below! I'd LOVE to hear from you!
And happy cleaning (if there is such a thing!).