These July 4th party ideas and backyard BBQ party planning checklist will help you throw the most awesome barbecue party this summer… from the blue punch to the party favors! Grab the free printable July 4th party planning list now!
Nothing says July 4th like a huge backyard BBQ party, and since my husband happens to be a grill (and griddle) master, we're no strangers to throwing summer barbecue parties!
Our family goes all out each year on the 4th of July. From an epic fireworks display in the driveway to a backyard bonfire with all the S'mores fixin's, our patriotic party is a blast! But it's also quite a bit of work to plan!
So I created an epic detailed July 4th party planner to print out and help me get ready for the big day, and I'm sharing my patriotic party planning checklist with you!
Here's a great guide to planning the perfect July 4th barbecue party so you don't forget anything: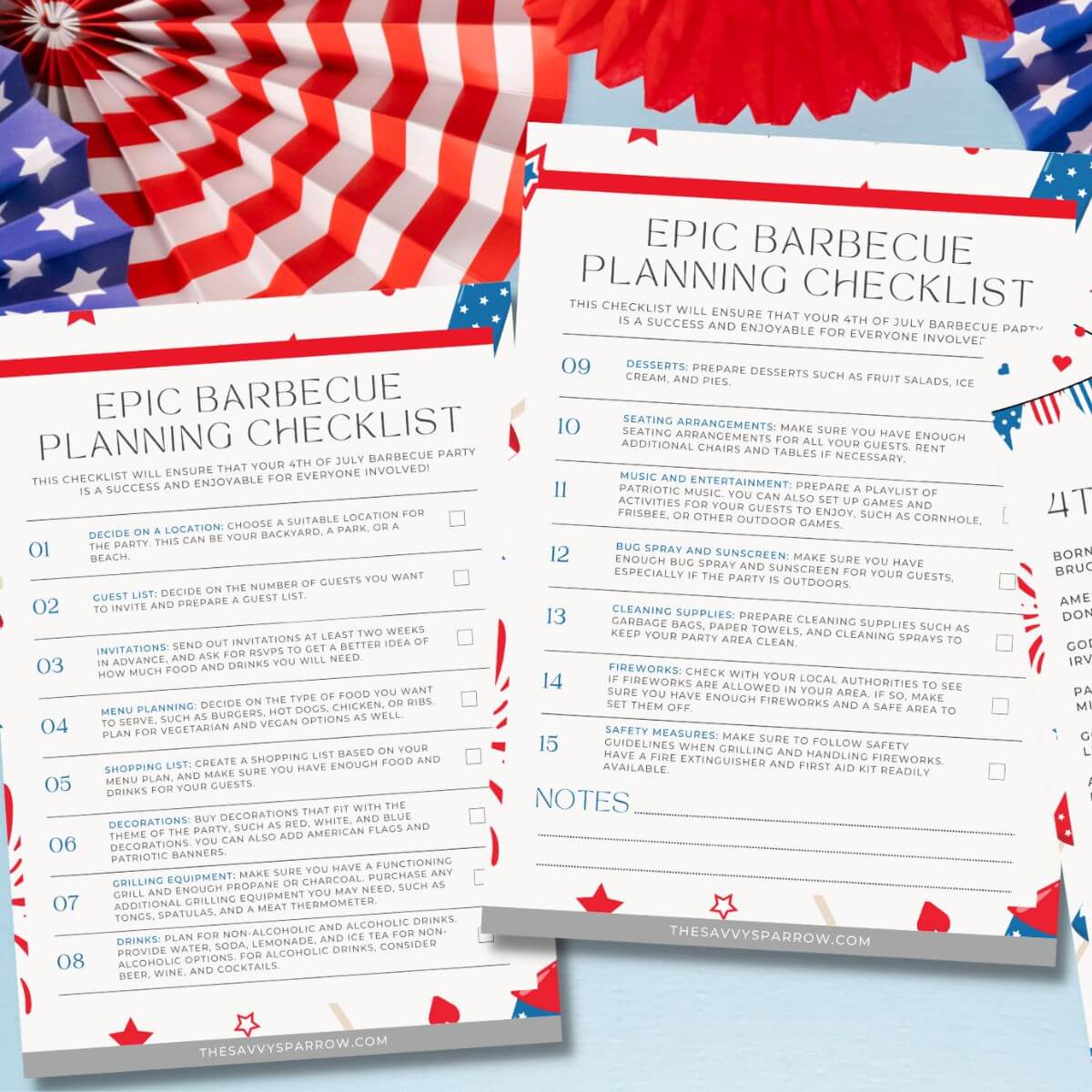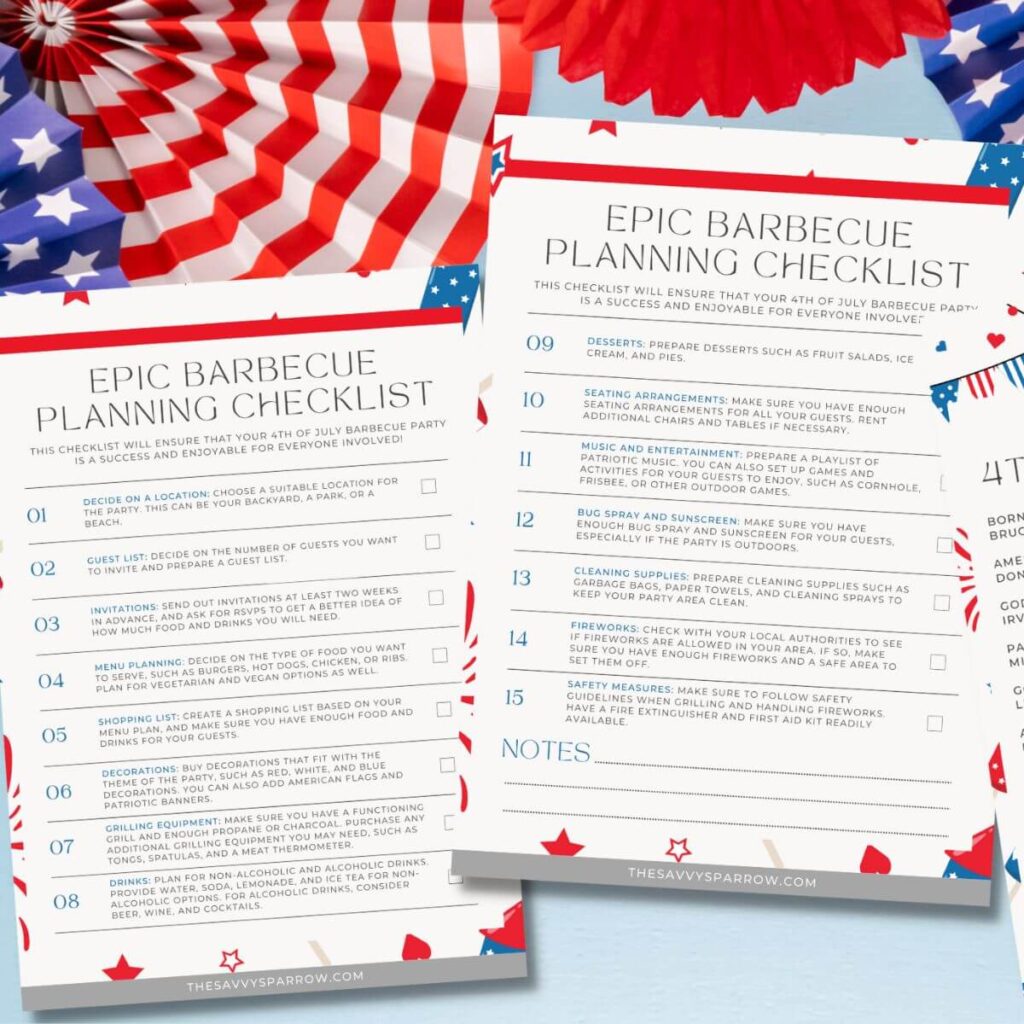 *This post contains affiliate links, which means if you click a link and make a purchase, I earn a commission at no additional cost to you. Read my full terms of use for more info.
Occasions that are Perfect for a BBQ Party
Memorial Day
July 4th
Father's Day
Graduation
Wedding rehearsal dinner – We actually had a giant backyard BBQ party for our own rehearsal dinner, and it was a blast!
Summer kick-off party
How to Plan a July 4th Backyard Barbecue Party
Here's a great checklist to help with your July 4th party planning, including some important action items that you might not have considered: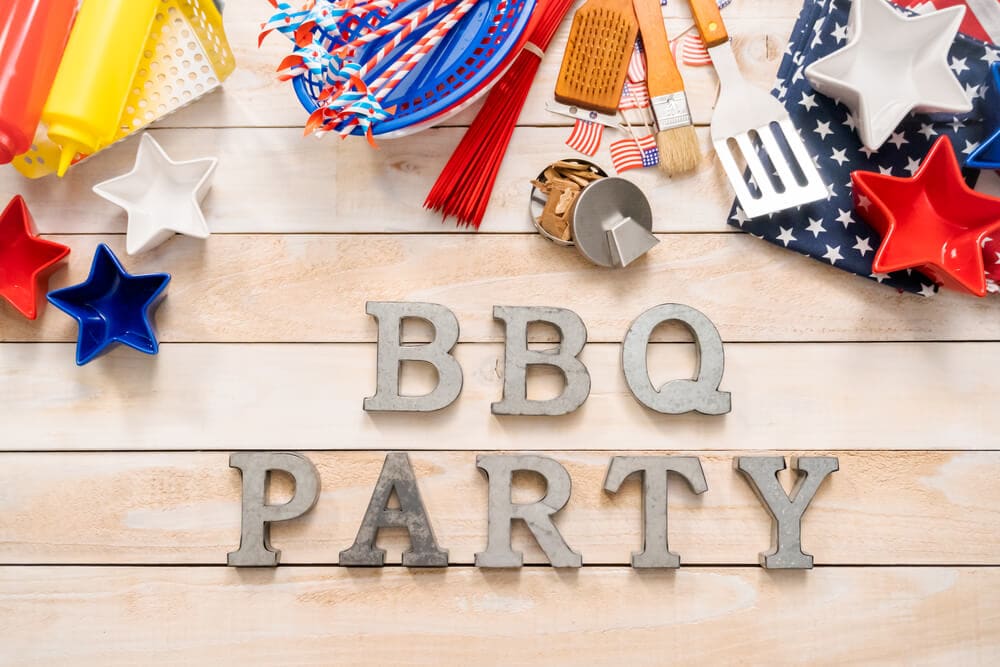 1. Pick a location.
The perfect summer party starts with the perfect location, and if your own backyard isn't exactly party-ready, then you'll need to choose a different location.
When you're figuring out where to host your July 4th BBQ party, think about this:
Is the space large enough to accommodate the number of people you want to invite?
Is there plenty of seating available (picnic tables, patio furniture, etc.)?
Are there any restrictions on grill use or outdoor cooking? If you're going to throw your BBQ party at a public park or beach, verify that you are allowed to use a grill. Some national or state parks have restrictions on the types of outdoor cooking equipment that you can use.
What about parking? Where will my guests park?
Choose a location that won't come with a bunch of obstacles for your guests, like a tediously long drive or a lack of tables and seats.
If you're not using your own backyard to host your summer barbecue party, then you can ask a friend or family member to host at their house (and don't forget a GREAT hostess gift!), book a covered pavilion at a local park, ask local churches about using their outdoor facilities, or try your neighborhood community center or clubhouse.
2. Make the guest list.
Before you start your barbecue menu planning and other party prep, you'll need to know how many people to expect at your gathering. Start by writing down a list of the people you want to invite and estimate the number of people that are likely to attend.
As you're making your guest list, make sure that you have everyone's mailing address, email address, or cell phone number (depending on your type of invites) so that you're ready to send out invitations.
3. Send out July 4th barbecue invitations.
Send out invites at least two weeks before your BBQ party. You have a few different options for your summer barbecue invitations:
Barbecue Invitations by Mail:
If you're going the more traditional route, you can send out actual paper invitations through the mail. You can pick up some invites at a party goods store like Party City and fill them in by hand, or order custom invitations on Etsy that you can have printed at your local print shop or office supply store.
For a nicer look, I would recommend ordering a PDF invitation through Etsy, so that your backyard BBQ invitations look more polished. Etsy has a TON of great July 4th party invitations and all-purpose backyard barbecue invitations.
Email or Text Invitations:
Canva is my favorite program for making your own digital invitations to send by email or text. This involves creating an image of an invitation complete with all of the party details. Then, you can download the invite to your phone as a PNG or JPG file and text or email the photo to all of your guests. If you're just inviting close friends and family members, this is a great option that costs you nothing!
4. Plan the July 4th party menu.
Once you have an idea of how many guests to expect, you can start the backyard barbecue menu planning. Think about your food budget, the ages of your guests, and any food allergies they may have. For instance, if you're having a family-friendly barbecue and you'll be hosting a bunch of younger kids, you'll want to have some typical kid-friendly foods like hot dogs, macaroni 'n cheese, chips, and cut up fruit.
I've got some awesome July 4th party menu ideas down at the end of this post for you!
5. Decide on drinks.
Plan for both non-alcoholic and alcoholic drinks to accommodate all of your guests. Bottled water, canned sodas, gallons of lemonade and iced tea are great non-alcoholic options. If you're going to have kids at your barbecue, you can also get some boxed juices or Capri Suns that are less likely to get spilled.
For alcoholic choices, you can go with bottled beer, canned cocktails or hard ciders, or mix up a pitcher of a cocktail. For our recent backyard barbecue, we served a simple grapefruit citrus concoction with grapefruit juice, fresh orange juice, fresh lime juice, tequila and a bit of vodka, and it was a huge hit! And a large clear beverage dispenser like this one makes your homemade drink look super pretty too!
6. Create a backyard BBQ shopping list.
After you've brainstormed some menu items, it's time to make your backyard barbecue grocery list.
For a more budget-friendly party, I suggest reviewing your local grocery stores' weekly ads to see what meats are on sale. You may want to adjust your menu to match the sales and discounts at the store. For instance, if pork shoulders are on sale for $0.99 per pound, but chicken breasts cost $2.99 per pound, you might want to opt for pulled pork.
When making your BBQ grocery list, I suggest writing down all of the dishes that you'll be serving and then making a list for each dish of all of the ingredients that you need. That way, you're less likely to forget things. And be sure to include the drinks on the list also!
For instance, if I was making a red, white, and blue dessert trifle, I would write down: strawberries, blueberries, angel food cake, vanilla pudding, and Cool Whip.
And I've got a free printable barbecue shopping list that you can use down below!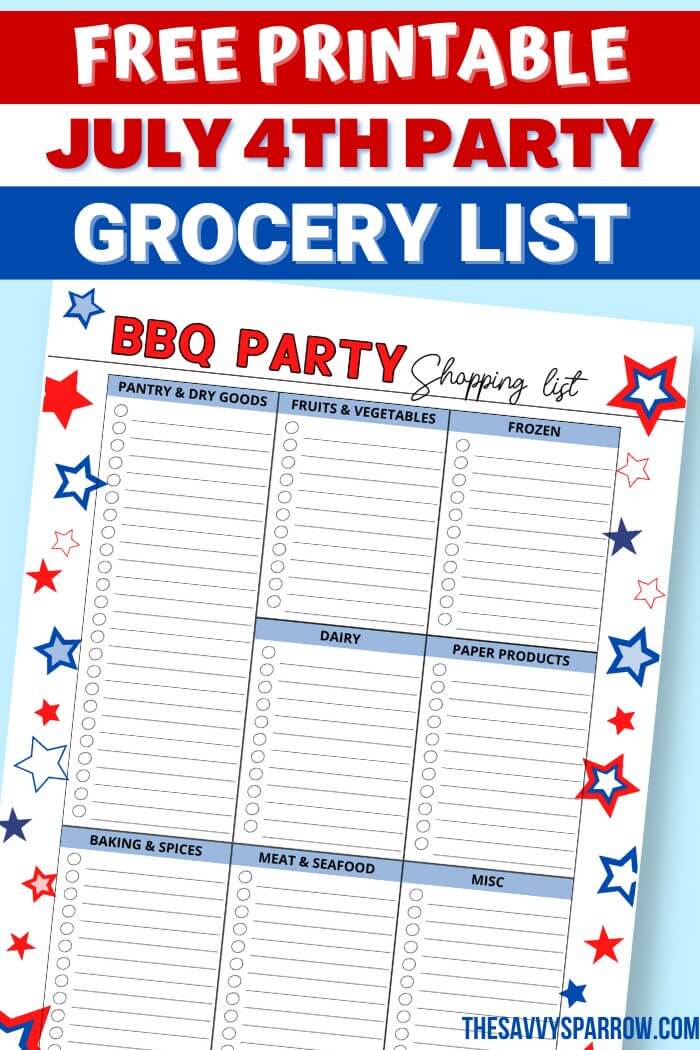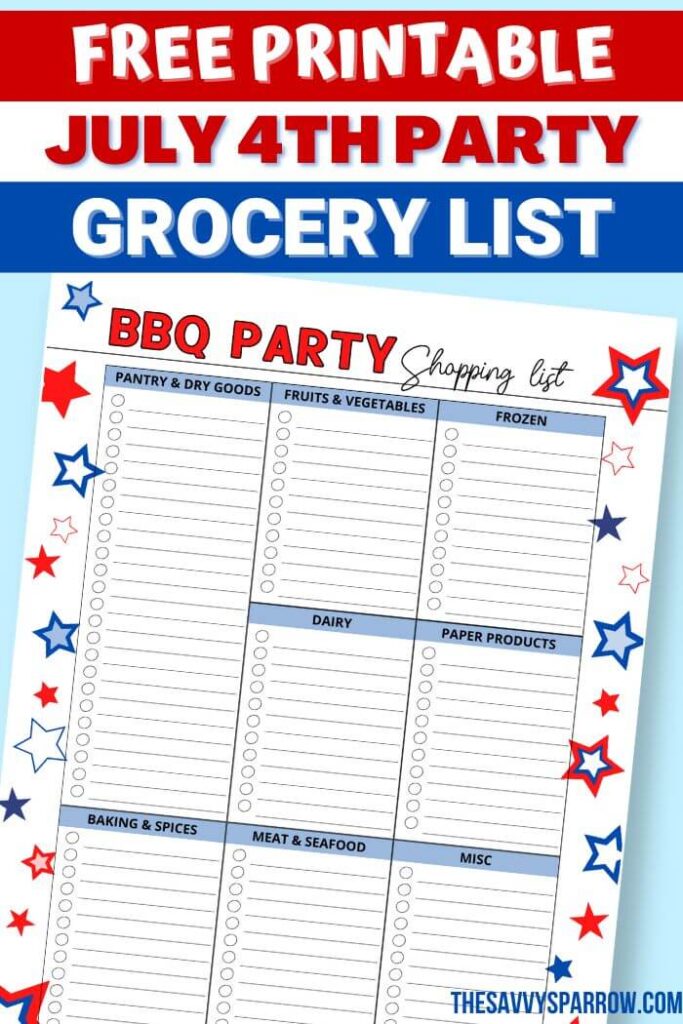 Click HERE for the Printable Backyard BBQ Grocery List Template
7. Plan the July 4th party decorations.
Decide on a party theme for your decorations. If you're hosting a Memorial Day or July 4th barbecue, you'll probably want to stick with red, white, and blue party decorations, and maybe add in some mini American flags or patriotic banners.
For more of a summer themed backyard barbecue, you can go with a luau theme and decorate with bright tropical colors. The choices are endless!
8. Decide on July 4th party favors.
Once you decide on a theme, you can also think about some simple party favors that guests can take home with them. Talk about leaving a lasting impression!
For a July 4th backyard BBQ party, these "Let Freedom Ring" Ring Pop party favors with printable tags are SO cute, and since the Ring Pops come from Dollar Tree, they're inexpensive little party gifts too: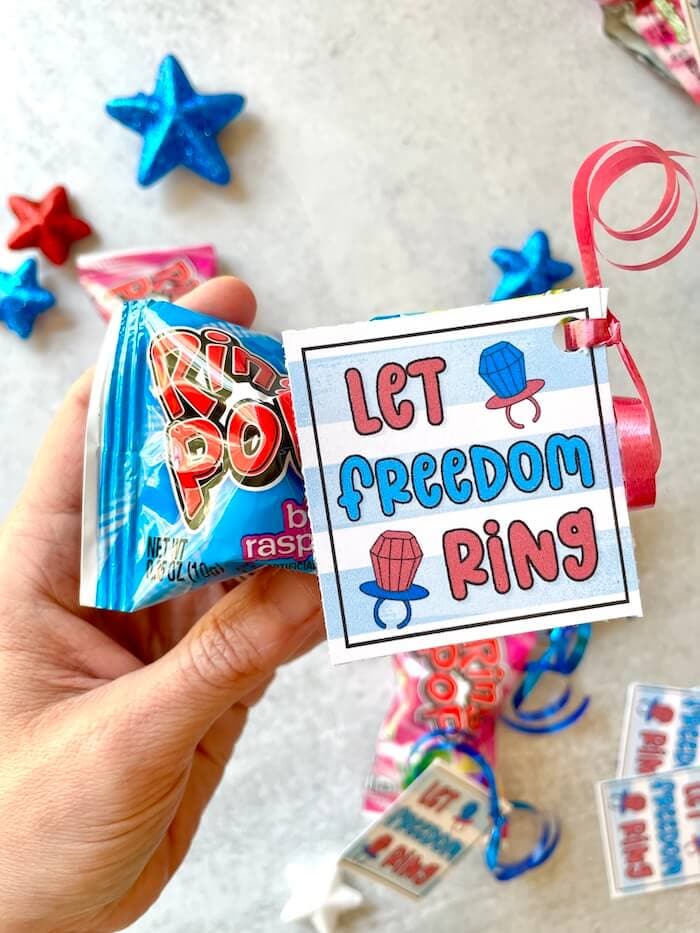 Or, for a poppin' good time, you can pass out these Pop Rocks July 4th party favors with FREE printable gift tags: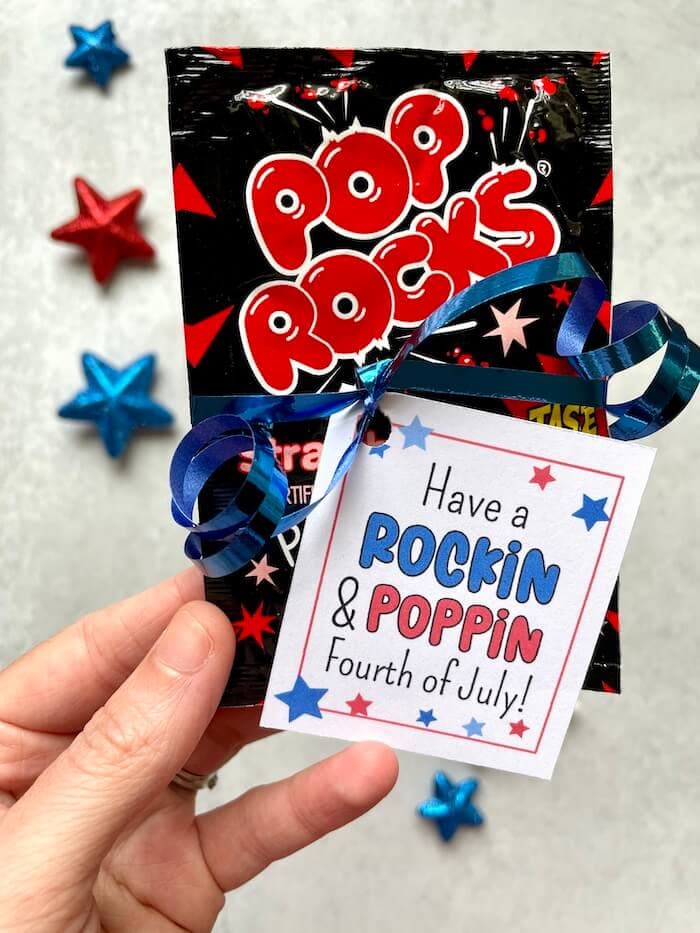 9. Gather your grilling equipment.
If you're planning on grilling for your July 4th barbecue party, then you'll need to make sure that you have all of the necessary supplies on hand. Trust me, the last thing you want to do is fire up the gas grill and realize that you're out of propane while 25+ hungry guests are standing around watching your every move!
Here are some typical barbecue grilling supplies that you'll need for your party:
Plenty of charcoal, pellets, or propane – Depending on what type of grill you have.
Lighter or matches to light your grill
Grilling utensils like long-handled tongs or spatulas
Grill cleaning brush
Internal probe meat thermometer – To gauge when your hamburgers or chicken breasts are done
Any other grill accessories you need – Like wire baskets for grilling vegetables, kebab sticks, etc.
10. Figure out seating arrangements for your July 4th backyard barbecue.
Make sure you have enough seats for all of your guests to sit down so they can eat. If needed, you can rent additional tables and chairs from a party rental company, or for a more casual backyard party, ask guests to bring their own fold-up chairs.
If you're going to be using your own outdoor furniture, make sure that all of the tables and chairs are clean and party-ready. This 30 second outdoor cleaner works wonders for removing mold, mildew, and general outdoor yucky-ness from your patio furniture!
11. Plan the music and entertainment.
For the ultimate July 4th party, you'll need some good patriotic music and some fun outdoor activities for your guests to do. Think corn hole, badminton, lawn darts, etc.
Here are some awesome songs to add to your July 4th playlist:
"Born in the USA" by Bruce Springsteen
"American Pie" by Don McLean
"God Bless America" by Irving Berlin
"Party in the USA" by Miley Cyrus
"America the Beautiful" by Ray Charles
"Sweet Home Alabama" by Lynyrd Skynyrd
"Yankee Doodle"
"The Star Spangled Banner" by Whitney Houston
"Back in the USA" by Chuck Berry
"America" by Neil Diamond
"R.O.C.K. in the USA" by John Mellencamp
"This Land is Your Land" by Woody Guthrie
"Fortunate Son" by Creedence Clearwater Revival
"American Woman" by The Guess Who
"The House That Built Me" by Miranda Lambert
"Independence Day" by Martina McBride
"Courtesy of the Red, White, and Blue" by Toby Keith
"America" by Simon & Garfunkel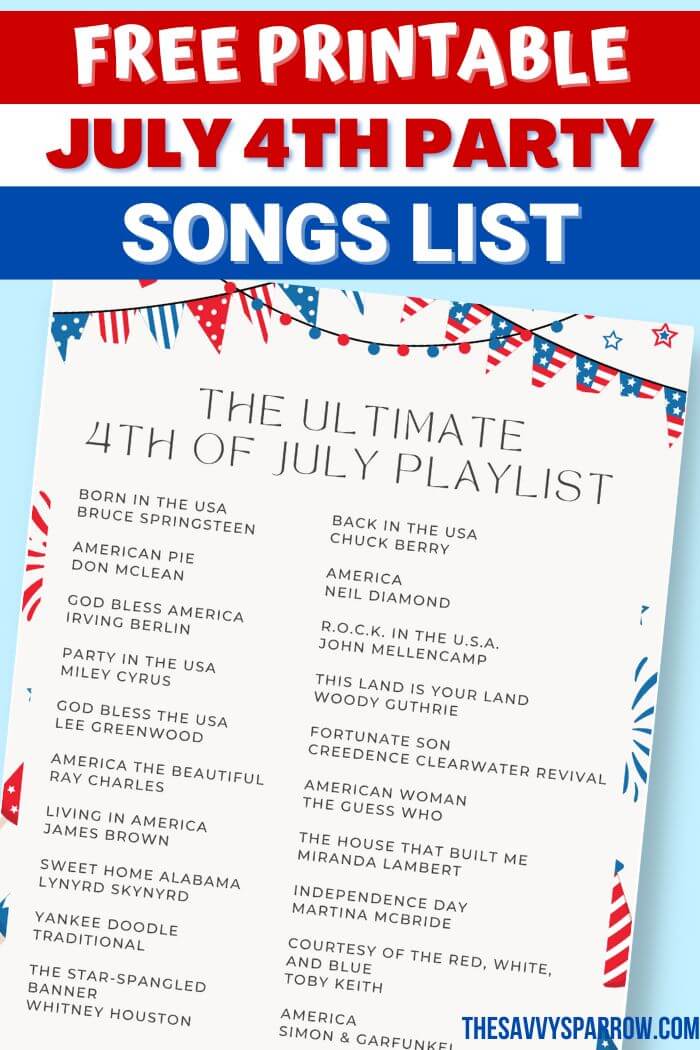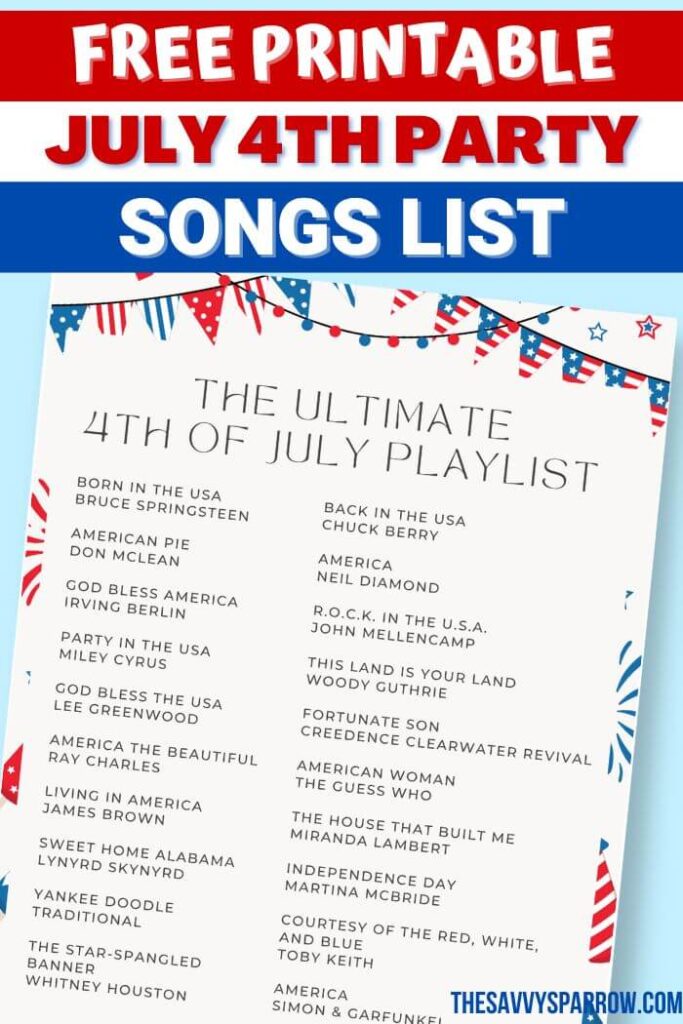 Want to print this July 4th song list for later? Just click the link below!
Click HERE for the List of July 4th Songs
11. Stock up on bug spray and sunscreen.
If your July 4th party is outdoors, then be sure that you have enough bug spray and sunscreen on hand for guests that may need it. Also, if you live in an area that's prone to mosquitos, it's probably a good idea to get some citronella candles to light outside and keep the bugs away. You can even buy citronella candles in red, white, and blue colors to match your July 4th party decorations.
12. Gather your cleaning supplies and paper goods.
Be sure that you have plenty of trash bags, paper towels, paper plates, and cups for your July 4th party. If you're hosting a large number of guests, then you may want to set up multiple trash cans outdoors so that people don't have to go inside to the kitchen every time they need to throw something away.
Also, having an outdoor trash can is handy for throwing away grilling-related trash as you're cooking, like the packaging from the beef. And more trash cans means you won't have to change the bag every 15 minutes!
13. Check your local fireworks laws for your July 4th Barbecue.
If you're planning to shoot off fireworks in the evening for your July 4th party, then be sure to check with your local authorities to see if fireworks are allowed in your area and what restrictions there might be. For instance, some cities only allow sparklers.
If so, you can package them up with these cute printable July 4th Sparklers Gift Tags for a fun party detail!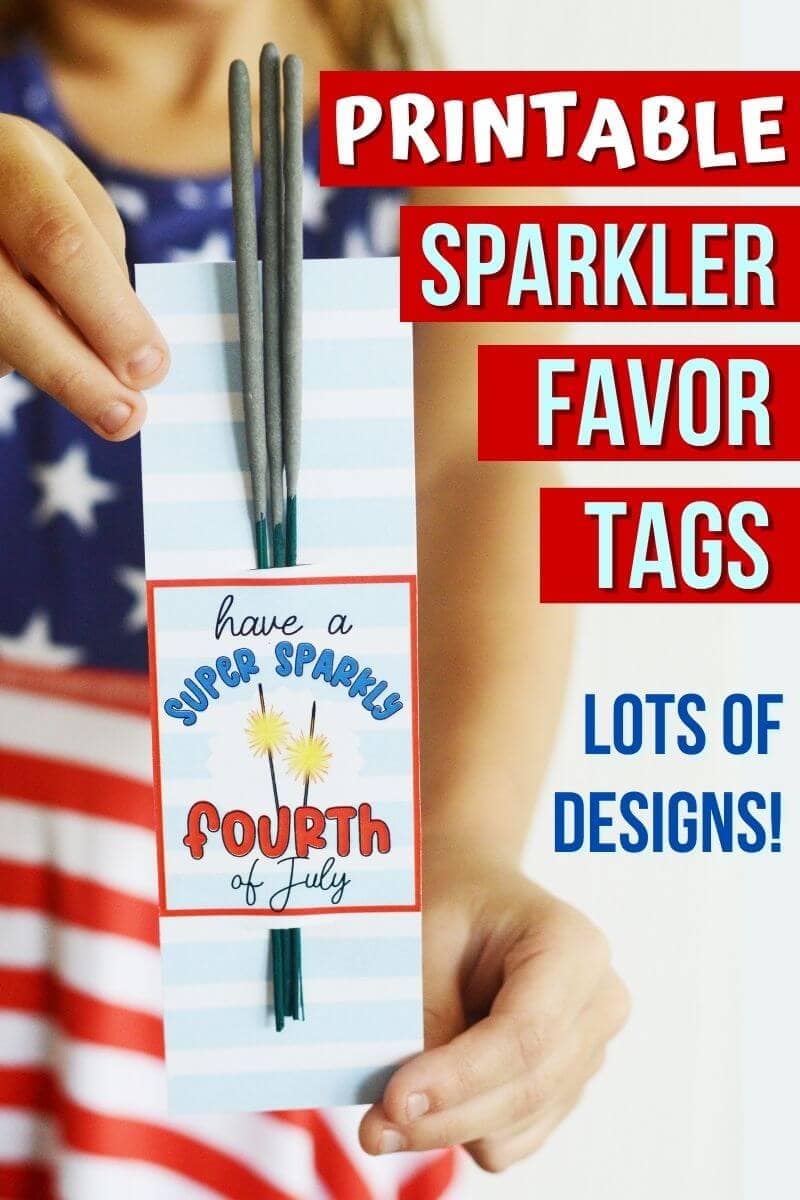 If your town does allow fireworks, make sure that you have a safe area to set them off, and be sure to have a fire extinguisher handy just in case!
Barbecue Menu Planning and Food Ideas for July 4th
Need help with your July 4th party food and menu planning? I've got you covered…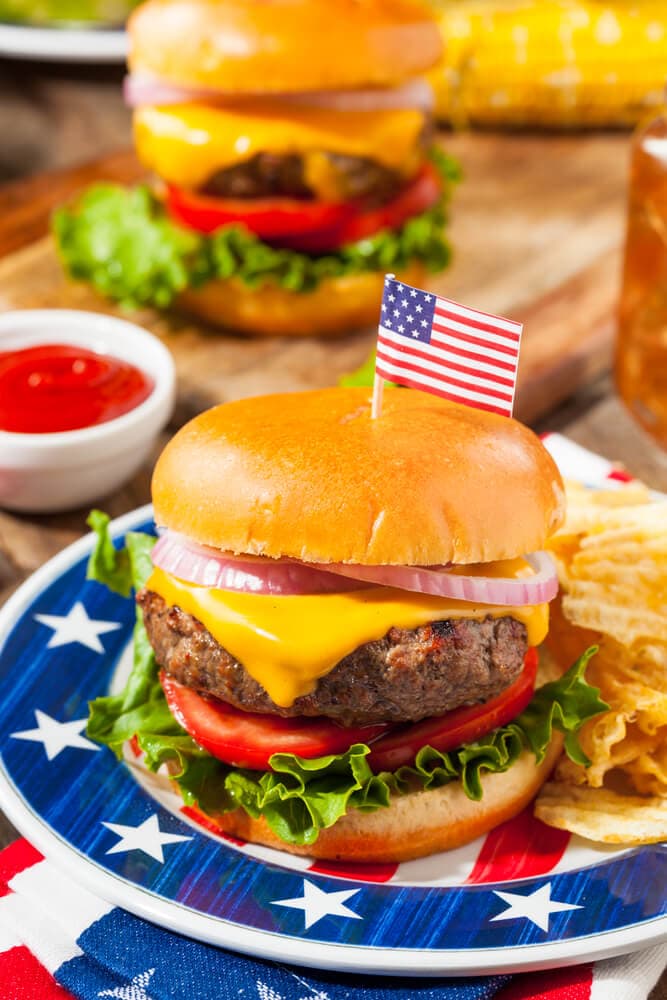 Main Courses for a Backyard BBQ Menu:
Hot dogs
Hamburgers
Smash burgers – My personal favorite if you have a Blackstone griddle!
Bratwursts or other sausages
Grilled barbecue chicken
Pulled pork – If you don't have 8+ hours to cook your own pork butt, you can order take-out from a local barbecue restaurant… The great thing about barbecue pulled pork is that it reheats really well, so you can pick it up the day before your backyard barbecue.
July 4th Party Side Dishes:
Fruit salad – You could even do a simple mix of strawberries, blueberries, and blackberries for a nice red, white, and blue side dish!
Potato salad
Coleslaw
Pasta salad
Maccaroni 'n cheese
Baked beans
Corn on the cob
Tri-color chips and dip – You can usually find red, white, and blue tortilla chips in the grocery stores around Memorial Day and July 4th.
Grilled bacon wrapped jalapeno poppers – These are a favorite at our house!
Hot dog chili or sautéed peppers and onions – A MUST if you're serving hot dogs or bratwurst sausages!
July 4th Party Desserts:
I've got a HUGE round-up of 60+ red, white, and blue desserts for July 4th for you to check out, but here are a few other ideas: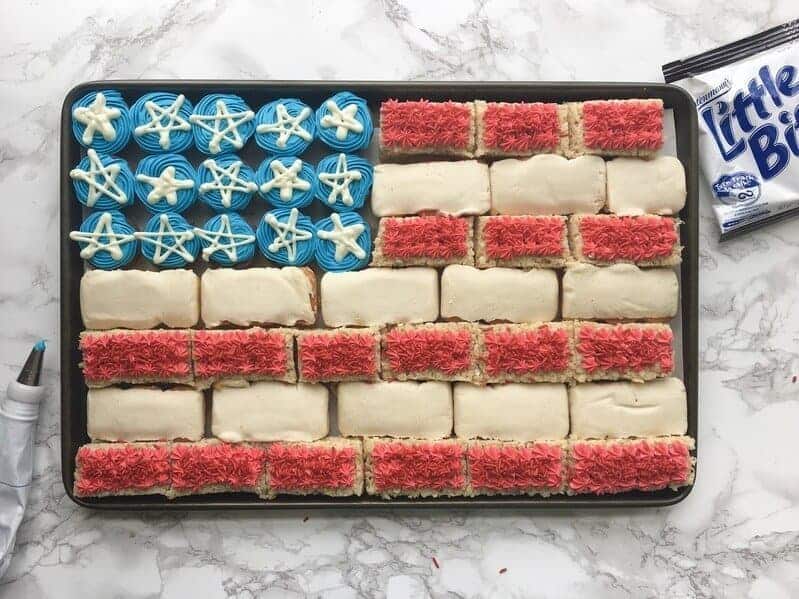 No-Bake Flag Dessert for July 4th – This kid-friendly patriotic dessert (pictured above) is made with Rice Krispies treats, brownie bites, and packaged snack cakes… super easy and super cute!
Red, white, and blue berry trifle – Made with strawberries, blueberries, Angel Food cake, and Cool Whip!
Chocolate Texas Sheet Cake – This easy and oh-so-delicious picnic cake is perfect for a July 4th party dessert… and this is my Mom's blue ribbon-winning recipe!
Ice cream or Italian ice cups – You can get the individual serving cups from your grocery store's freezer for easy party desserts that are perfect for guests of all ages!
Store-bought cookie cake decorated for 4th of July
S'mores – If you're planning to have a fire pit or bonfire at your 4th of July party.
Homemade ice cream
Root beer floats
Ice cream sundaes – You could set up a fun Sundae Bar with hot fudge, caramel, whipped cream, etc.
Brownie bites decorated with red, white, and blue icing and sprinkles
Apple pie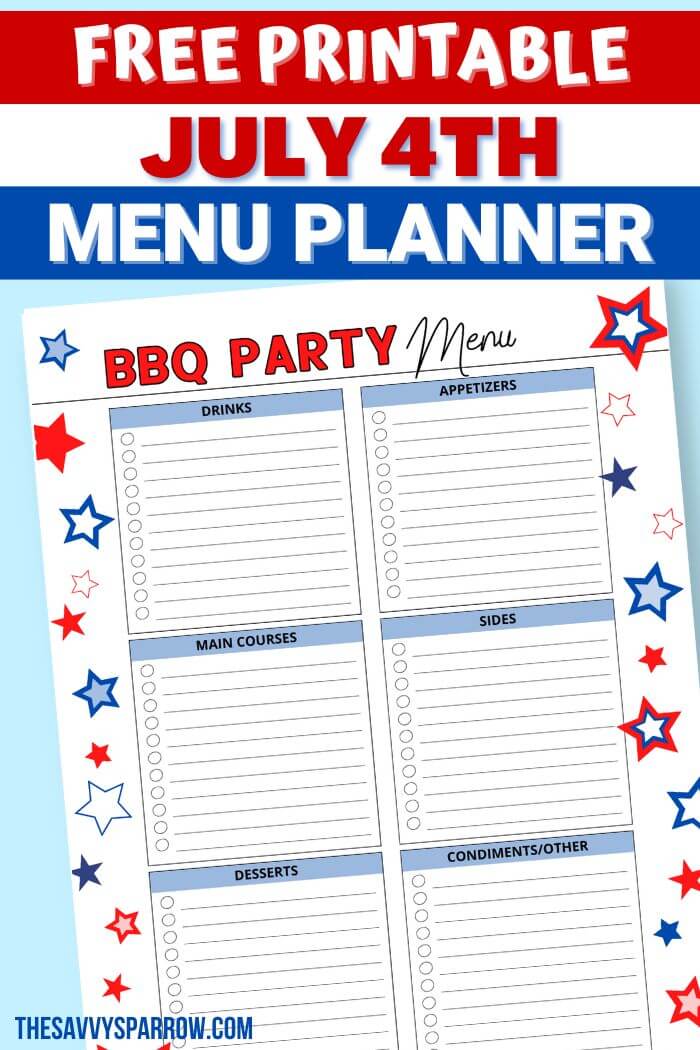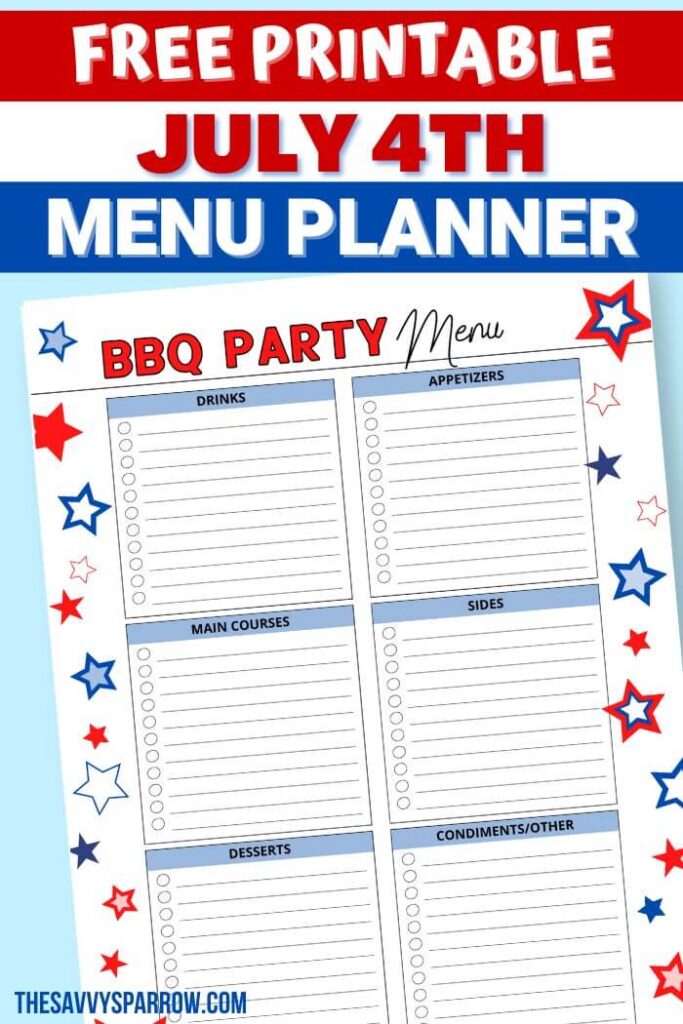 Click HERE for the Printable July 4th Menu Planner
Free Printable July 4th Party Planning Checklist
Want to print the detailed 4th of July Party Planning Checklist to help you plan your next patriotic barbecue? Just click the link below to download the checklist!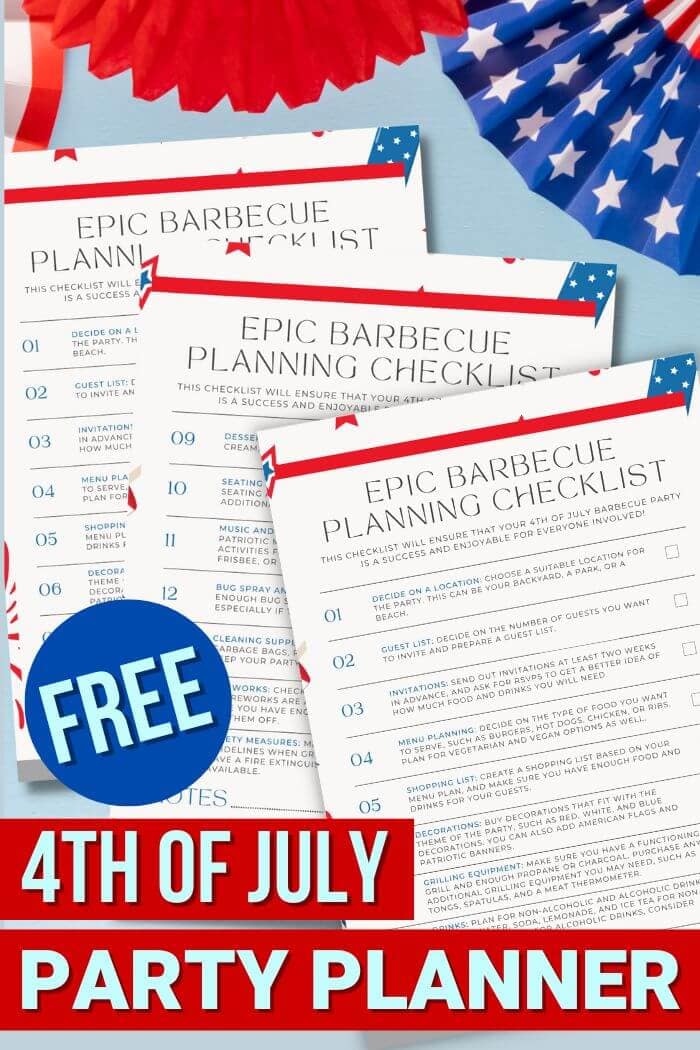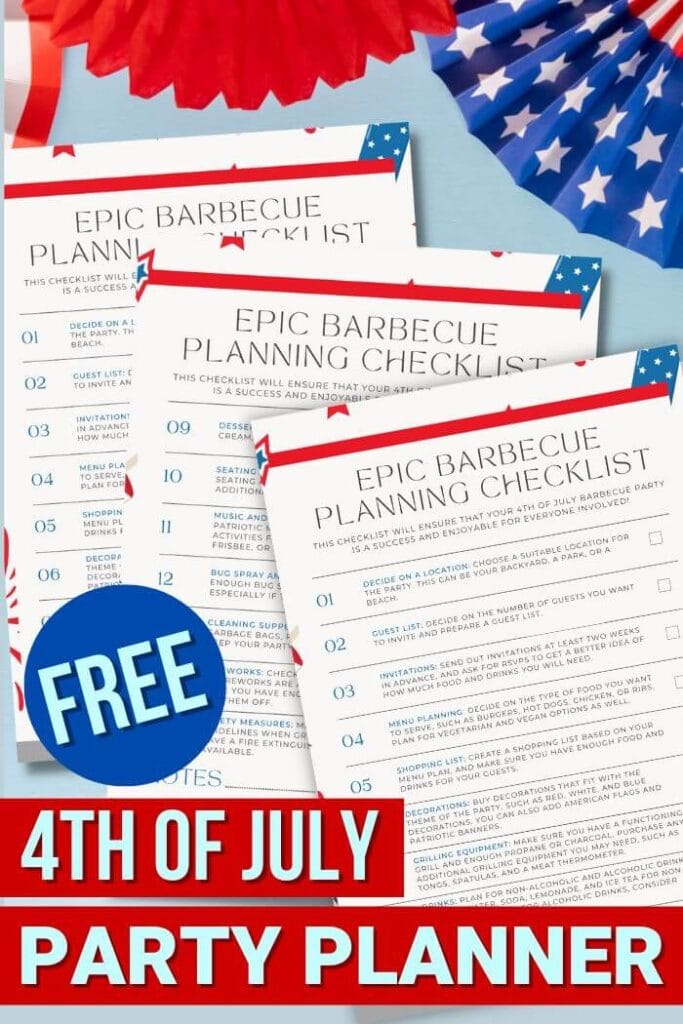 Click HERE for the 4th of July Party Planning Checklist Printable
I hope your backyard BBQ July 4th party is a HUGE success, and I hope that this July 4th party checklist helps to take a little bit of the stress out of your party planning!
And a big Happy 4th of July to you and your family!