If you want to know how to make wood signs, then you are in the right place! Yes, you can make DIY wood signs with this easy method, even if you don't own a vinyl cutting machine and your handwriting is awful! (Trust me, my lettering looks like chicken scratch!)
I am so excited to share this Uh-Maz-Ing DIY project with you today!
This is my absolute most favorite thing that I have ever made (patting myself on the back!), and if you're wondering how to make signs then you'll love it too!
I am even more in love with these DIY Farmhouse Wood Signs than my DIY Large Canvas Wall Art and my DIY Faux Subway Tile Fireplace, which is saying a lot because I LOVE those projects, too.
But this duo of DIY wood signs is the end all be all of DIY farmhouse decor. And the best thing about this project… it was super easy and super cheap! We made both of these DIY wood signs in one day for under $20.
Read on for the step-by-step tutorial to craft your own easy DIY Farmhouse Signs.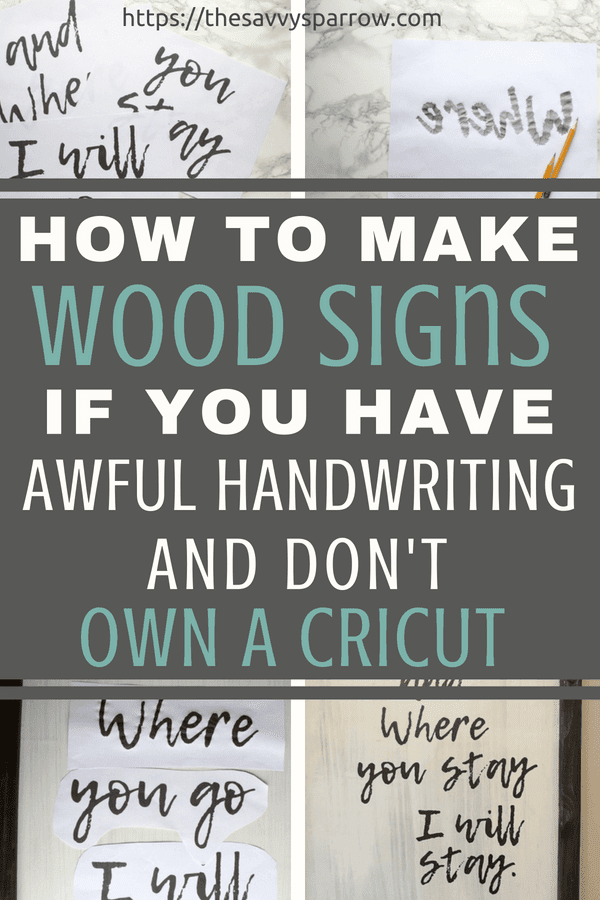 *This post contains affiliate links, which means I earn a small commission from these links at no additional cost to you. I only recommend products I use and love! Read my full disclosure here.
How to Make Signs:
Step 1: Gather your supplies for your Farmhouse Signs
To complete this project, you only need a few inexpensive supplies:
Black sharpie (or colored sharpie of your choice)
Printer and printer paper
Underlayment boards – Cut down to the size that you want
This is the type of board that we used, cut in half so that we had two boards that were 2′ x 4′ each. We had Home Depot cut the board for us.
We have found that this is the best cheap wood to use for DIY wood signs because it has a smooth finish and it is light so it can easily be hung on the wall.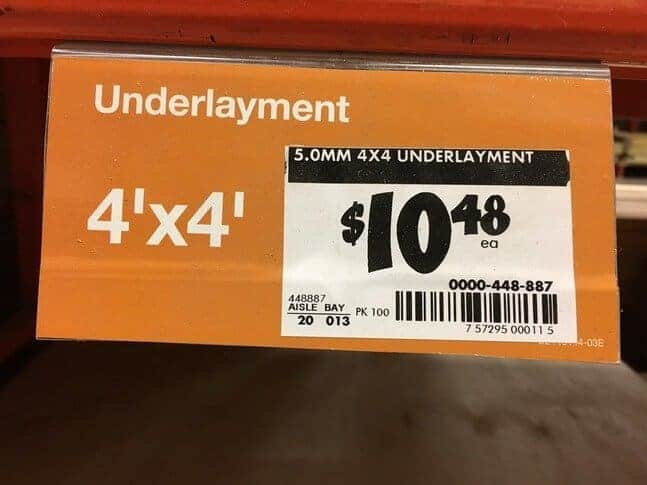 Trim – Cut to the size that you need
We used the cheapest 1″ x 2″ trim boards that we could find. The boards that we used were 8 feet long and only cost $1.21 per board. We bought 3 boards for our farmhouse signs.
I've gotten a lot of questions about the exact boards that we used for the trim, so here's the Home Depot shelf tag: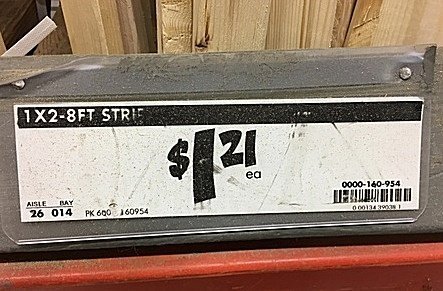 Stain of your color choice
We already had this leftover (affiliate) from other projects.
Paint of your color choice
Nail gun and 1″ nails (or you could use a hammer and nails)
Step 2: Paint and stain your base for your DIY Farmhouse Signs
To get this look, we used this stain (affiliate) and Behr Premium Plus Ultra paint in Frost.
First, using a paint brush apply the stain to the underlayment board using the lightest pressure possible and allowing the natural brush strokes to show. You don't want to completely cover the board – just apply a small amount because you will be painting over it.
Allow the stain to dry completely, then lightly paint over the stain with the Behr Frost paint. Make sure to cover the whole underlayment board in white, even though you did not stain the whole board. This gives the new underlayment board a rustic and aged look, perfect for farmhouse signs.
Step 3: Stain your trim
Using a sponge or paint brush, apply stain to your trim pieces. For a little added dimension, my husband lightly brushed some of this gold acrylic paint (affiliate) on top of the dried stain.
Step 4: Build your base
To attach the trim to the underlayment, my husband used a nail gun and 1″ nails. If you don't own a nail gun, don't worry! A good ol' fashion hammer and nails should work just fine for these DIY farmhouse wood signs.
Once you attach the trim, you will need to stain the back edges of the underlayment so that they are not visible when you hang your finished DIY wood signs.
To do this, we just used a small paint brush dipped in stain, like so: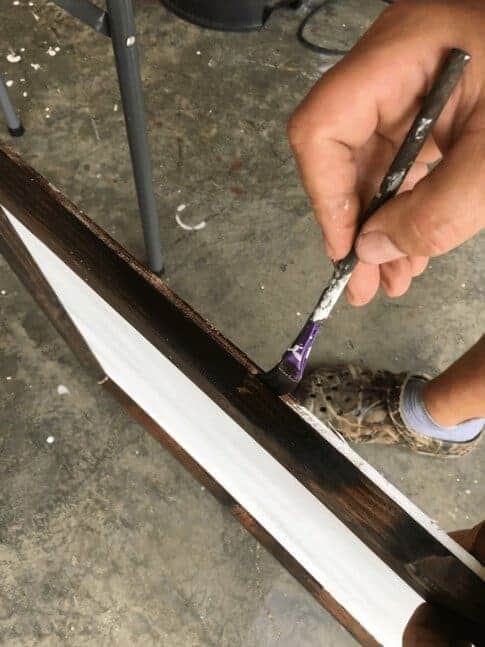 You will also need to apply a bit more stain to the seams where your trim meets in the corners… By the way, make sure you drive the nails into the back side of your frame so that you don't see the nail holes from the front.
We did not do that… So you can learn from our mistakes when you make your own homemade wooden sign: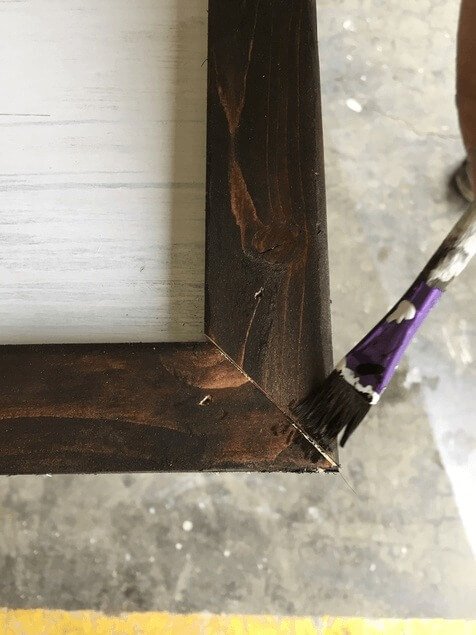 Here's the finished base. Beautiful, isn't it?!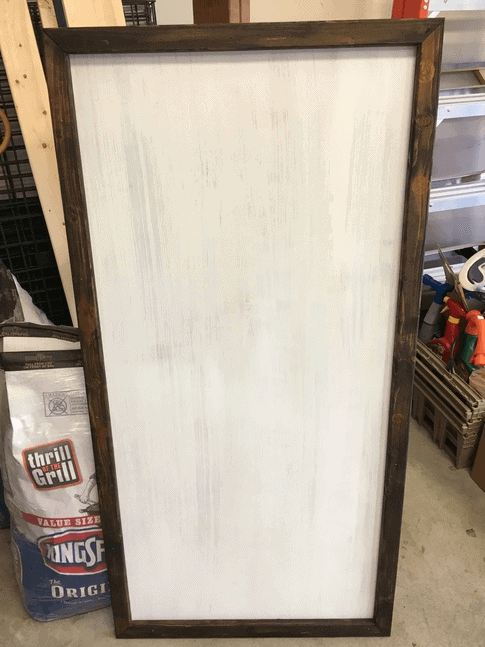 Step 5: Decide on a quote and a font for your DIY Signs
The beauty of this tutorial for easy DIY farmhouse wood signs is that the possibilities are endless. You can use whatever color/font/quote/verse that you want.
We were in Hobby Lobby last week and fell in love with a duo of farmhouse signs that had the bible verse Ruth 1:16 on them. Until we looked at the price… $89.99! I looked at my husband and said, "I bet we can make those wooden signs ourselves for way cheaper." Whenever I say that to him, he must take it as a challenge because, fast-forward a few days, and he's bringing home wood from Home Depot.
So, roam the aisles of Hobby Lobby for some inspiration or search Pinterest for quotes that speak to you.
Step 6: Print out your quote in the font of your choice
To do the lettering on wood, you only need a printer.
Yup, a regular old printer and regular old paper – No expensive Cricut or vinyl needed!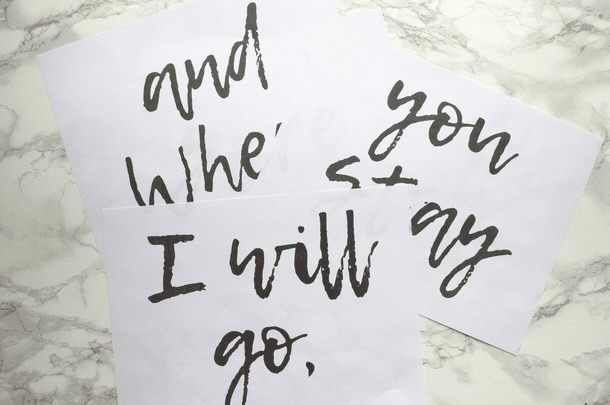 And you can print it out in black and white, even if you want your finished DIY wooden signs to be rainbow-colored.
*You can grab the PDF version of the verse we used in my FREEBIES library so that you can replicate our easy DIY farmhouse wood signs. Just use the form below to sign up for my free email newsletter and you'll get the password as a Welcome Gift!
Or, you can head to my shop HERE to see all of my DIY Sign Templates!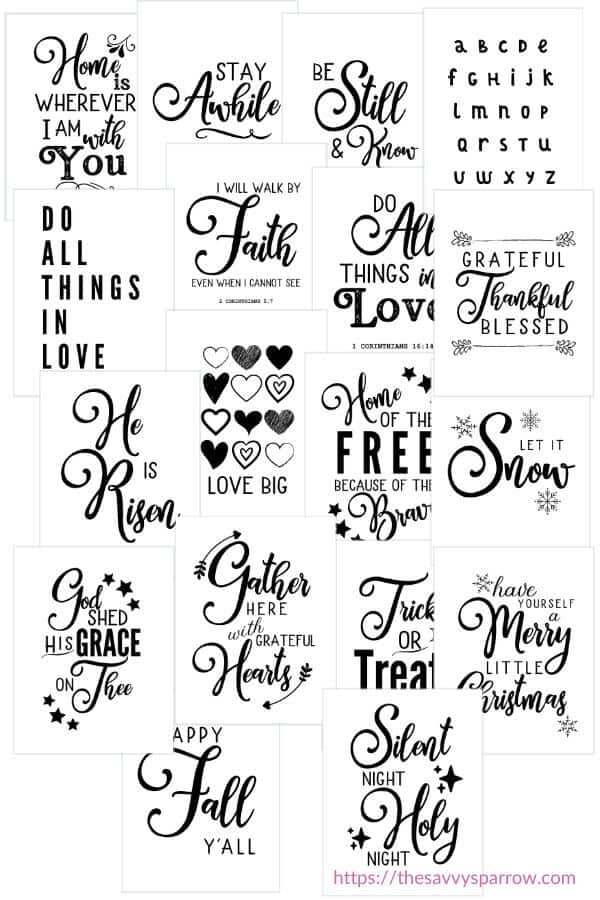 Step 7: Flip the paper over and scribble over where the letters are
Complete this step in a well-lit area because you want to make sure you completely cover where the letters are on the opposite side of the paper.
Use a pencil if you will be stenciling on a light-colored backdrop or chalk if you will be stenciling on a dark color like stained wood.
I know that may seem a little confusing… Here's what I'm talking about: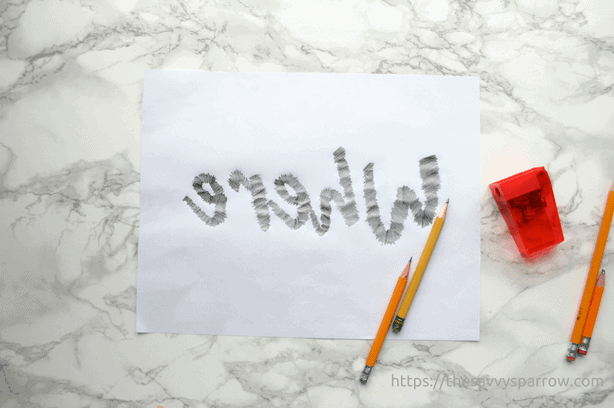 On the reverse side of this paper is the word "Where" that I printed out in Step 6. I had to keep holding my paper up to the light to make sure that my pencil scribbles completely covered where the ink was on the opposite side of the paper.
*Kids want to help? This is a great step for them to do so that they feel like they are contributing to your DIY wood signs! I put my girls (ages 8 and 6) to work on this step, and they did a great job!
**If you are making a lot of signs, then I recommend the carbon paper method! It's quicker than this pencil method, and you can get a pack of 100 sheets of carbon paper for less than $10!
I used the carbon paper method to make this DIY Sign on Canvas… be sure to check out the video in that post, too!
Step 8: Place the papers pencil side down on your wood sign where you want them
Make sure you get your quote perfectly straight before you move on to the next step. If you're off even a little bit, your whole sign will look crooked. I even got out a tape measure to be sure that I placed my papers in exactly the right spot.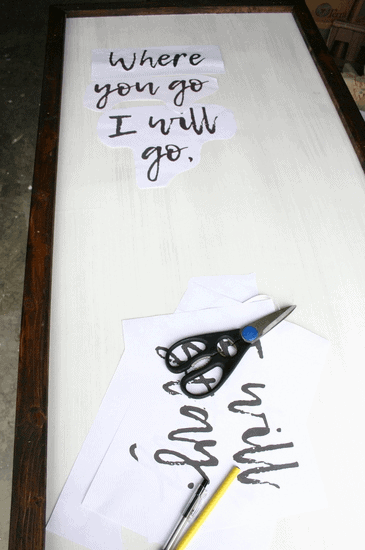 Step 9: Using a ball point pen, trace the outline of the letters you printed
Look closely… see the purple pen marks?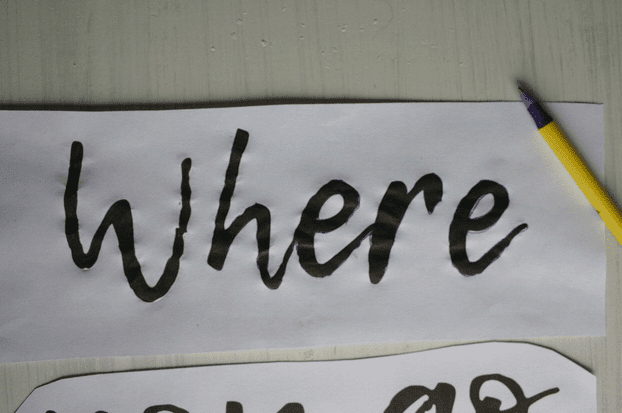 Trace the outline of your printed letters onto your homemade wooden sign, and be sure to get every last detail. That's why my finished verse looks like it was hand-painted on versus stenciled in black sharpie. Yes, it is a bit tedious (especially if you chose a very detailed font like we did) but, trust me, the end result is fab-u-lous!
Step 10: Remove the papers from your DIY sign
Voila! Just like magic, huh?
You should now have lettering on wood from your pencil marks!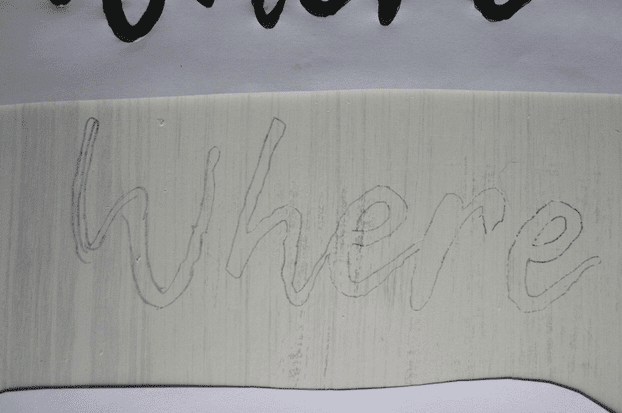 The pressure from the ball point pen on the front makes the pencil marks from the back transfer to your sign! How cool!
Step 11: Using a sharpie of your choice, color in the outlined pencil marks
I used a dual tip (chisel and fine) black sharpie! But this could be done using any color sharpie that you want, or if you're feeling extra ambitious you can use paint. However, I have done DIY wood signs using paint before and it is much more difficult to control a paint brush than a sharpie marker.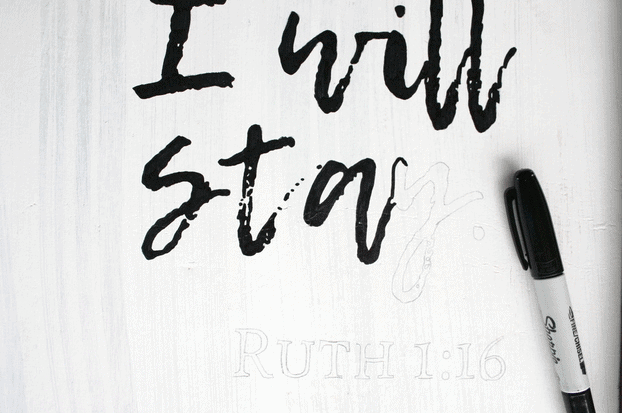 I've also gotten a TON of questions about how I got the words to look like they were painted on with a paint brush…
It's all in the details of this awesome font!
See the blank white space in the middle of the "t"? When I was tracing the front of the font in Step 9, after I had scribbled the pencil on the back of the paper, I actually traced around each and every dot/crevice/cranny.
When I removed the paper from the board, the pencil mark letters were then very detailed and I colored in each little detail with my Sharpie marker. You can kind of see the pencil mark details that I'm talking about on the unfinished "y".
Yes, all of the details take a bit longer to complete, but you know what they say… it's all in the details!
And those little paintbrush-like details are what make these DIY wood signs so beautiful and rustic!
Step 12: Hang up your awesome and easy DIY farmhouse wood signs!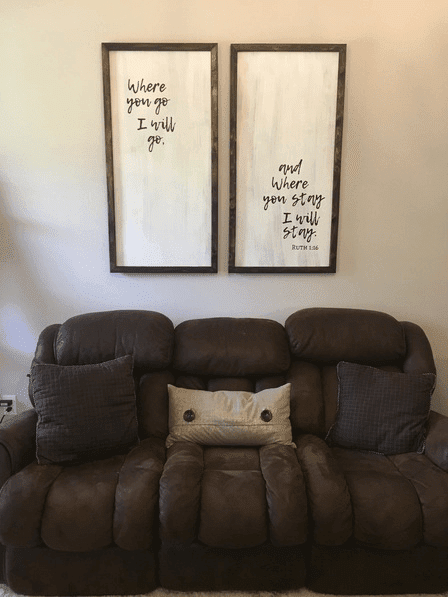 Isn't the finished product just awesome?! This picture doesn't even do it justice.
We have a HUGE blank wall in our living room with 14 foot ceilings, and we needed something that wouldn't look puny to hang there. And we didn't want to spend a fortune to purchase large wooden signs.
I couldn't be more thrilled with these easy DIY farmhouse wood signs!
UPDATE – Here's how these DIY wood signs look 14 months later: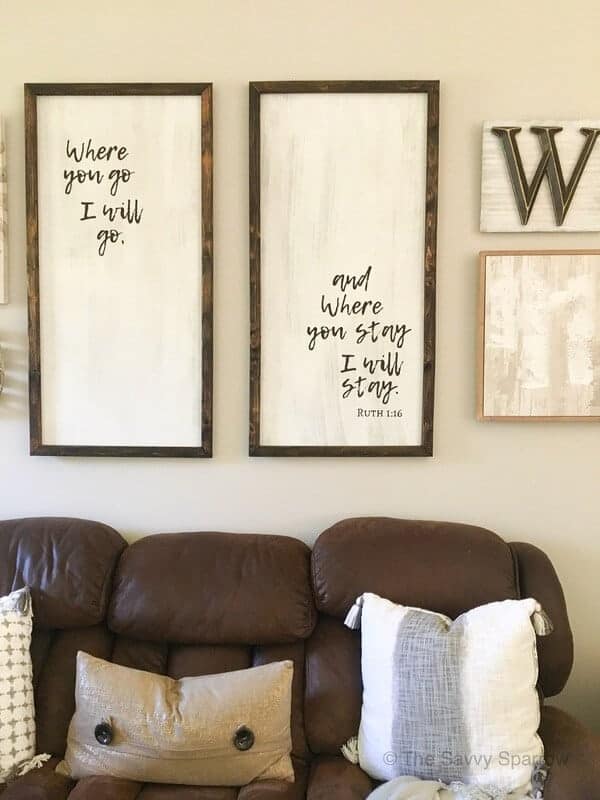 They still look BEAUTIFUL, and they are holding up perfectly, even without any type of sealer.
And these DIY wood signs have inspired me to create even more easy signs over the past few months…
This DIY Sign on Canvas uses a printable DIY Sign Template and the carbon paper method: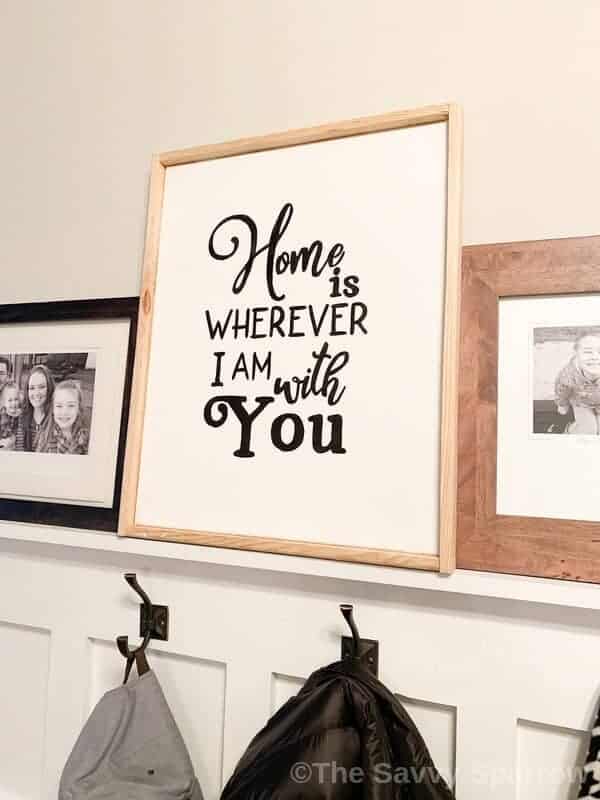 And this easy DIY scroll sign is 10 signs in one… You just change the paper roll with each season!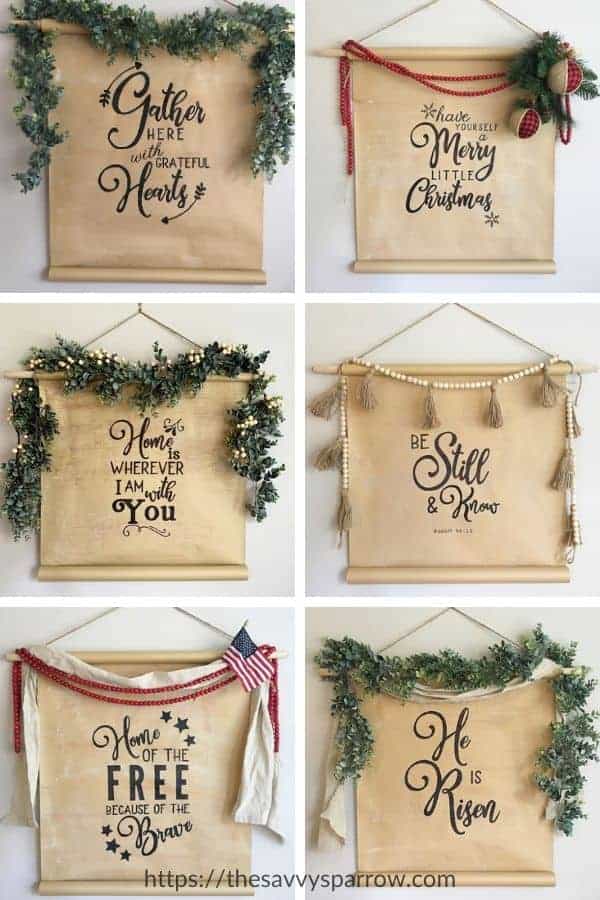 All of these signs use DIY sign templates, that you can easily print out on your home printer to make LARGE signs!
CLICK HERE to check out ALL of my DIY Sign Templates!
Now it's your turn! Just follow my simple tutorial and you'll be on your way to creating amazing and custom easy DIY farmhouse wood signs in no time!
But be warned… once you make one, you'll want to make a bunch more!
Loved this DIY wood signs tutorial? Check out some of my other DIY projects: