Need ideas for Christmas sayings for signs? Here are 100+ phrases that would be perfect for DIY Christmas signs or your holiday letter board!
One of my favorite things to do every holiday season is browse around local craft festivals in our area to gather ideas and inspiration for my next DIY project. Everyone there is so creative, and I love wandering around for hours like a kid in a pumpkin-spiced amusement park.
This year, some of my favorite craft booths featured adorable handmade signs with all kinds of Christmas sayings on them. Some were–ahem–less than appropriate, but others were downright hilarious. You can always reel me in with a good Christmas pun. Just sayin'.
If you're like me and love the hand-stenciled sign idea but don't love the price tag that goes along with it, there's good news! You can make your own holiday sign with just a few inexpensive items from your local craft store. After all, I made these adorable DIY wood slice ornaments by scavenging in my backyard!
To give you a little inspiration (and perhaps a chuckle or two), I've rounded up 100+ Christmas Sayings for Signs that you can use for countless DIY Christmas crafts. Give your creations as gifts or use them to spruce up your front door, dining room, or entryway. Then, when your guests ask where you found such a treasure, you can just shrug and say, "Oh that little old thing? Just something I whipped up!"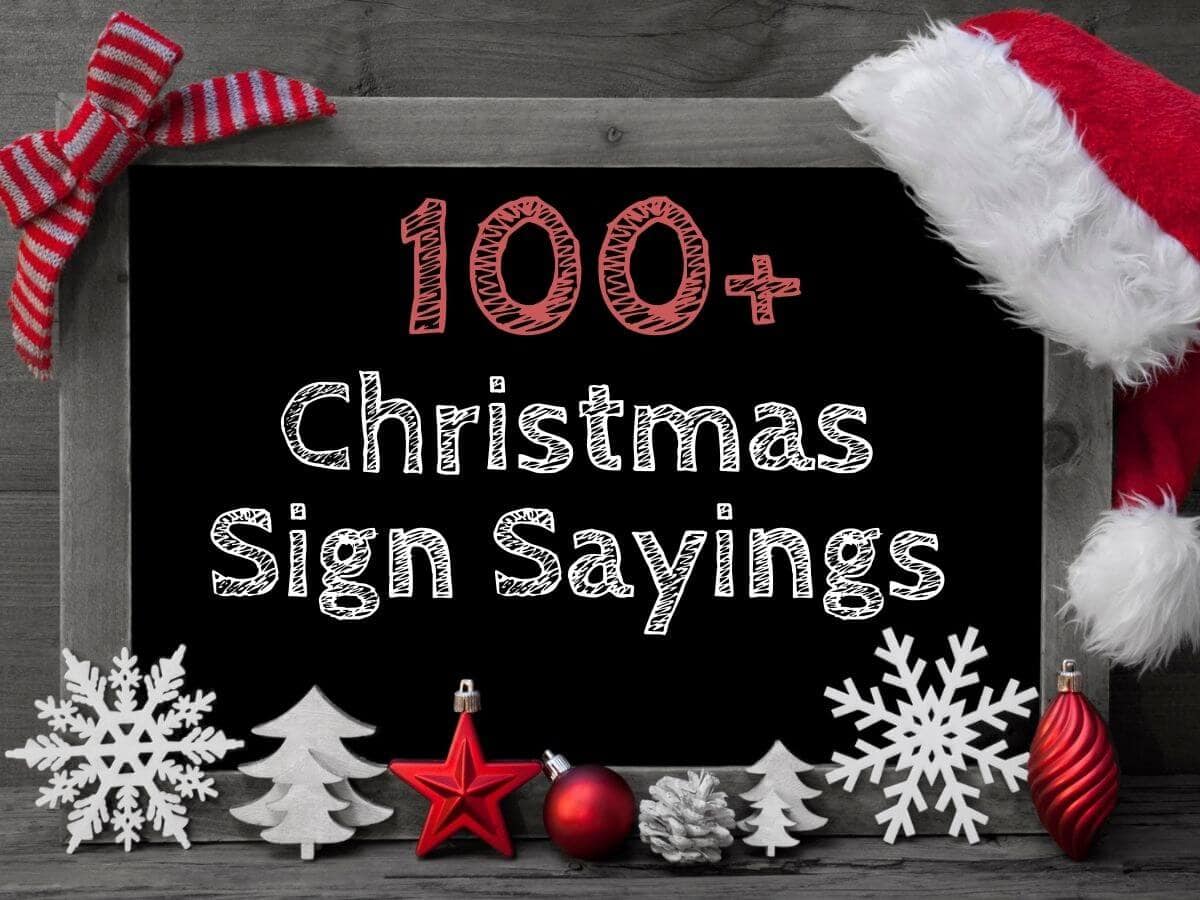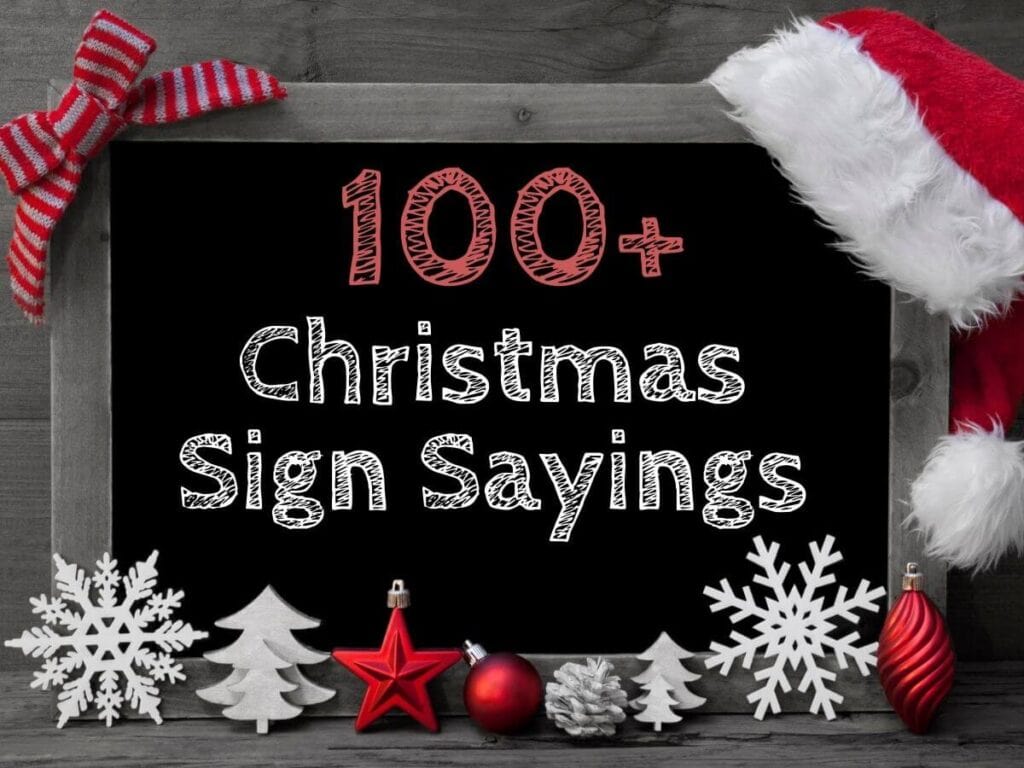 *This post contains affiliate links, which means if you click a link and make a purchase, I earn a commission at no additional cost to you. Read my full disclosure for more info.
Where To Use These Christmas Sign Sayings
Christmas sign sayings are such a versatile idea, and you can hand-stencil or use your Cricut maker to put them on almost anything! Here are some of my favorite ways to use them:
DIY Christmas Signs
You can easily create your own DIY Christmas sign with the saying of your choice! If you have a Cricut machine, then all it takes is a blank wooden sign, some inexpensive acrylic paint or vinyl, and an SVG file with the sayings of your choice. You can also take a stab at creating your own SVGs as well (if you have the time and know-how).
Or, if you don't have a Cricut machine, you can also make your own DIY Signs without stencils! I've got a detailed DIY farmhouse wood sign tutorial here for how I made these awesome signs: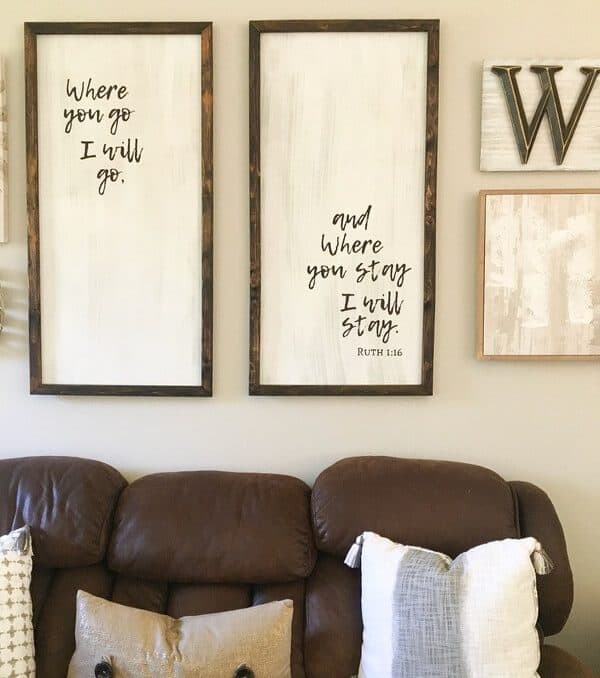 Letter Boards
Letter boards are THE simplest way to use as many Christmas sign sayings as you want, and the only time it takes is how many minutes you spend switching out the letters. We have a letter board in our kitchen that my husband and I use to exchange funny notes, and I love being able to repurpose it for the holiday season.
100 Christmas Sign Sayings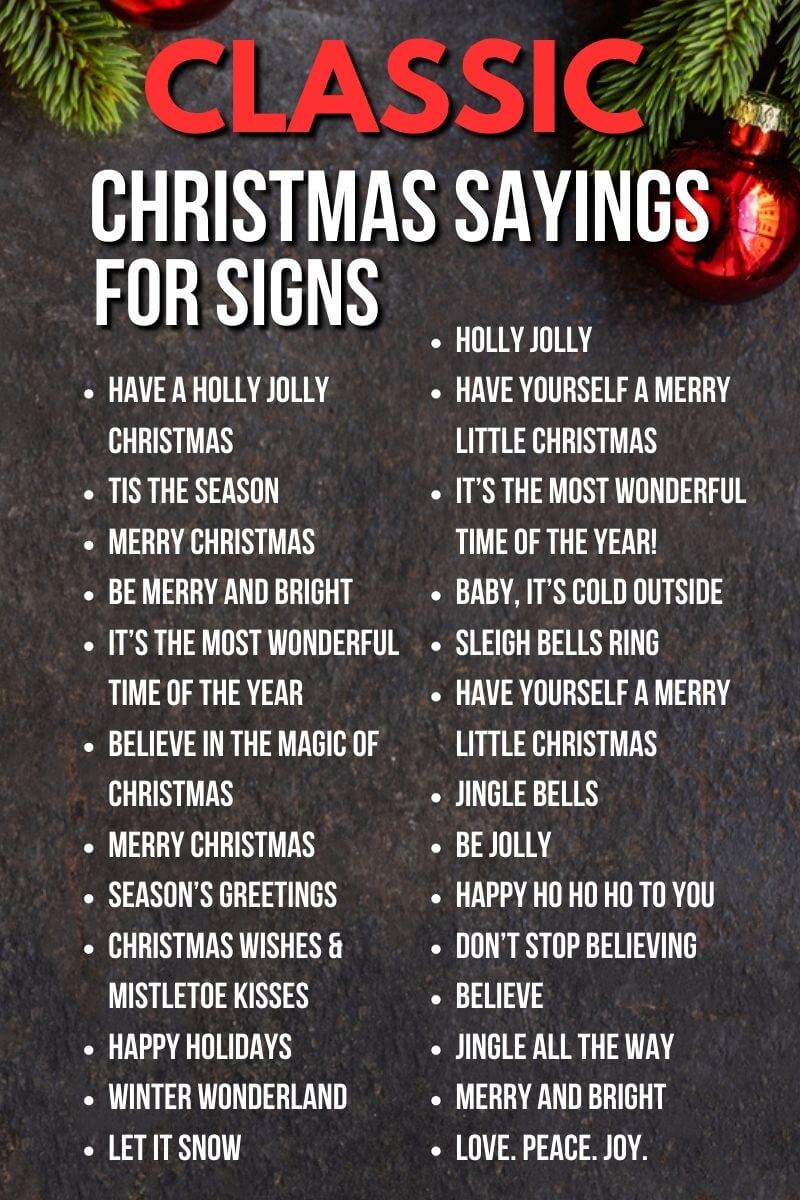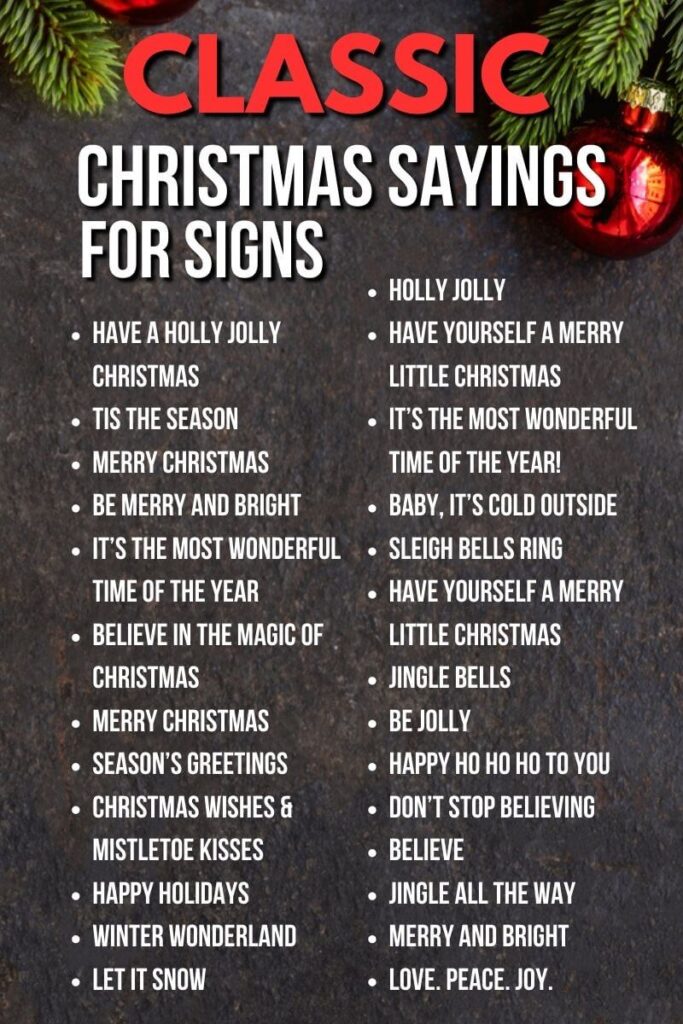 Common Christmas Sayings for Signs
Have a Holly Jolly Christmas
Tis the Season
Be Merry and Bright
It's the Most Wonderful Time of the Year
Believe in the Magic of Christmas
Merry Christmas
Season's Greetings
Christmas Wishes & Mistletoe Kisses
Happy Holidays
Winter Wonderland
Let it Snow
Holly Jolly
Have Yourself a Merry Little Christmas – I actually have this Christmas sign saying in a printable template… that's what I used to make this super cute DIY scroll sign: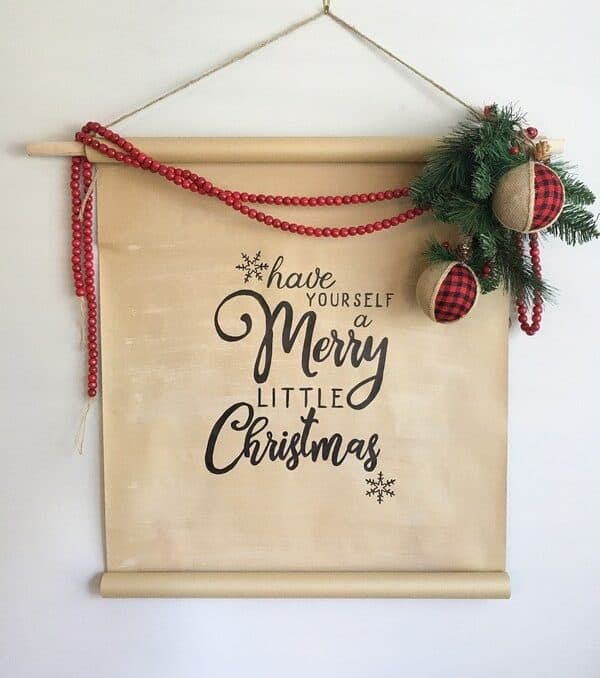 It's the Most Wonderful Time of the Year!
Baby, It's Cold Outside
Sleigh Bells Ring
Have Yourself a Merry Little Christmas
Jingle Bells
Be Jolly
Happy Ho Ho Ho to You
Don't Stop Believing
Believe
Jingle All the Way
Merry and Bright
Love. Peace. Joy.
Merry Christmas – You can't forget about this classic Christmas saying for signs! This simple wording would be perfect for a holiday sign for your front door like this Dollar Tree DIY Christmas sign I made recently: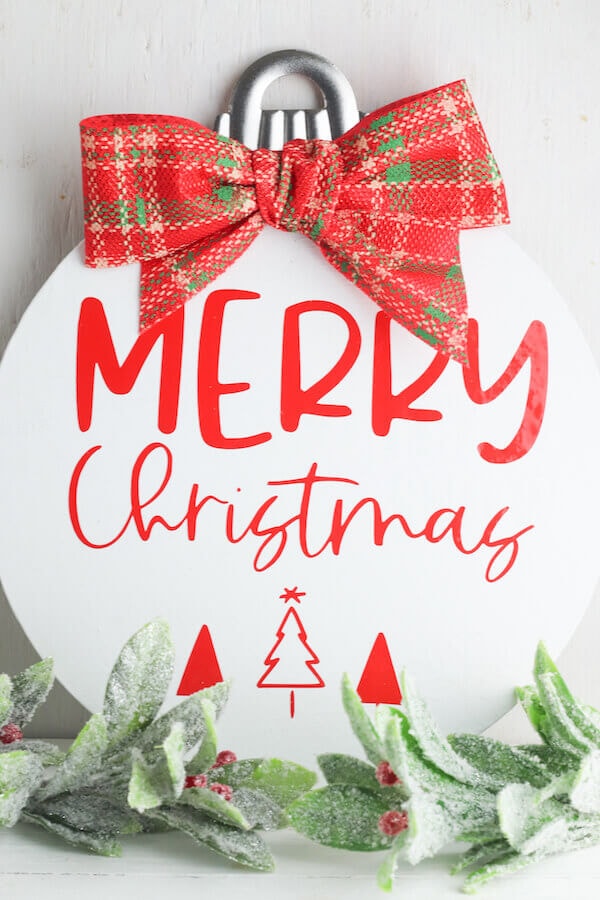 Funny Christmas Sayings for Signs
These Christmas sign sayings would be great for a letter board: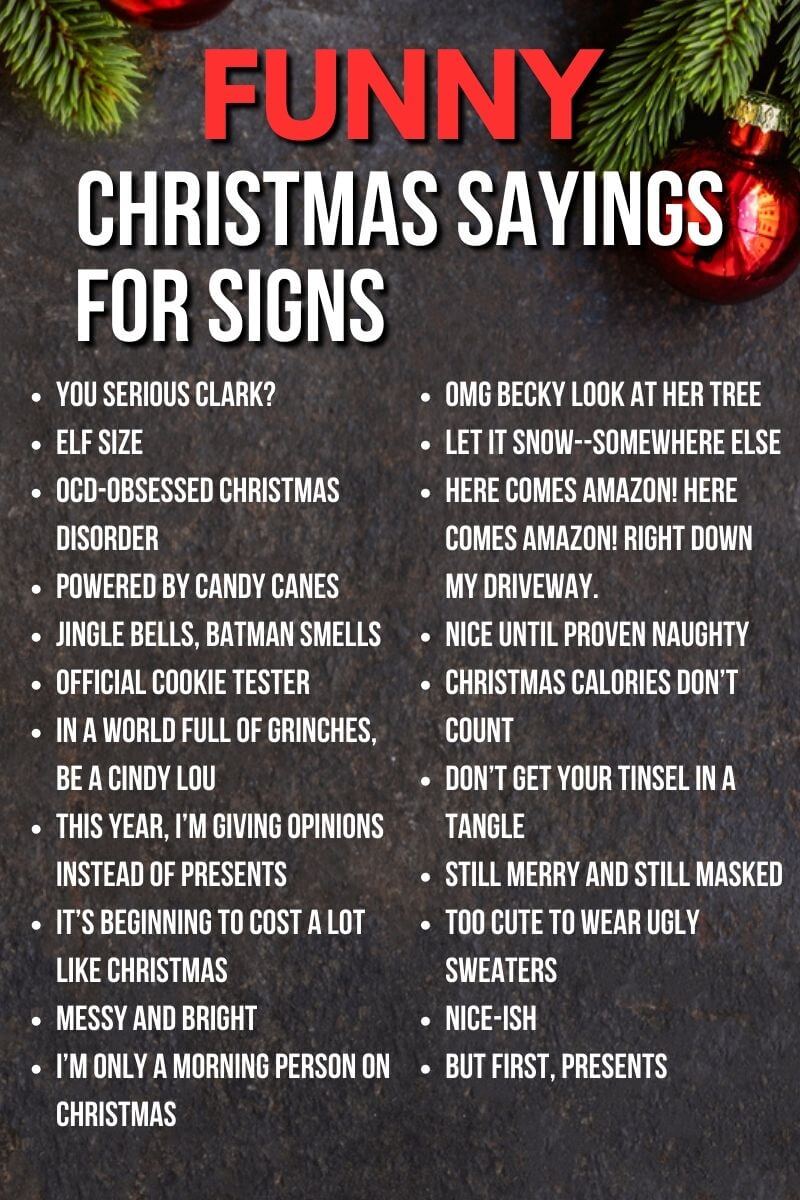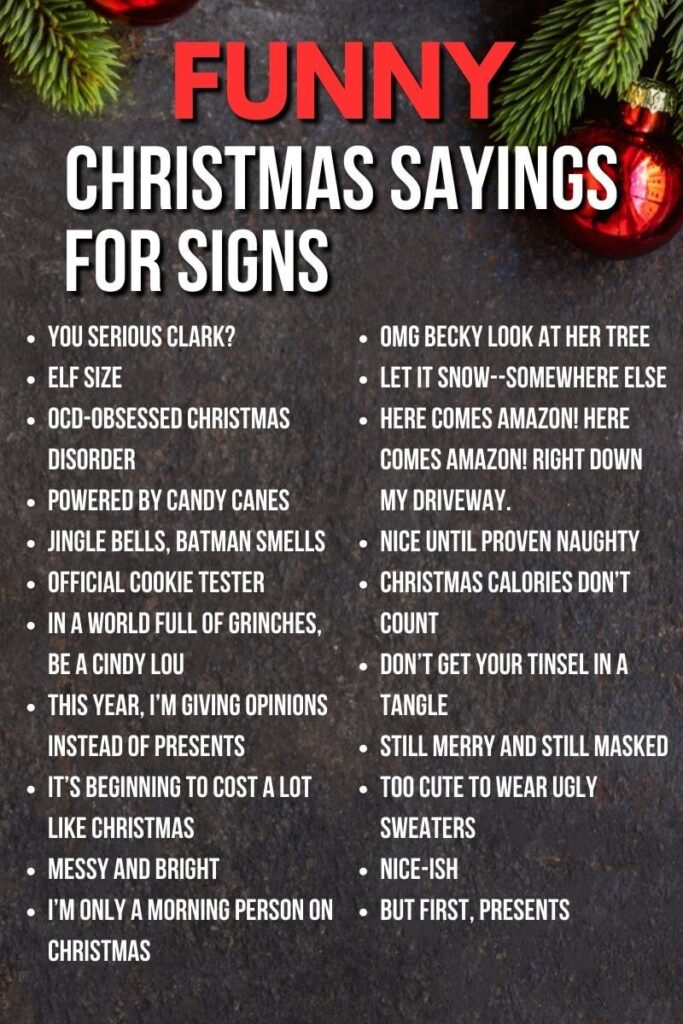 You Serious Clark?
Elf Size
OCD-Obsessed Christmas Disorder
Powered by Candy Canes
Jingle Bells, Batman Smells
Official Cookie Tester
In a World Full of Grinches, be a Cindy Lou
This Year, I'm Giving Opinions Instead of Presents
It's Beginning to Cost a Lot Like Christmas
Messy and Bright
I'm Only a Morning Person on Christmas
OMG Becky, Look at Her Tree
Let it Snow–Somewhere Else
Here Comes Amazon! Here Comes Amazon! Right Down My Driveway.
Nice Until Proven Naughty
Christmas Calories Don't Count
Don't Get Your Tinsel in a Tangle
Still Merry and Still Masked
Too Cute to Wear Ugly Sweaters – One of my personal favorites!
Nice-ish
But First, Presents
Christmas Puns for Signs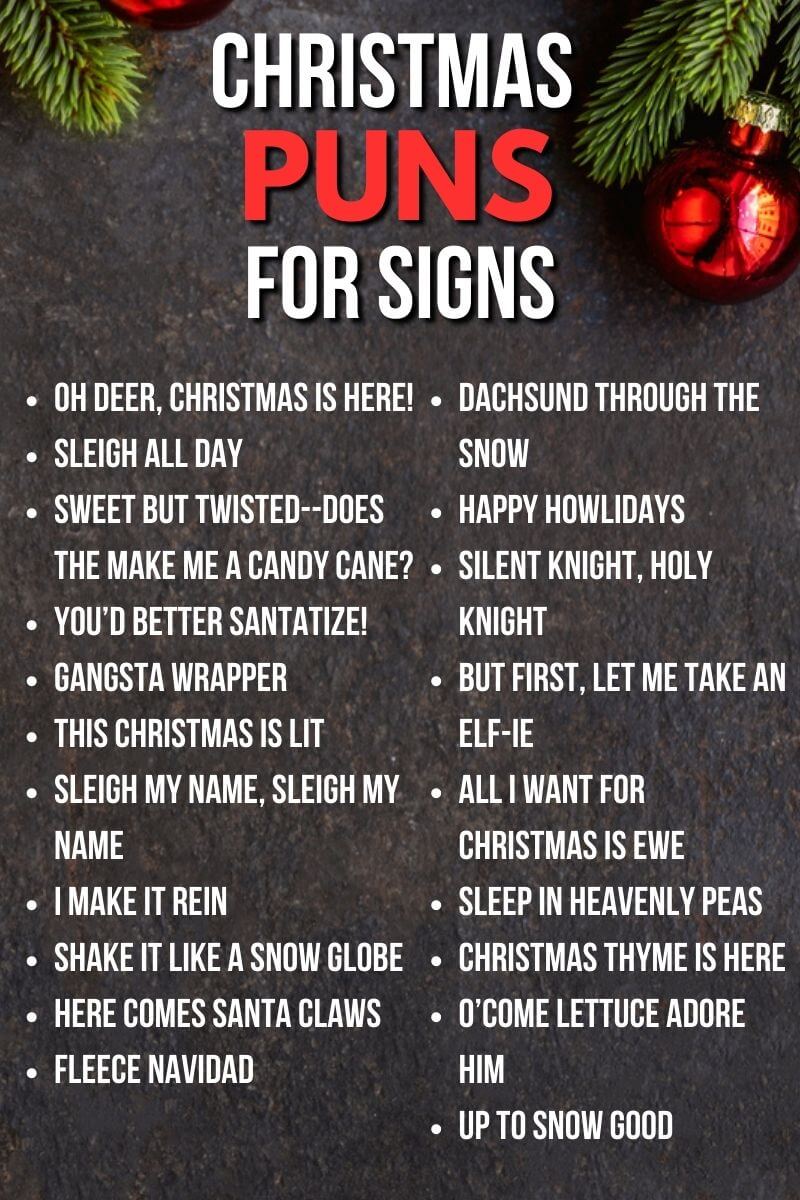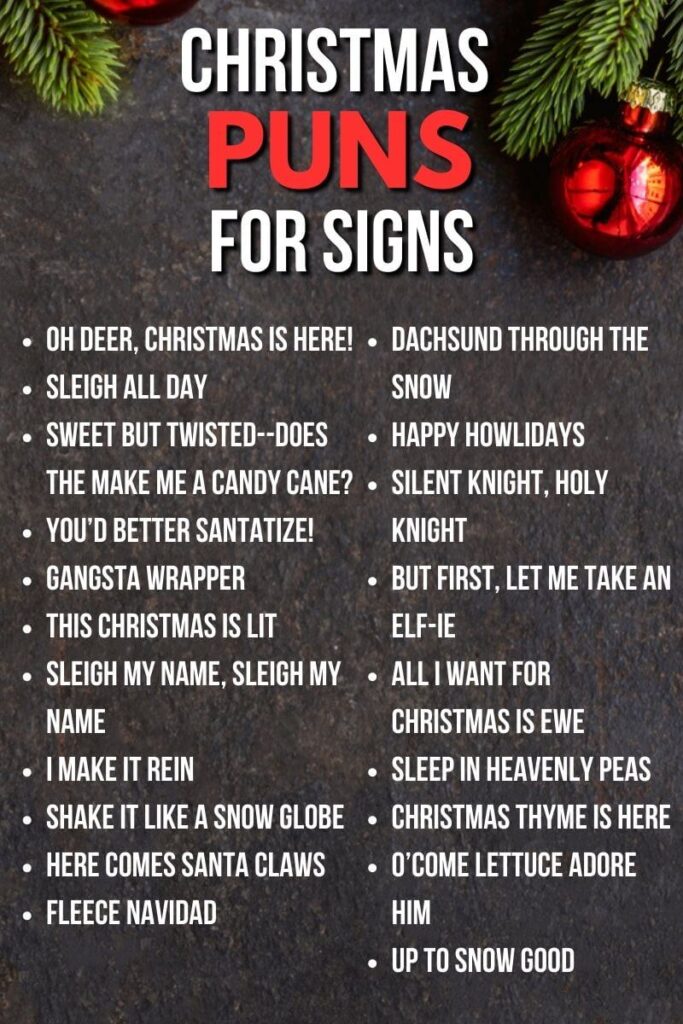 Oh Deer, Christmas is Here!
Sleigh All Day
Sweet But Twisted–Does that Make Me a Candy Cane?
You'd Better Santatize!
Gangsta Wrapper
This Christmas is Lit
Sleigh My Name, Sleigh My Name
I Make it Rein
Shake It Like a Snow Globe
Here Comes Santa Claws
Fleece Navidad
Dachsund Through the Snow
Happy Howlidays
Silent Knight, Holy Knight
But First, Let Me Take an Elf-ie
All I Want for Christmas is Ewe
Sleep in Heavenly Peas
Christmas Thyme is Here
O'Come Lettuce Adore Him
Up to Snow Good
Religious Christmas Sayings for Signs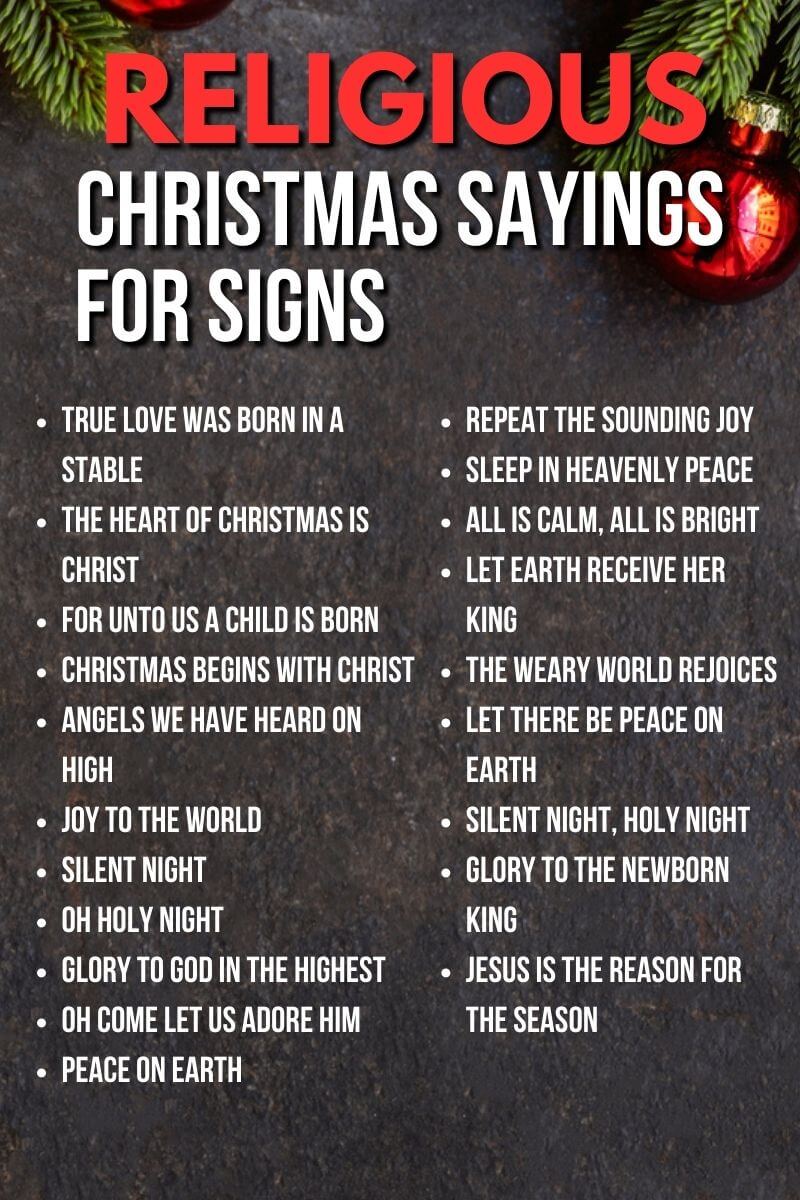 True Love Was Born in a Stable
The Heart of Christmas is Christ
For Unto Us a Child is Born
Christmas Begins With Christ
Angels We Have Heard On High
Joy to the World
Silent Night
Oh Holy Night
Glory to God in the Highest
Oh Come Let Us Adore Him
Peace on Earth
Repeat the Sounding Joy
Sleep in Heavenly Peace
All is Calm, All is Bright
Let Earth Receive Her King
The Weary World Rejoices
Let There Be Peace on Earth
Silent Night, Holy Night
Glory to the Newborn King
Jesus is the Reason for the Season
Christmas Sayings about Santa
Ho! Ho! Ho!
I Love Santa
Dear Santa–Define Good
Dear Santa–I Can Explain
Be Naughty–Save Santa the Trip
Dear Santa, It Was Just a Phase
Dear Santa, Just Leave Your Credit Card Under the Tree
Dear Santa, Stop Judging Me
Be Good or I Will Text Santa
Santa Claus is Coming to Town
Dear Santa, I Regret Nothing
Dear Santa, It Was the Cat
Santa, Please Stop Here
Santa, Why You Be Judgin'?
Dear Santa, I'm Too Cute for the Naughty List
I Believe in Santa Clause
It's All Fun and Games 'Til Santa Checks the Naughty List
How to Make Christmas Signs with Sayings
Once you've picked out your favorite Christmas sayings for signs, then you may need some tutorials for actually creating your handcrafted masterpieces! Here are some of my favorite ways to make homemade signs, for your inspiration.
Just click on the posts below for 3 different step-by-step sign making tutorials: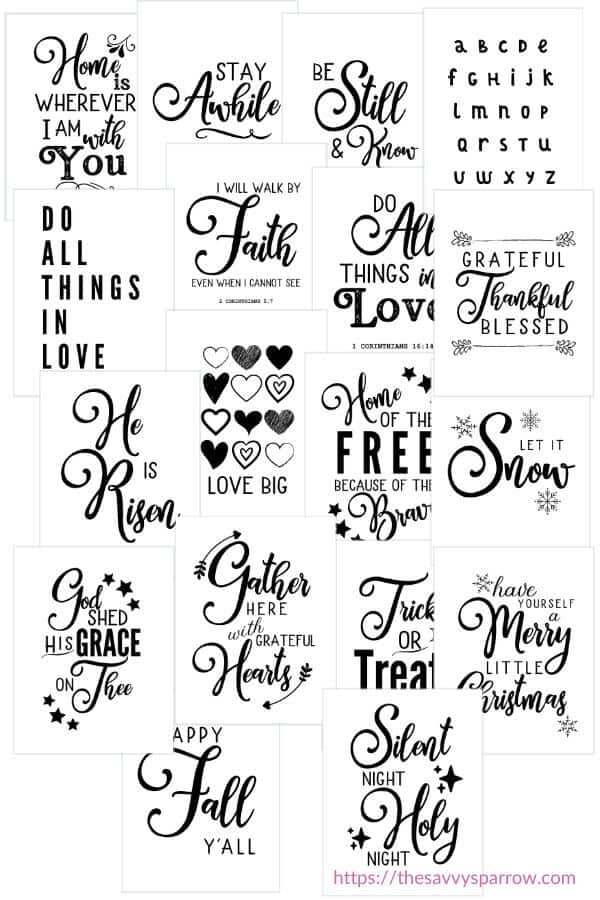 Or of course, if you want to go the easy route (the holidays are stressful enough, right?!), then try some Christmas sign stencils like these! Just tape the pre-made stencil to a blank wood sign and paint over it with acrylic paint.
I know you can't wait to get started with making your own DIY Christmas sign, and I can't blame you! It's the perfect holiday decoration to deck your halls with, and it can also be a thoughtful gift for those you love.
Happy crafting!