You know your go-to recipes? The ones that you seem to cook over and over again each week. The ones that you can make from memory, even with one kid hanging on your leg while helping the other kid understand the complexity that is least common denominators. Well, this low carb Chicken Broccoli Casserole with Cauliflower Rice is one of those recipes.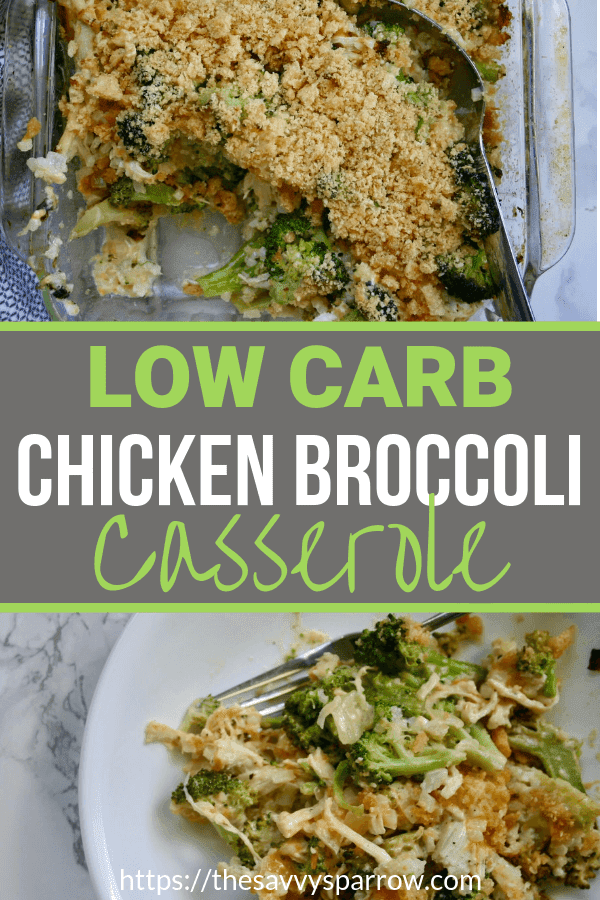 Of the thousands of things that we can make for dinner, we seem to whip up this simple, healthy and low-carb dish once a week. And by "we", I mean my husband. Because, remember, he's the culinary genius in our household.
And can we discuss cauliflower rice? If you haven't tried it yet, you're seriously missing out. Sure it's not an exact substitute for regular rice, but it's pretty darn close. And wouldn't you rather eat a big ol' plate of vegetables that taste like rice than actual rice?
Sure, cauliflower rice is more expensive than regular white rice, but it is low-carb (and a vegetable), so I don't mind spending a bit more money on this recipe. Especially when it means my picky, vegetable-fearing kiddos are getting another serving of the good stuff without even knowing it. My trick to save money on this low carb staple – I stock up when it goes on BOGO at Publix. Seriously, we have 9 bags of cauliflower rice in our freezer right now.
And the crispy topping for this low carb Chicken Broccoli Casserole with Cauliflower Rice…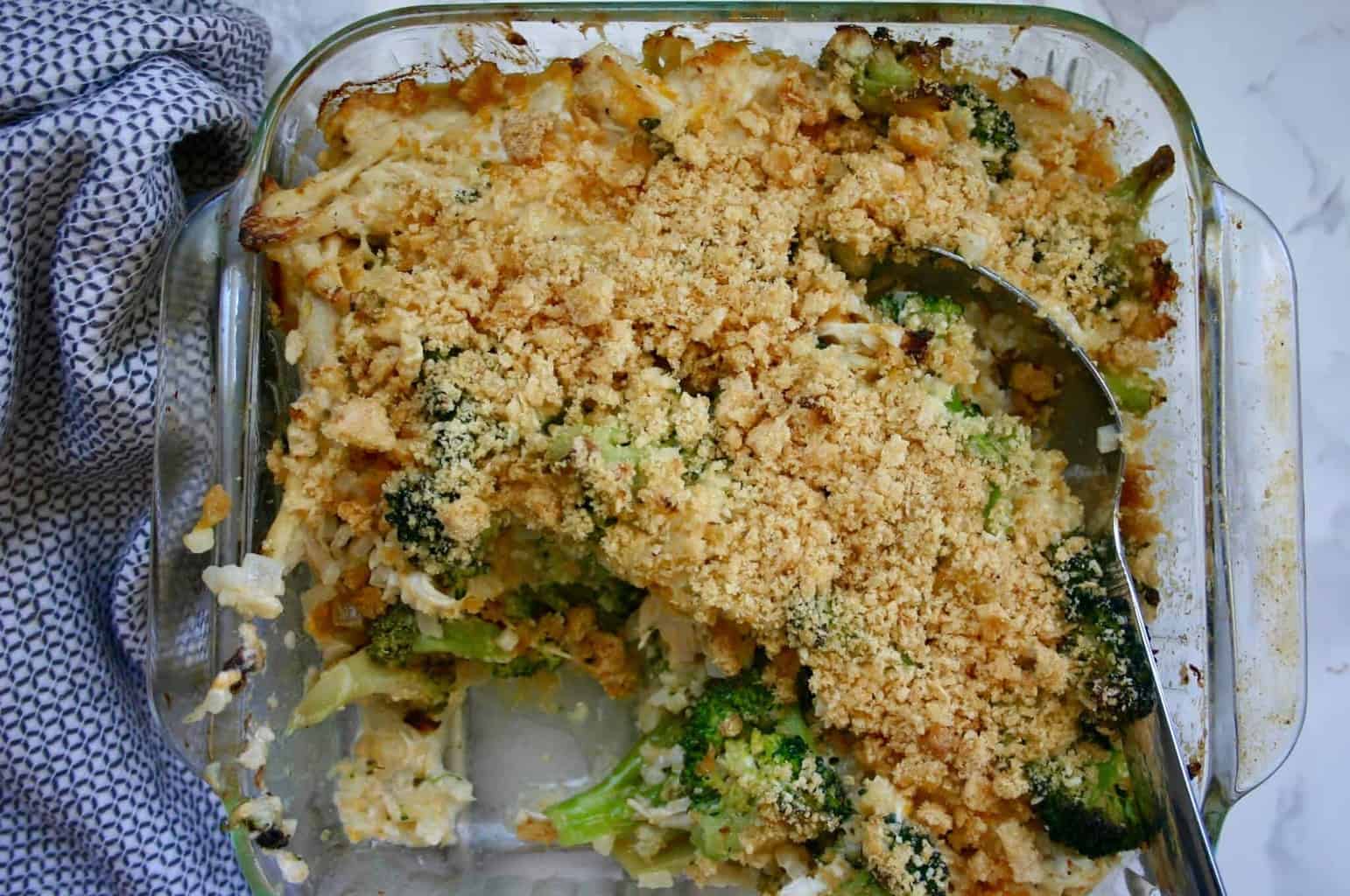 It's smashed-up pork rinds (a low-carb dieter's best friend) mixed with parmesan cheese. Genius? Yes! And super tasty!
If you're trying to watch your carbs, or even if you're not but you want to balance out that pizza you ate last night, try this yummy low carb Chicken Broccoli Casserole. This dish is sure to find its way into your weekly healthy dinner recipes rotation.
Yield: 4 Servings
Low Carb Chicken Broccoli Casserole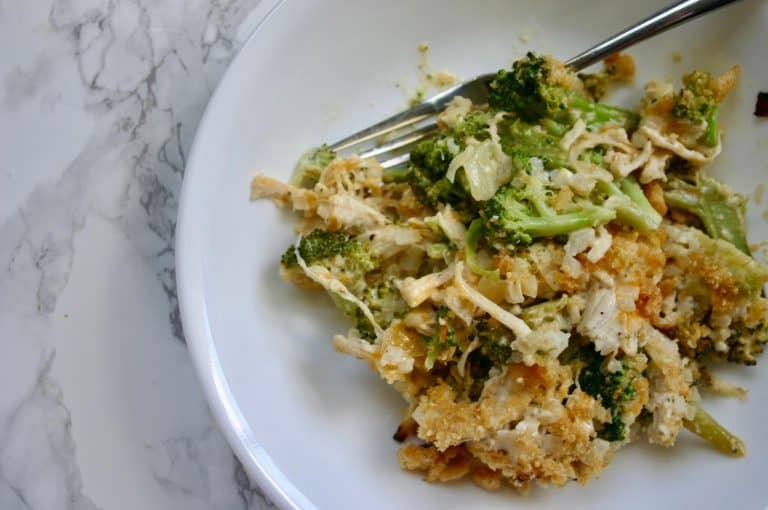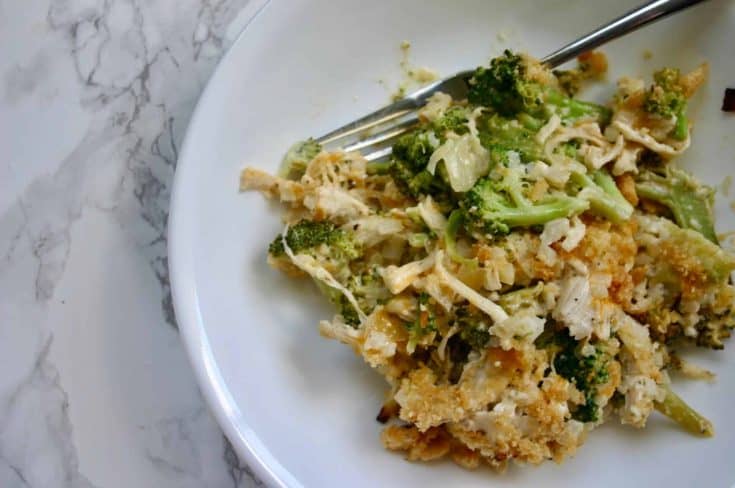 This low carb chicken broccoli casserole is the perfect easy weeknight dinner for low carb dieters. Frozen bagged cauliflower rice and rotisserie chicken make this low carb recipe super easy to make. And the best part is, the kids won't even know they're getting a healthy dose of vegetables!
Prep Time 15 minutes
Cook Time 30 minutes
Total Time 45 minutes
Ingredients
1 10 oz. bag frozen cauliflower rice
1 rotisserie chicken
1/4 tsp poultry seasoning
2 tbsp extra virgin olive oil
1/2 medium onion, diced
1 tbsp minced garlic
1 head broccoli, rough cut with no stems
2 oz cream cheese, room temperature
1/4 cup cottage cheese
1/2 cup sour cream
1/4 cup mayonnaise
1 cup shredded sharp cheddar cheese
1/4 cup grated parmesan cheese
1/4 cup pork rinds, crushed
salt and pepper to taste
Instructions
Preheat oven to 400 degrees.
Thaw cauliflower rice in refrigerator overnight, or microwave for about 2-3 minutes to thaw (don't cook fully).
Pull chicken off the bone and shred. Sprinkle shredded meat with poultry seasoning. Set aside.
Heat EVOO in a skillet. Add onion and cook on medium heat about 2 minutes or until slightly tender.
Add garlic and broccoli to the onion and cook until broccoli is bright green, about 4 minutes. Remove from heat.
Add salt and pepper to taste.
Mix cream cheese, cottage cheese, sour cream, and mayonnaise together in a large bowl.
Fold shredded cheese into the cream cheese mixture.
Fold cauliflower rice, cooked broccoli and onion, and shredded chicken into the cheese/mayo mixture until combined.
Spread mix into a greased 9x9 inch Pyrex dish.
Mix parmesan cheese and crushed pork rinds in a small bowl. Sprinkle over top of the casserole.
Bake casserole for about 30 minutes, or until it is bubbling around the sides and the topping is browned.
Remove from the oven and cool about 10 minutes before serving.
Notes
If you don't have pork rinds, you can substitute 1/4 cup of shredded cheddar mixed with 1/4 cup parmesan cheese to sprinkle on top before baking.
Nutrition Information:
Yield:
4
Serving Size:
4 Servings
Amount Per Serving:
Calories: 710
Total Fat: 56g
Saturated Fat: 22g
Trans Fat: 1g
Unsaturated Fat: 27g
Cholesterol: 175mg
Sodium: 1064mg
Carbohydrates: 11g
Fiber: 2g
Sugar: 4g
Protein: 42g
Nutrition information isn't always accurate.
Love this low carb Chicken Broccoli Casserole? Check out more of my Low Carb Dinner Recipes: